These herb brined pork chops will change your grilling game. Brining is super easy and makes pork chops you will dream about for days to come.
I make brined turkey all the time and especially for Thanksgiving. If you've never tried bringing pork chops though, you're in for a serious treat. Brining makes meat incredibly juicy and moist and there's no other way I'd rather cook a bird.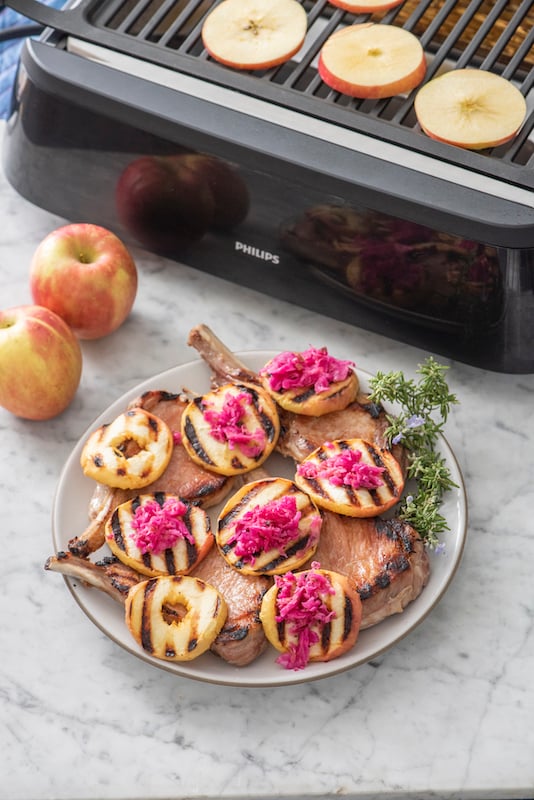 I was craving pork chops for dinner, and since I was in brining mode, I was excited to try the method for something other than turkey. The pork chops I bought were reasonably lean, so the quick one hour brining time really added a lot of flavor and moisture to the chops.
A quick sear on the stovetop ensures the pork chops get a nice crust to seal in all that moisture, and then they're finished in the oven so you can move on to other tasks. Caramelized apples are the perfect accompaniment to herb brined pork chops.
Want to get outside instead of searing them in a pan? These brined pork chops love a good searing on both sides and then resting for 10 minutes or so to let all of the juices settle and bemuse scrumptious as you dig on in!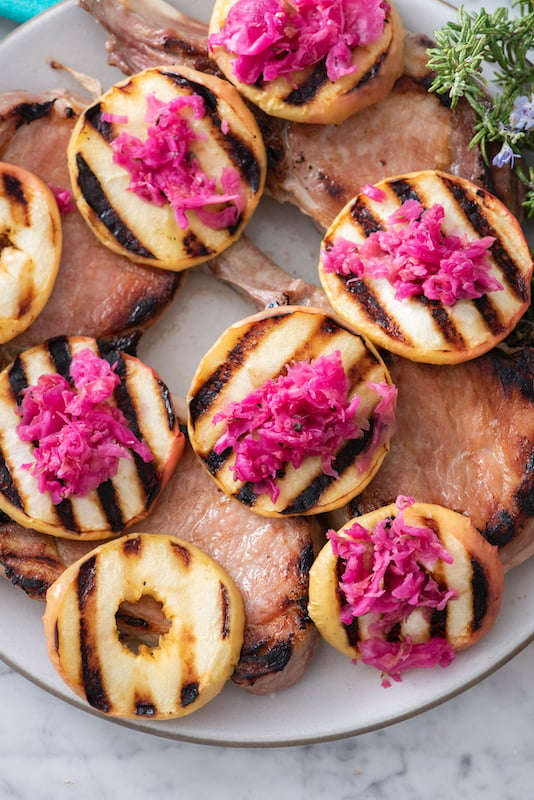 If you've never tried apple, sauerkraut and pork together you're in for a serious treat and it all starts here!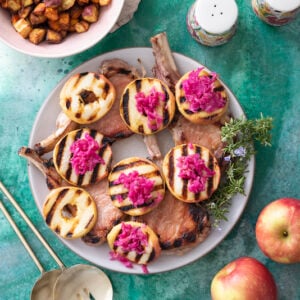 Herb Brined Pork Chops
Ingredients
4

pork loin chops

1/2

cup

kosher salt

1/2

cup

brown sugar

1

bay leaf

1

sprig

fresh rosemary

1

tablespoon

peppercorns

2

cups

hot water

2

handfuls

ice

2

Gala or Fuji apples, cored and sliced **should look like donuts, if needed, rub apples with lemon to keep from browning**

sauerkraut of choice
Instructions
Add salt, brown sugar, bay leaf, rosemary, peppercorns, and hot water to a large bowl or dish. Stir all ingredients so that everything is dissolved.

Add the pork and after allowing the mixture to cool add ice.

Chill for at least 1 hour, or for up to 2 days in the refrigerator.

Preheat the oven to 400F. Place a cast iron, stainless steel, or other ovenproof skillet in the oven on the center rack.

Take the pork out of the refrigerator and remove the meat from the brine solution. Pat the meat dry, season it with additional salt and pepper, and set it on the counter until the oven is ready. Discard the brine.

When the oven reaches 400F, carefully remove the hot skillet and place it over medium-high heat on the stovetop, leaving the oven on. Add the olive oil to the pan and lay the pork chops in the center about an inch apart. Sear for about 3 minutes, or until the undersides of the pork chops have a golden crust. **

Flip the pork chops and immediately place the pan in the oven. Cook for 5-7 minutes, or until the center of the pork chops is just barely pink and registers 140-145F on an instant read thermometer.

Place the pork chops on a plate and tent with foil while you plate the rest of your meal.

9. While the pork is resting, grill apples for 3-4 minutes on each side, or until fork tender.

Serve grilled pork with grilled apples and fresh sauerkraut.

Note: You can keep leftover pork covered in the fridge for sandwiches the next day!

*If using outdoor grill or Phillips Indoor Smokeless Grill, cook pork chops about 8 minutes on each side or until internal temperature of the pork reaches 140 degrees F with a meat thermometer