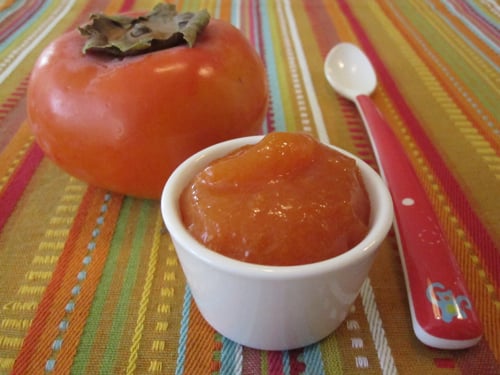 Pin
Chloe's had an exciting introduction to solids, trying just about every fruit and vegetable available at the farmer's market over the past 2 months. It's been so exciting for us to watch her very first reactions to all these new flavors. While she has obviously enjoyed a lot of what I've made her, it is clear that persimmons are by far her favorite. When I first pureed some for her, I wasn't sure how she would react. Persimmon isn't a typical first food for a baby. It would be unlikely to find a jar of it in the baby food section at any grocery and fresh persimmons are not always easy to find, depending on what part of the country you live in. But here in California, where basically all U.S. persimmons are grown, they are everywhere you turn this time of year. I was totally surprised when Chloe ate the entire first batch I made for her — in one sitting! It was the most I had ever seen her eat.
Persimmon puree is really thick and smooth, has a beautiful bright orange hue, is sweet and is perfect for one of baby's first foods. There are 2 varieties of persimmons_ Fuyus and Hachiyas. The tastes are similar though there are some big differences to note. Fuyus are rounder and can be eaten firm. They have an apple-like texture, where as Hachiyas are heart shaped and need to ripen until REALLY soft before you try eating them. I usually buy ripe Fuyus, and peel and chop them for this recipe (there is no cooking involved). You could also use Hachiyas for this, just make sure they are super soft before eating them yourself or using them for this puree.
Persimmons are a great source of vitamin A, C, beta-carotene and soluble fiber — which is very important for baby . Whenever you feel like your wee one is a bit constipated, just give her a "p" fruit (peaches, pears, plums, papaya and especially persimmons), because the "p" also stands for poop! Seriously, it works every time!
We used these to make this recipe: Cuisinart DLC-2 Mini Prep Plus Food Processor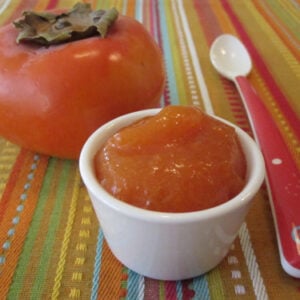 Persimmon Puree
Instructions
Peel the skin off the persimmons and cut into cubes.

Place the cut persimmon into a food processor and puree until smooth.

*Place in Baby Cubes and freeze.