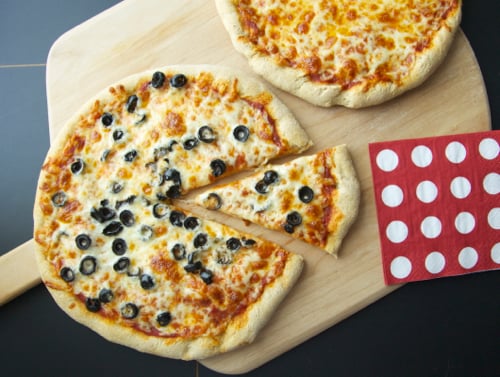 Pin
Whenever I give my kids free rein and ask them what they want for dinner, 9 times out of 10 the answer is "PIZZA!" — which means I sling a lot of pizza dough in my kitchen.
If you enjoy making pizza at home, you can certainly use a store bought dough — I do all of the time — but have you ever tried making homemade dough? Intimidating? Totally! But after making it once you'll realize just how easy it is. After all, you only need a few basic ingredients to produce a simple, delicious dough which bakes into bubbly, crispy perfection (and is also a ton of fun to prepare).
Wait a minute, Catherine. This recipe is called White Wheat Pizza Dough? Isn't white wheat the same thing as white flour?
That's exactly what I thought the first time I heard about white wheat, but white wheat is in fact a naturally colorless whole wheat which has virtually the same nutritional benefits of the traditional whole wheat you are used to. Plus it has a milder flavor than whole wheat, making it more appealing to people accustomed to the taste of refined flour. (Hmm, who could some of those people be…..kids perhaps?!)
You can use this nutritious Pizzeria Pizza Dough to make everything from Pizza Balls, to Pizza Pinwheels, to my fave, Quilt Pizza (and how to make it), which I let my kids top with tons of vegetables before popping it in the oven. Give your own little sous chefs that job and you've got one fun meal in store for everyone.
Mamma mia!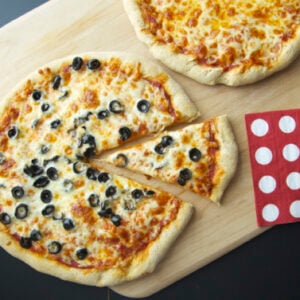 Pizzeria Pizza Dough
Ingredients
1

(1/4 ounce) package

active dry yeast

lukewarm water

3-4

cups

white whole wheat flour

1

tablespoon

olive oil, plus extra for greasing bowl and brushing on pizza crust

1

tablespoon

honey

1

1/2 teaspoons

kosher salt
Instructions
Combine the yeast and water in a bowl and allow to stand until foamy, about 5 minutes. (Make sure to check the expiration date on the yeast. If it doesn't foam, your yeast may be old and you will need to buy fresh yeast.)

Stir 3 cups of the flour and salt into a bowl (or the bowl of a standing mixer, using a dough hook attachment).

Add the olive oil and honey to the yeast mixture and stir to combine.

Add the liquid mixture to the dry ingredient mixture on the low setting for 3 minutes or until smooth and elastic (you can also combine the liquid with the flours in a bowl and knead the dough by hand on a clean surface for 10 minutes until smooth and elastic). You want the dough to be smooth and bounce back when you press it. If your dough is too wet and sticky, add more flour, 1/4 cup at a time, until you reach a soft and elastic consistency.

Transfer ball of dough to an oiled bowl, cover the top of the bowl with a dish towel and let rise for 1 hour. The dough will double in size.

Turn dough out onto a lightly floured surface and knead for 15 seconds. Cut into 4 equal balls, form each into rounds and flatten with your hands into a disk. Let the disks rest for 5 minutes.

Take a disk and, holding the dough at the edges, pinch and pull the dough to 9 inches across. Periodically switch from pulling and pinching the dough to stretching it out using your knuckles. If you\'re feeling adventurous, form your hands into fists, rest the dough on top of them and stretch outwards. Don't be scared to throw the dough up in the air! It actually helps form an even circle. (This last bit was recommended to me by my friend who used to work in a famous pizza kitchen!)

Spread sauce on your dough and top with desired toppings. Bake 10-15 minutes, or until crust is golden brown.

To Freeze: After step 7, place one round disk on a parchment lined plate or cookie sheet and layer the rest of the disks on top, laying parchment in between each disk. Freeze for one hour and then transfer the stack of frozen pizza disks to a freezer bag. Disks can be stored in the freezer for up to 3 months. When ready to use: remove the disk(s) from the freezer and let them defrost in the refrigerator for 24 hours. Then, let them come to room temperature and continue following steps 8 and 9.