Polenta lasagna is a vegetarian's dream come true, gluten free and delectable!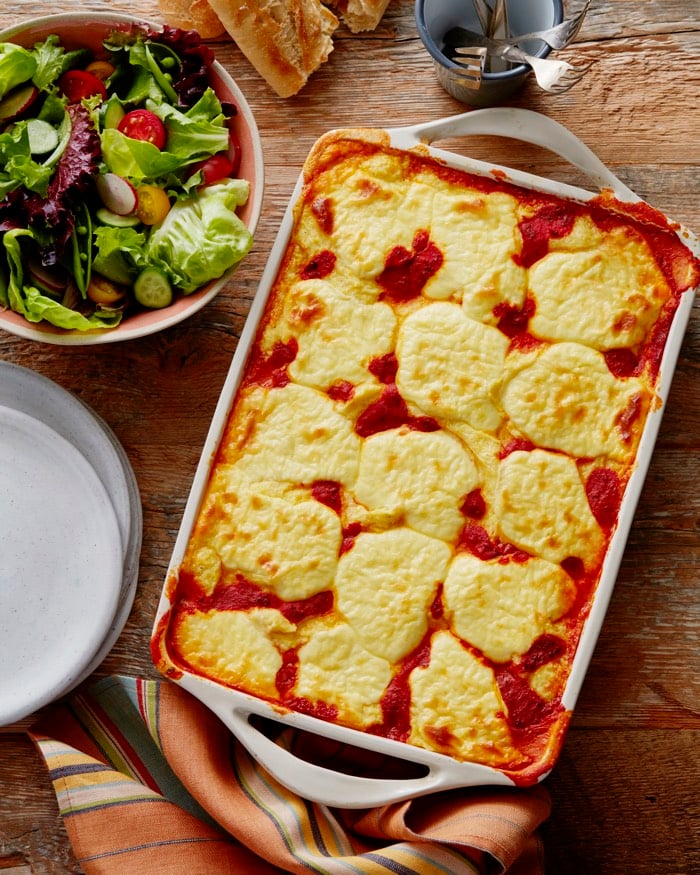 Pin
When you feel like a classic comfort food dish to make for your family what do you make? Tacos? Barbecue chicken? Macaroni and cheese? Burgers? All of these are family favorites, but one dish my kids, family and friends will get the most excited about is lasagna. I make classic 12 Layer Lasagna with pasta, Crock Pot Mexican Lasagna made with tortillas and now this crazy good Polenta Lasagna.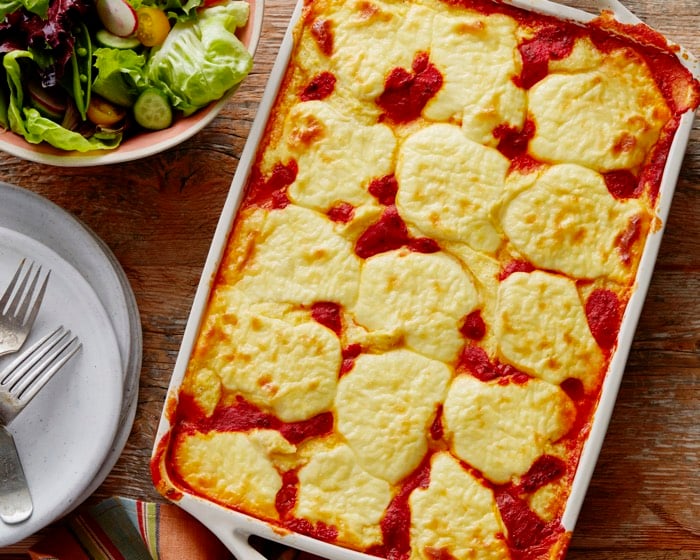 Pin
Have friends who try to stick to a gluten free diet? This is the recipe for them! Polenta is naturally gluten-free, but also a tasty canvas for layers of luscious red sauce (buy your favorite jar from the market or make homemade if you have time), ricotta cheese and irresistible mozzarella cheese that turns into perfection in every bite.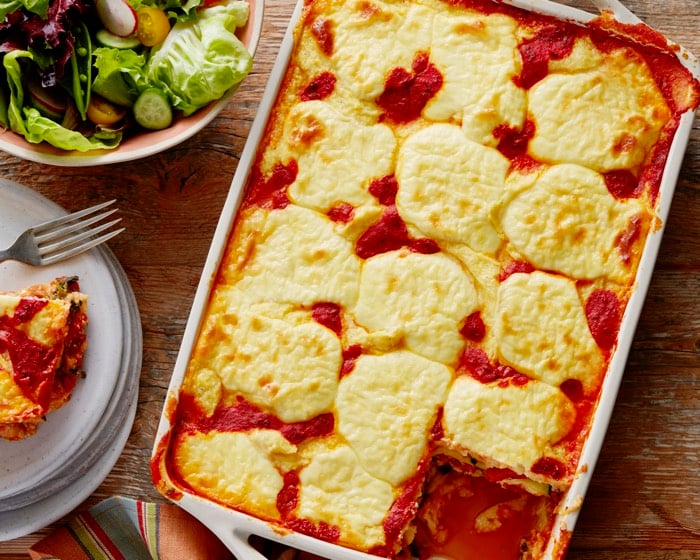 Pin
The best part is that you can make this Polenta Lasagna the day before you need it, so all you have to do is bake it up before dinner or a get together with friends. It also makes a memorable potluck recipe as it feeds 8 people or more. Quickly, this Polenta Lasagna is going to become a class family favorite recipe your kids will ask for over and over again. Mark my words!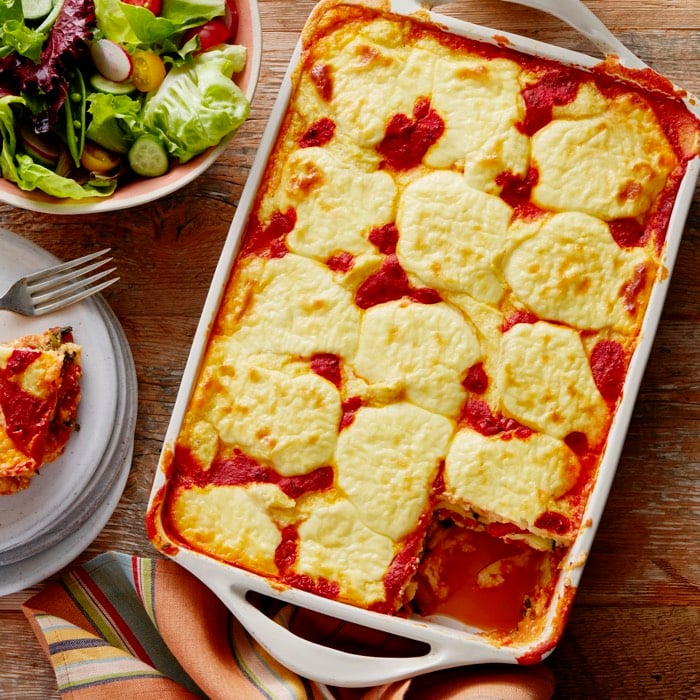 Pin
Photos by Matt Armendariz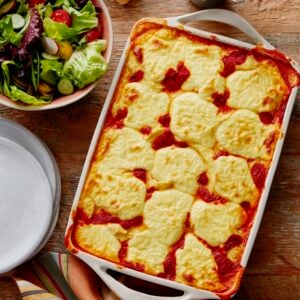 Polenta Lasagna
Ingredients
2

tablespoons

extra virgin olive oil

4

garlic cloves, minced

3

10-ounce bags

baby spinach

2

zucchini, cut into 1/2 inch coins

1

teaspoon

salt, divided

2

cups

ricotta cheese

2

large

egg yolks

1/4

teaspoon

freshly grated nutmeg

1

18-ounce tube

cooked polenta, sliced into 24 slices

4

cups (32 ounces)

marinara sauce

1

12-ounce jar

roasted yellow peppers, chopped

1

cup grated

parmesan cheese

1

pound

fresh mozzarella, thinly sliced
Instructions
Heat the oil in a large skillet over medium-high heat. Add the garlic and saute for 30 seconds. Add half the spinach and 1/2 the salt. Cook for about 3 minutes, until it is wilted. Add the rest of the spinach and cook an additional 3 minutes, until it is wilted. Transfer the spinach to a colander and drain out as much liquid as possible.

Add the zucchini to the saute pan and cook for 3 minutes. Add the zucchini to the colander and drain out as much liquid as possible.

In a small bowl, stir together the ricotta, egg yolks, nutmeg and the remaining salt.

In a 9x13 inch deep baking dish, layer 1 cup marinara, 1/2 the polenta slices, 1/2 the spinach/zucchini mixture, 1/2 the peppers, 1/2 the marinara sauce, 1/2 the ricotta, 1/2 the mozzarella, and 1/2 the parmesan. Repeat layering to use the remaining ingredients.

Cover with foil, and bake for 30 minutes. Remove the foil, and bake, uncovered, an additional 15-20 minutes, until heated through and the cheese is bubbly.

Remove from the oven and cool 10 minutes before serving.