These Baked BBQ Chicken Legs are roasted to perfection and topped with your favorite BBQ sauce! It's a perfect, quick recipe the whole family can enjoy.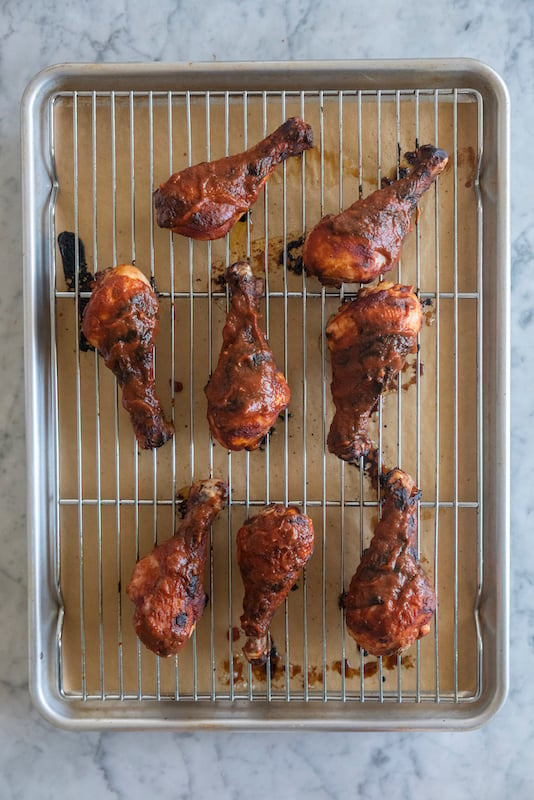 I've always been a total sucker for BBQ sauce. I've made my own a few times, but when I find a good one at the store that's made without corn syrup or other junky ingredients I'm all over it. I get so into it, I will buy 5 different bottles just to find the perfect one. I don't like my sauce too peppery or too sugary, but it has to have a slight kick and a nice amount of vinegar for zing. I love BBQ sauce so much that I've been known to make recipes like Lazy BBQ Chicken, Shredded BBQ Chicken Sammies, BBQ Chicken Burgers, Crock Pot Ribs, Crock Pot BBQ Chicken and Po-tacos each once a month just to indulge in consuming tons of my favorite zippy condiment.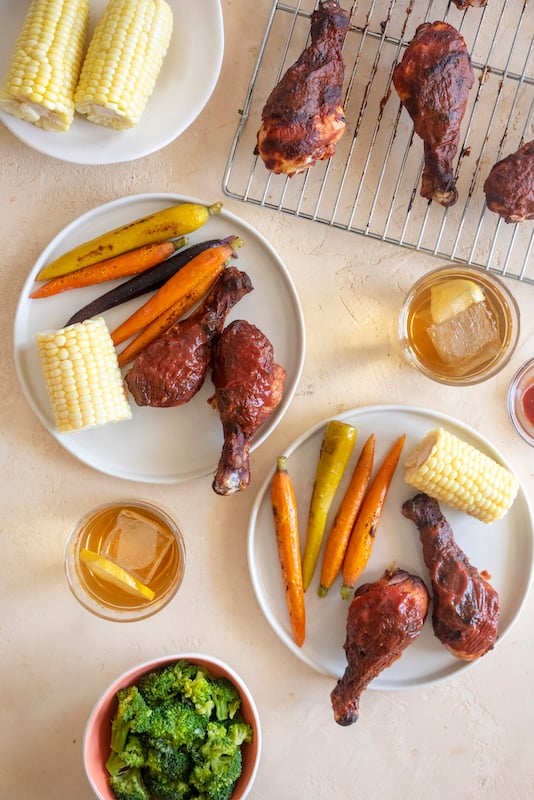 Chicken legs are one of the easiest to make and most economical meats you can buy for family meals, so I've added this super simple BBQ Chicken Legs recipe to our barbecue rotation. Served with Sweet Potato Dippers, Everything Kale Chips, Roasted Carrots or even a simple ear of steamed corn on the side, they make for a delicious and hearty dinner you can have on your table in less time than you would think!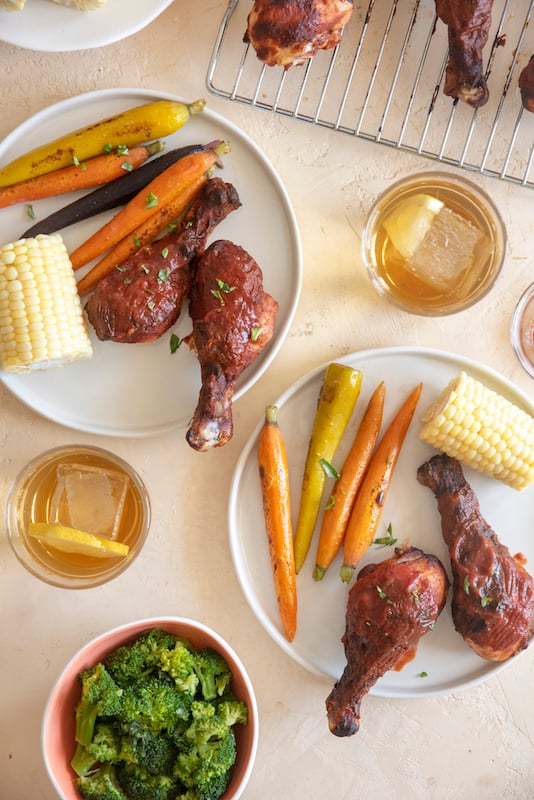 Everyone knows the sauce it was makes BBQ chicken what it is! You'll find a basic BBQ sauce recipe below, but feel free to use your favorite store bought BBQ sauce to make it even simpler! As always, tag @weelicious in your recipe posts on social media so I can see them!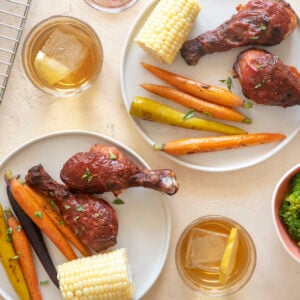 Baked BBQ Chicken Legs
Instructions
Basic BBQ Sauce:
In a small saucepan over medium heat, stir together all the ingredients.

Bring to a boil, stirring frequently, reduce heat to low and simmer 2-3 minutes, until sauce has thickened.

Allow BBQ Sauce to cool, then store in an airtight container in the fridge until ready to use.
For the Chicken Legs:
Place the chicken legs in a large mixing bowl, sprinkle with the salt, and coat with 1/2 cup of the BBQ sauce, cover and marinate for 30 minutes in the fridge.

Place the chicken legs on a baking rack over a foil lined baking sheet, baste with extra BBQ sauce, if desired, and roast for 45 minutes.