I'm not sure who liked this recipe more, Chloe or the rest of the family. This Roast Pear & Banana Puree is naturally sweet and concentrated with fruit flavor. If you decide to prepare this for your baby, make sure to double the recipe because it's addictive no matter how old you are!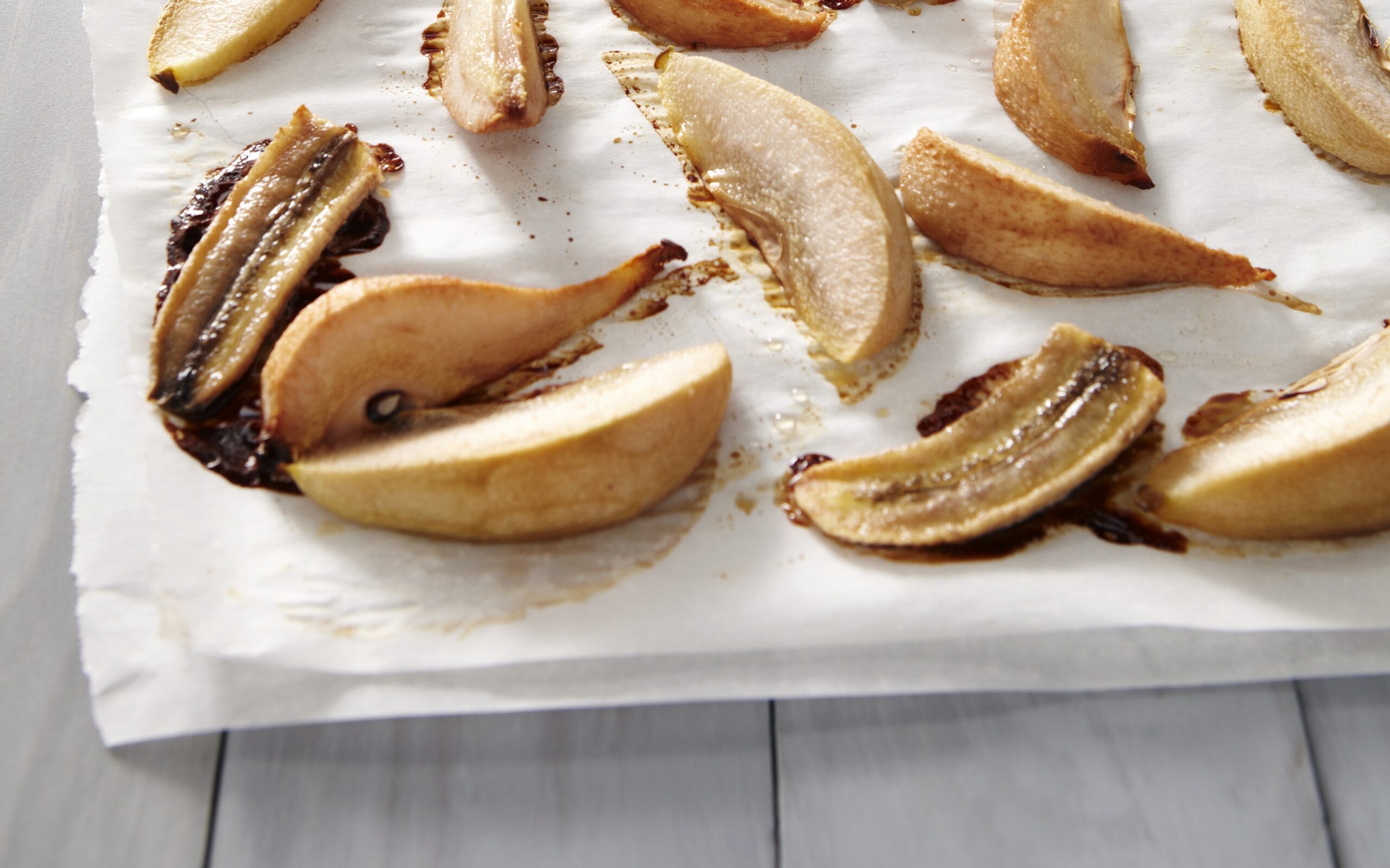 Pin
Recently, I made Baked Maple Bananas for Kenya. Everyone who tried them couldn't get over how delicious they turned out. They're intensely sweet, creamy and have a delicious caramel note to them. I felt like there were more recipes to be mined from that one. Pears are in season and abundance at our farmer's market, so I thought I would try roasting them together with bananas to make baby food for Chloe. There's nothing wrong with pureeing ripe pears and bananas together, but when you roast them it just intensifies the flavors and texture even more.
Pears and bananas are a good source of fiber, so they'll also help to get things moving when your little one gets stopped up (TMI?)
How did it come out? Amazing! I have no other words. In fact, if you don't believe me, check out this quick video I posted here on Twitter of Chloe taking her first bites of it. Now the hard part is trying to keep this puree away from everyone else in the family! It's so yummy, you'll want to serve it on top of yogurt or even to spread on a bagel with almond butter. It's funny how these days everyone in my family wants to eat Chloe's baby food!
Photo by Maren Caruso
Roast Pear & Banana Puree
Ingredients
2

Bananas, cut into 1 inch pieces

2

pears, peeled and cut into wedges (I used Bartlett pears)
Instructions
Preheat oven to 400 degrees.

Place the bananas and pears on a parchment paper or Silpat lined baking sheet.