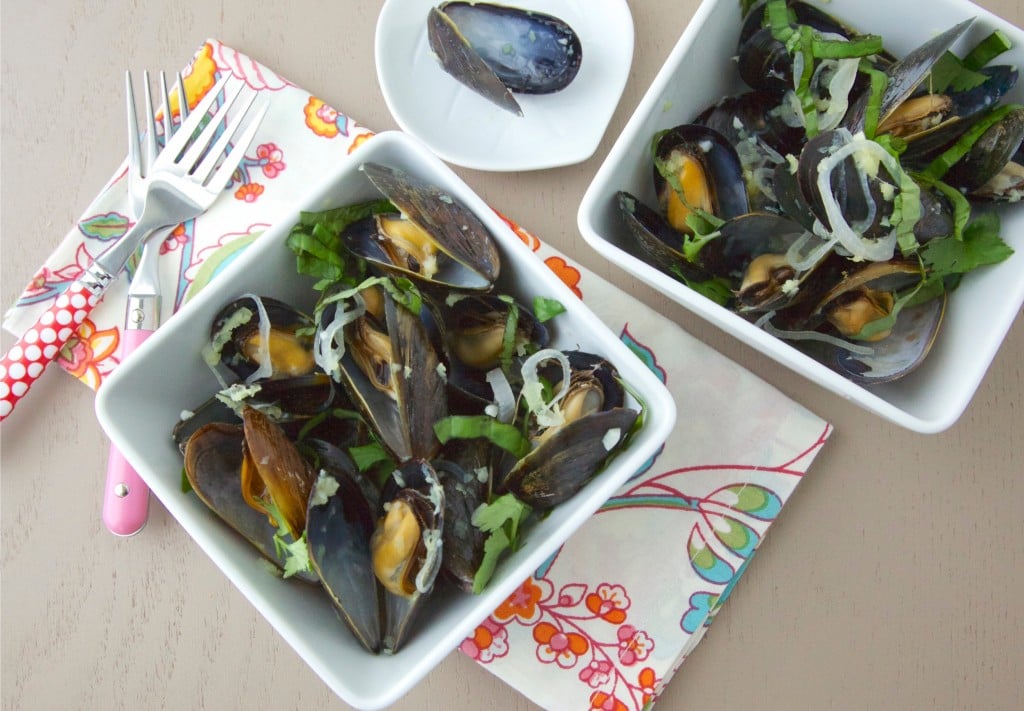 Pin
I'm obsessed with mussels and have been for years. Back before we had kids and traveling was still something my husband and I actually did, I would drag him to restaurants all across the globe to eat mussels prepared in the local fashion. Closer to home, two of my favorite local mussel spots have sadly closed and so I've started making them at home.
For a mom that adores mussels so much, why I never made them for my kids before is beyond me. It's probably for the same reason a lot of parents don't make or order them for kids. They just seem like an odd food — possibly even too gourmet — and it's hard to imagine kids enjoying them. My mother, for one, has told me she never would have dreamed of offering them to me when I was little. Yet on the other hand, when I go to my friend Jackie's house, her three young kids can't get enough of her homemade mussels.
Mussels are sold at our local farmers market, so last summer when one of my frequent cravings arose I bought a big bag and decided to try making them for the kids. I expected the worst and that's exactly what I got at first. Kenya started in immediately with cries of, "eww gross". Chloe followed her brother's lead but after watching hubby and I enjoying one after the other couldn't resist having a go. Minutes later we were all sitting outside like a bunch of shellfish savages, hunched over a big bowl devouring mussels.
Recently I got Steamy Kitchen's Healthy Asian Favorites cookbook and I ripped it open and immediately began drooling over the recipes and images. I've been a fan of Jaden Hair and her Steamy Kitchen website for years. I not only consider her a friend, but a true inspiration. We try to eat as healthily as possible and my kids are taken with Asian flavors so it seemed like it was written just for us.
The second I saw the picture for Jaden's mussels recipe I knew it was the first one I was going to try. I picked up a pound (which Kenya later told me wasn't enough) and in less then 5 minutes I had prepared a huge bowl full of mussels that the kids ate so fast I barely got my hands on any. I've made three more recipes since then and they've all been a huge hit too.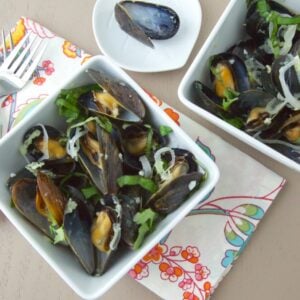 Sake Steamed Mussels
Ingredients
1

1/2 cups

sake or dry white wine

2

teaspoons

peeled and finely grated fresh ginger

2

garlic cloves, peeled and minced

1

shallot, sliced into thin rings

2

pounds

fresh mussels

1/4

cup

chopped fresh basil

1/4

cup

chopped fresh cilantro
Instructions
Heat a large soup pot over over high heat and add the sake, ginger, garlic and shallots. Bring to a boil.

Add the mussels, cover, and cook for 5 minutes, or until the mussels open.

Toss in the basil and cilantro and serve immediately.
Nutrition
Calories:
510
kcal
|
Carbohydrates:
23
g
|
Protein:
55
g
|
Fat:
10
g
|
Cholesterol:
125
mg
|
Sodium:
840
mg