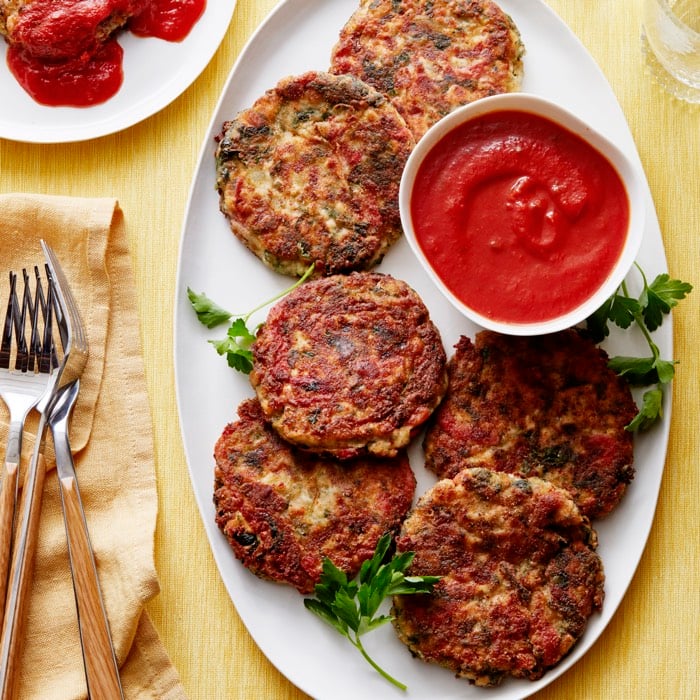 Pin
One of the best parts about starting One Potato (if you live in California, Arizona or Colorado you have to check it out if you're looking for easy to prepare organic meals delivered right to your home), is that I'm developing recipes that really need to be made around 30 minutes or less, have to be kid friendly and taste delicious. When it comes to creating family friendly vegetarian recipes it's not always easy. Most vegetarian families I talk to say that most of the foods they're offered are loaded with pasta, bread or cheese instead of what they really want and need, vegetables and nutritious proteins. These Spinach and Roasted Red Pepper Tofu Croquettes are packed with both of those things plus tons and tons of flavor.
Pin
Whether you call them croquettes or cakes, to kids they're just fancy words for foods you can hold and dip. I've been making Black Bean, Zucchini Parmesan and Millet Cakes for years because whether you're a 40 year old adult or a 2 year old toddler they're super easy to eat, packing in as much nutrition into every bite as possible. If you're trying out baby led weaning you will see how these are an easy recipe for tiny hands to hold and little mouthes to chew. The silken tofu (you want to always buy organic) gives them a soft fluffy texture on the inside with a golden crust on the outside.
We love dipping them into ketchup, but barbecue sauce, mustard or even Veg-Wee Dip makes a fantastic accompaniment too. Don't settle for ho hum vegetarian cuisine when you can make something that will get everyone super excited!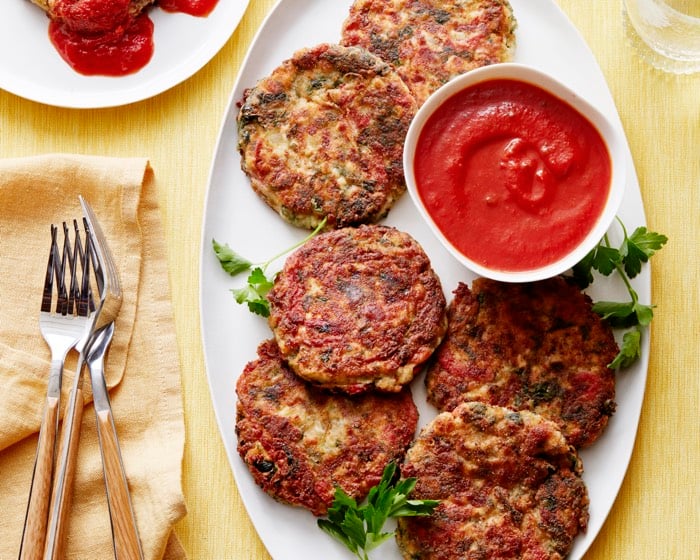 Pin
Photos by Matt Armendariz
Spinach & Roasted Red Pepper Tofu Croquettes
Ingredients
oil

1

onion, diced

2

garlic cloves, minced

2

roasted red bell peppers, thinly sliced

1

10-ounce box

frozen spinach, thawed and squeeze out as much liquid as possible

1

pound

extra firm silken tofu

2

tablespoons

chopped parsley

1

cup grated

mozzarella cheese

1

cup

all-purpose flour, divided (gluten-free works well, too)

1/2

cup

bread crumbs (gluten-free works well, too)

2

teaspoons

kosher salt, divided

for dipping
Instructions
Heat 1 tablespoon of olive oil in a large saute pan over medium heat, and cook the onions and garlic 5 minutes, until soft. Allow to cool.

In a large bowl, combine the onions, bell peppers, spinach, tofu, parsley, mozzarella, 1/2 cup flour, and 1 teaspoon salt. Stir to combine well. Shape mixture into patties, about the size of a small burger patty.

In a shallow bowl, whisk together the remaining 1/2 cup flour, bread crumbs, and 1 teaspoon salt. Dredge each side of the tofu patties in the flour mixture.

Heat 1-2 tablespoon oil in the large saute pan over medium/high and cook patties for 3 minutes on each side, until golden brown. Serve with marinara sauce for dipping.