Pin
When I say I crave good Chinese food, I mean I really crave it. In our neighborhood, though, it's hard to find Chinese dishes that aren't coated with tons of additives and way too sweet, salty or other funky ingredients. Sweet and Sour Pineapple Chicken is one of my all time favorites, but I wanted a healthier version. This is one of the dishes my parents used to get for us on those rare nights my mom didn't cook. It was crazy sweet making it even more addictive, but looking back it couldn't have been all that good for us. These days I find it easier and more fulfilling to make Chinese dishes at home instead of picking it up to go.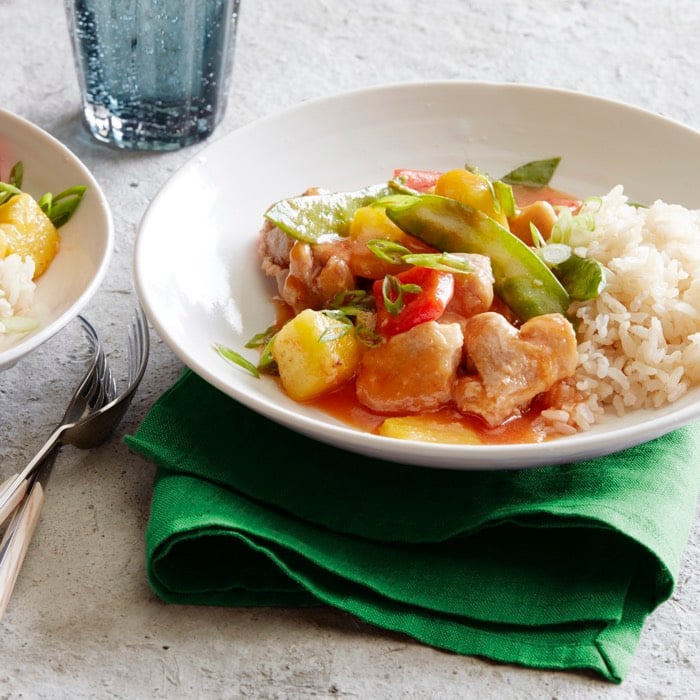 Pin
For my version I buy a whole sweet pineapple, cut it into juicy, sweet bites and add it into the dish letting the ingredients really speak for themselves. The same goes with the chunks of bell peppers and chicken we use that I'm betting is better quality than most restaurants we visit. At the end of the day, though, I love that I can double this recipe so I have some for dinner and then lunch the next day. It's just that easy and fulfills all of my Sweet and Sour Pineapple Chicken cravings.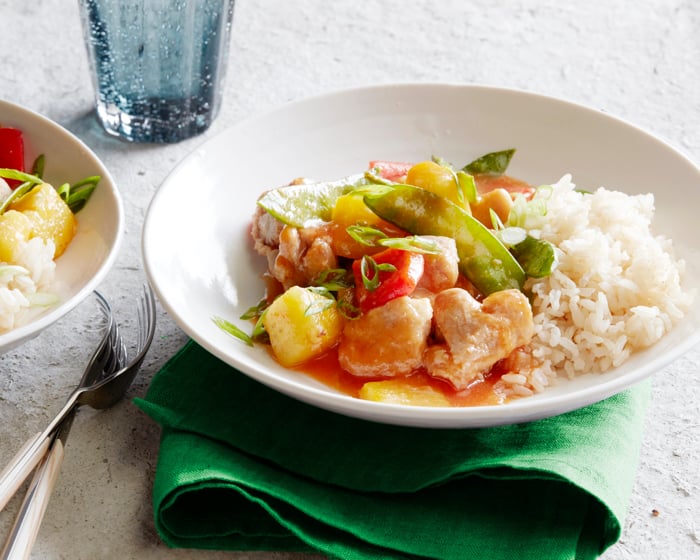 Pin
If you make this easy to prep dinner make sure to share it on social tagging @weelicious so I can see! Makes me so happy knowing you're spreading the love!
Photos by Matt Armendariz
Sweet and Sour Pineapple Chicken
Ingredients
1

pound

boneless, skinless chicken breasts, cut into 1 inch cubes

1

large

egg white, whisked

1

teaspoon

kosher salt, divided

4

teaspoons

cornstarch, divided

1

15-ounce can

pineapple chunks, drained and juice reserved

1/4

cup

white vinegar

1/4

cup

ketchup

2

tablespoons

brown sugar

1

tablespoon

oil

1

red bell pepper, diced

1

yellow bell pepper, diced

1

cup

snow peas, strings removed

1

teaspoon

grated ginger

4

scallions, chopped
Instructions
Place the chicken cubes in a bowl and toss with the cornstarch. Add the whisked egg and 1/2 teaspoon salt, and toss to coat. Let sit for 15 minutes at room temperature, or overnight in the fridge.

In a mixing bowl, whisk together the pineapple juice, vinegar, ketchup, brown sugar, 2 teaspoons cornstarch, and 1/2 teaspoon salt.

Heat 1 tablespoon of oil in a large saute pan or wok over high heat. Add the chicken in an even layer, and cook for 3 minutes. Remove to a plate.

Turn the heat to medium and add more oil if needed. Add the bell peppers, snow peas, and ginger and cook for 1 minute. Add the pineapple chunks, sauce, and chicken. Turn the heat up to high and cook until the chicken is cooked through, about 3 minutes. Top with the chopped scallions.