Tostada Salad are full of fresh ingredients that are good for you! This recipe is a huge crowd pleaser and will turn any salad hater into a lover!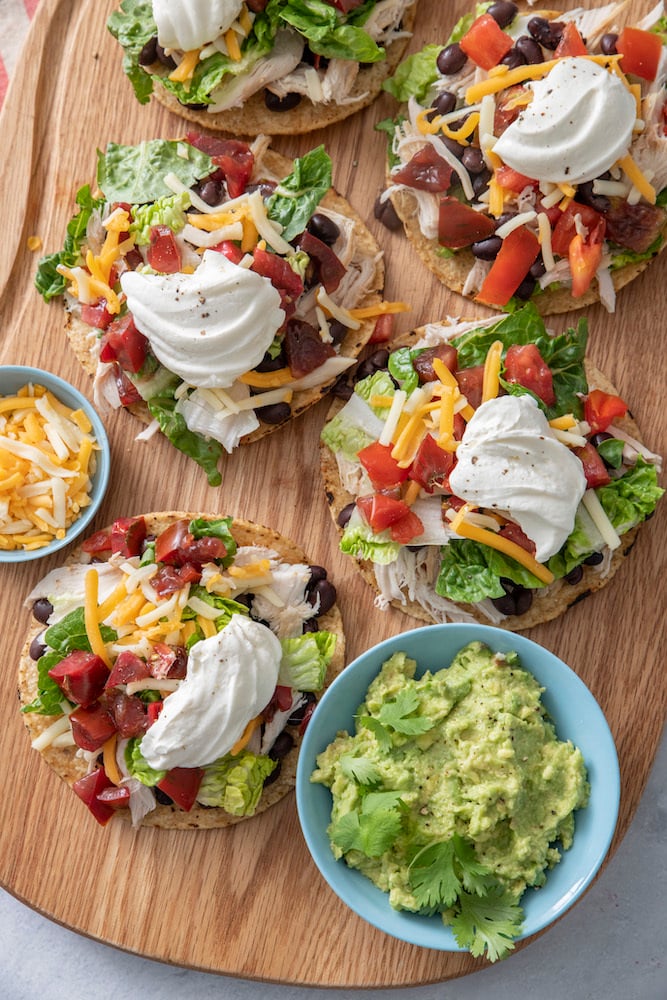 One day several years ago our friend came over with a great big take-out Tostada Salad. From the second she took it out of the bag Kenya and Chloe were all over it like flies on…well, you know what. I was kind of surprised to see a four and two year-old (at the time) get so excited about a salad, but there they were, sitting on our friend's lap devouring her salad. I felt so bad they ate her lunch that I had to make her something else to eat!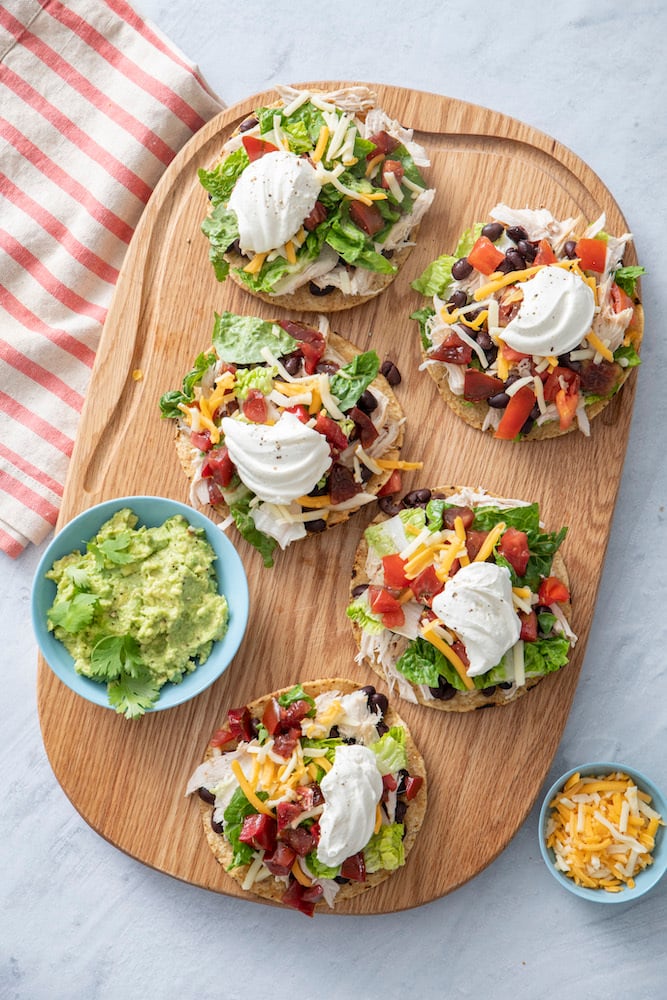 It wasn't until I saw some beautiful whole grain tostada shells at the grocery a year after this that I thought about recreating this dish for them. A year (an eternity in kid time) had gone by since Kenya and Chloe first encountered my friend's Tostada Salad, so they were understandably hesitant when I placed these strange towers of lettuce, beans, chicken and guacamole in front of them. So I took two extra tostadas, put one on top of each salad and told the kids to smash them down so that the shell would break apart over everything.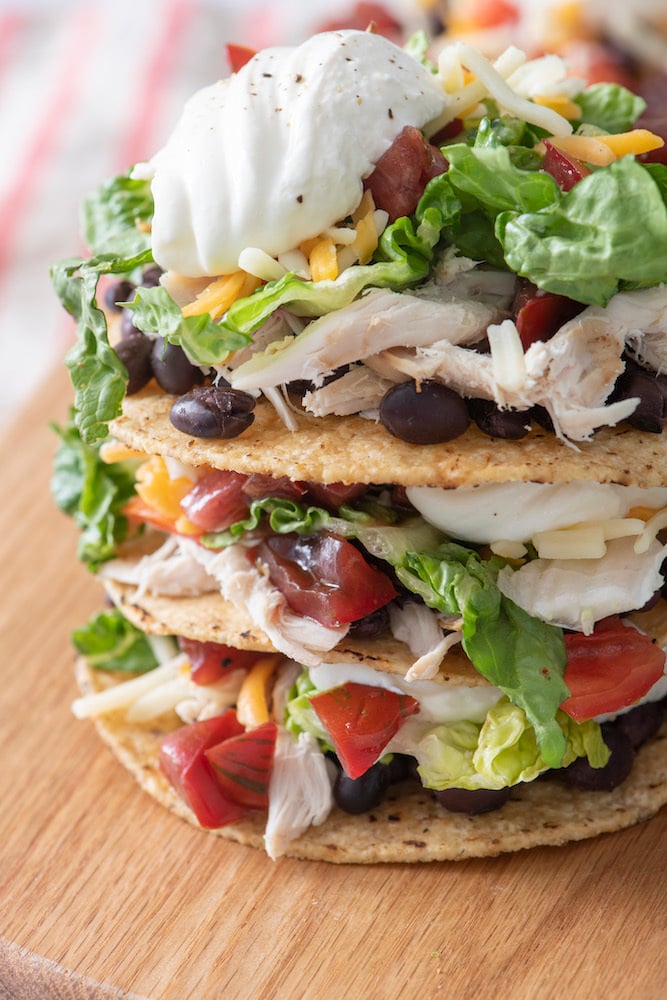 From Kenya and Chloe's point of view, how awesome did I just make mealtime? I had just given my kids a get out of jail free card to channel all of their energy into making a delicious mess. They took one look at each other with sheer glee and disbelief before pressing down with both hands and crushing their tostadas all over their plates. They laughed the entire time and even figured out that they could use the tostada shards like edible utensils to scoop up and eat their salads.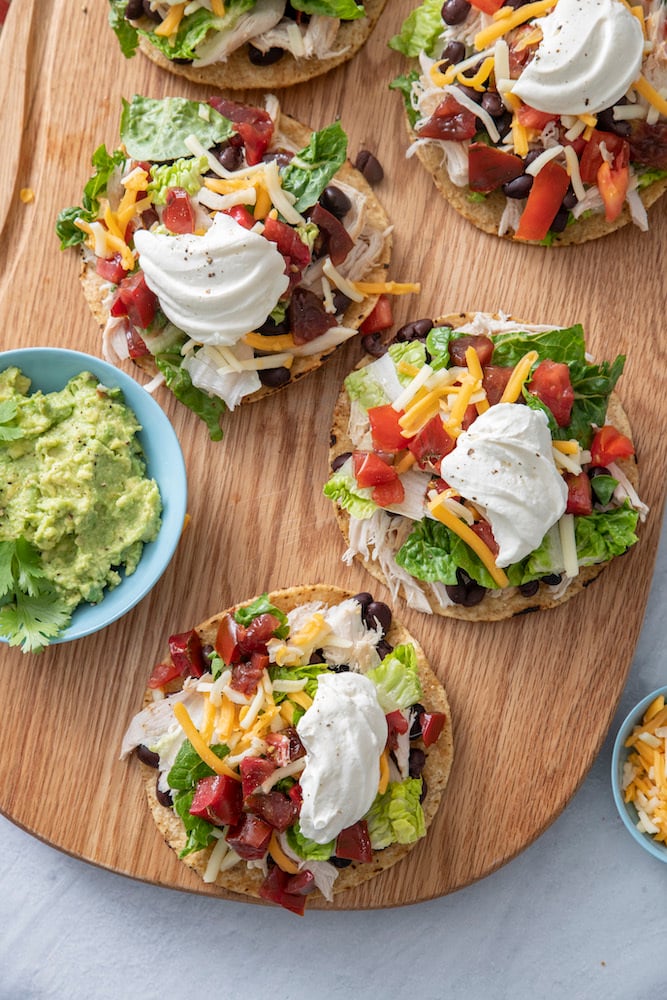 Sometimes making food interactive and fun goes a long way towards encouraging kids to eat something you know they will love — even if it does make a bit of a mess! Also, you can make this recipe even easier to prepare by using an already cooked rotisserie chicken from the grocery store instead of cooking the chicken yourself!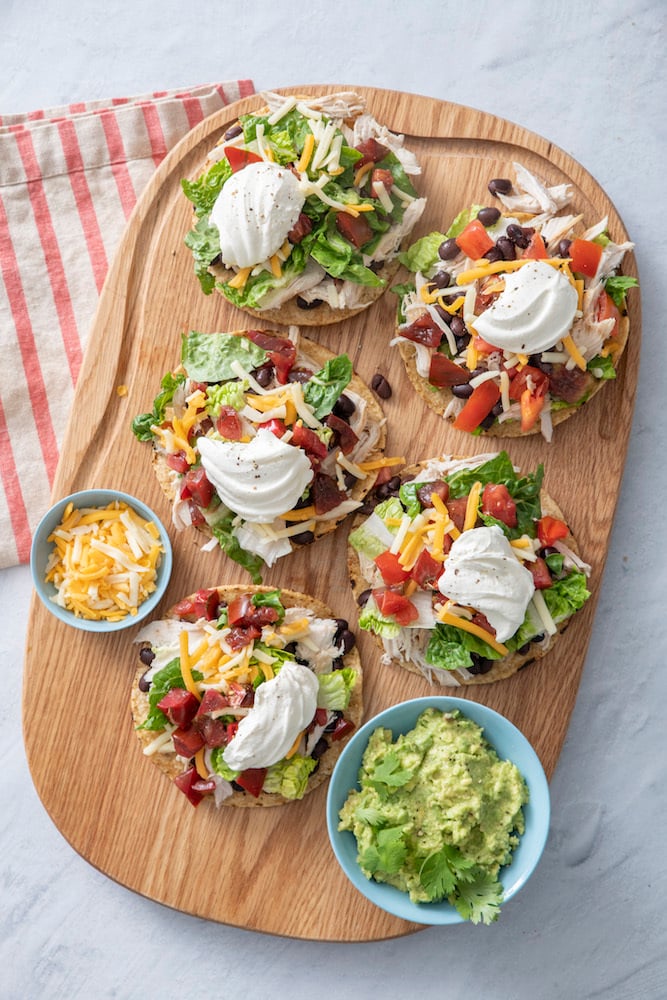 If you're looking for more fun kid friendly (but healthy) recipes try out my Tuna Pasta Salad, Peanut Butter French Toast Sushi Rolls or Strawberry Yogurt Ice Pops. Kids love them!
Are you making Tostada Salads this week? Let me know what you think by tagging me on social media!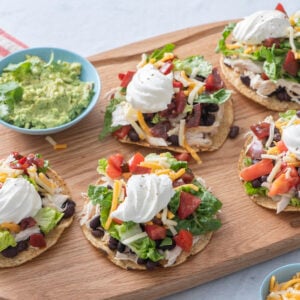 Tostada Salad
Tostada Salad are full of fresh ingredients that are good for you! This recipe is a huge crowd pleaser and will turn any salad hater into a lover!
Ingredients
8

tostada shells

1/2

cup

guacamole

2

cups

lettuce, chopped

2

cups

cooked chicken, finely chopped

1

cup

black beans, rinsed and drained

2

small tomatoes, diced

1/2

cup

grated cheddar cheese or mexican cheese blend

1/2

cup

sour cream

salsa, optional
Instructions
Place one tostada on a plate.

Spread 1 tablespoon of guacamole on the tostada.

Layer lettuce, chicken, beans, tomatoes, and cheese on top of the guacamole.

Place another tostada on top and repeat layering. Top with a dollop of sour cream.

Continue with remaining tostadas and ingredients and serve.
Nutrition
Calories:
560
kcal
|
Carbohydrates:
42
g
|
Protein:
33
g
|
Fat:
29
g
|
Cholesterol:
90
mg
|
Sodium:
440
mg
|
Fiber:
8
g
|
Sugar:
3
g