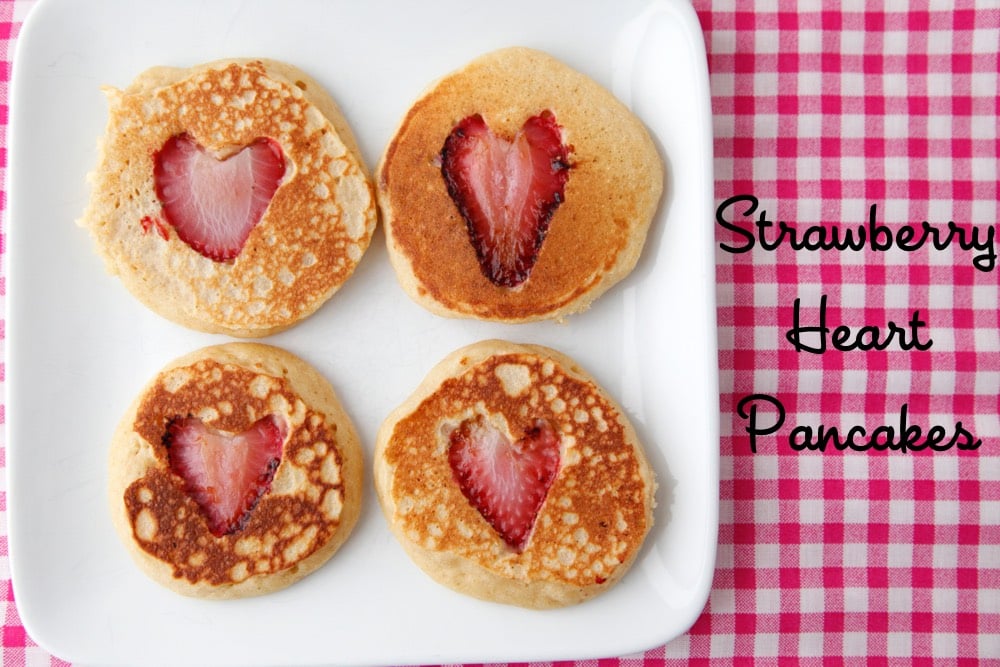 Pin
My kids constantly ask me for pancakes before school in the morning. However I've found that most quick-and-easy box mixes are loaded with unnecessary and unwanted ingredients while the better made brands are pretty expensive. I don't have the time to make pancakes from scratch on weekends, let alone during the week, so I took it upon myself a few years ago to create my own homemade, healthy, quick-and-easy whole wheat pancake mix. I keep a big batch of it in a big, oversized, air-tight glass container in my pantry to keep it dry and fresh, and whenever I get that last minute request for pancakes all I need to grab is some milk and an egg to make my little ones happy.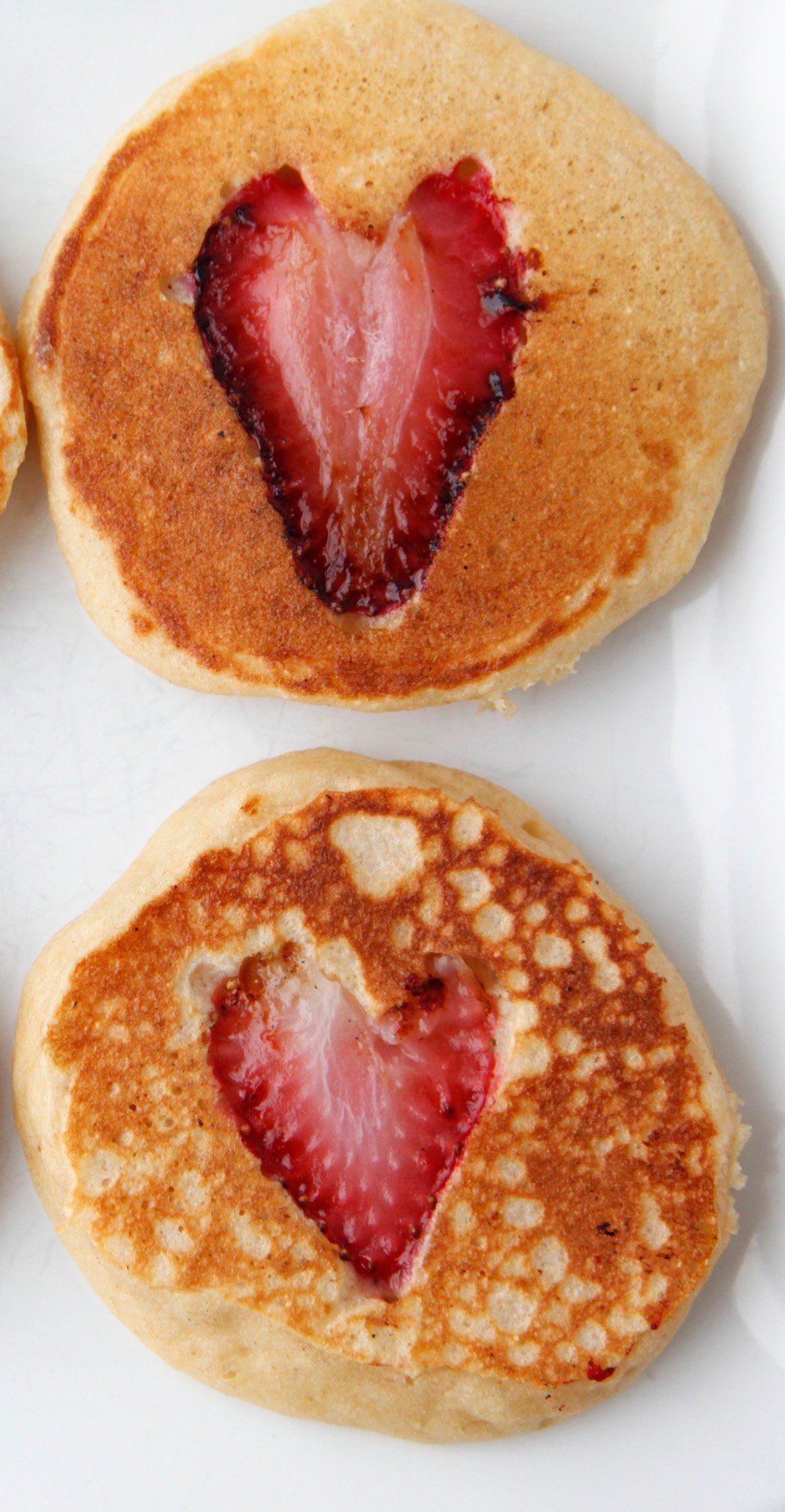 Pin
When I want to add a little bit of extra love to my flapjacks, I add a sliced strawberry in the shape of a heart in the middle of each one. It may seem like no big deal, but it tends to have an affect on my family. Luckily no fancy knife skills are required because after you stem a strawberry and then slice it lengthwise, it naturally looks like a heart. Can you think of anything better to serve up for your kids or loved one on Valentine's Day morning than this?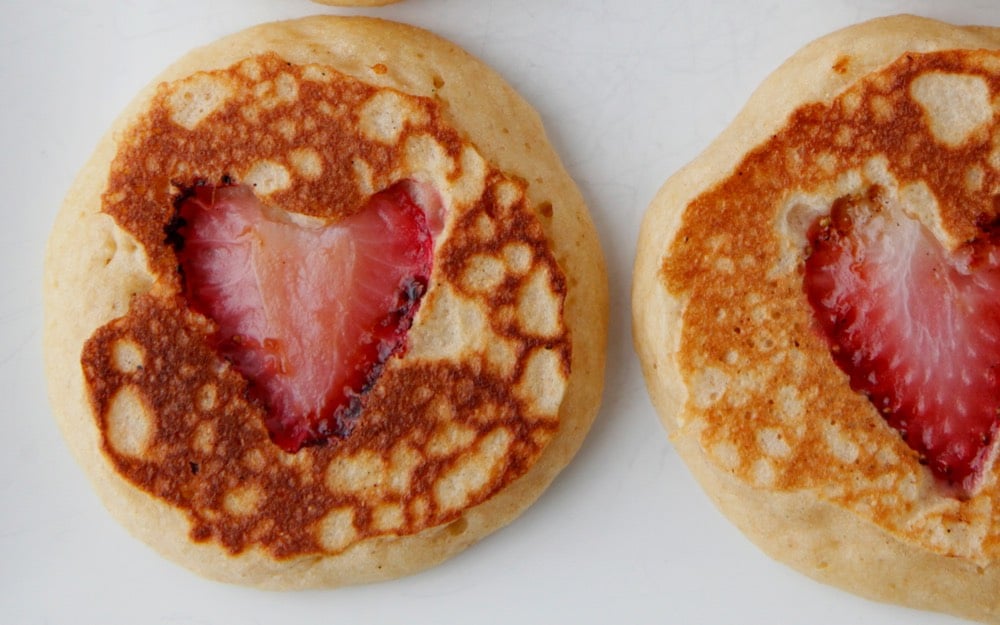 Pin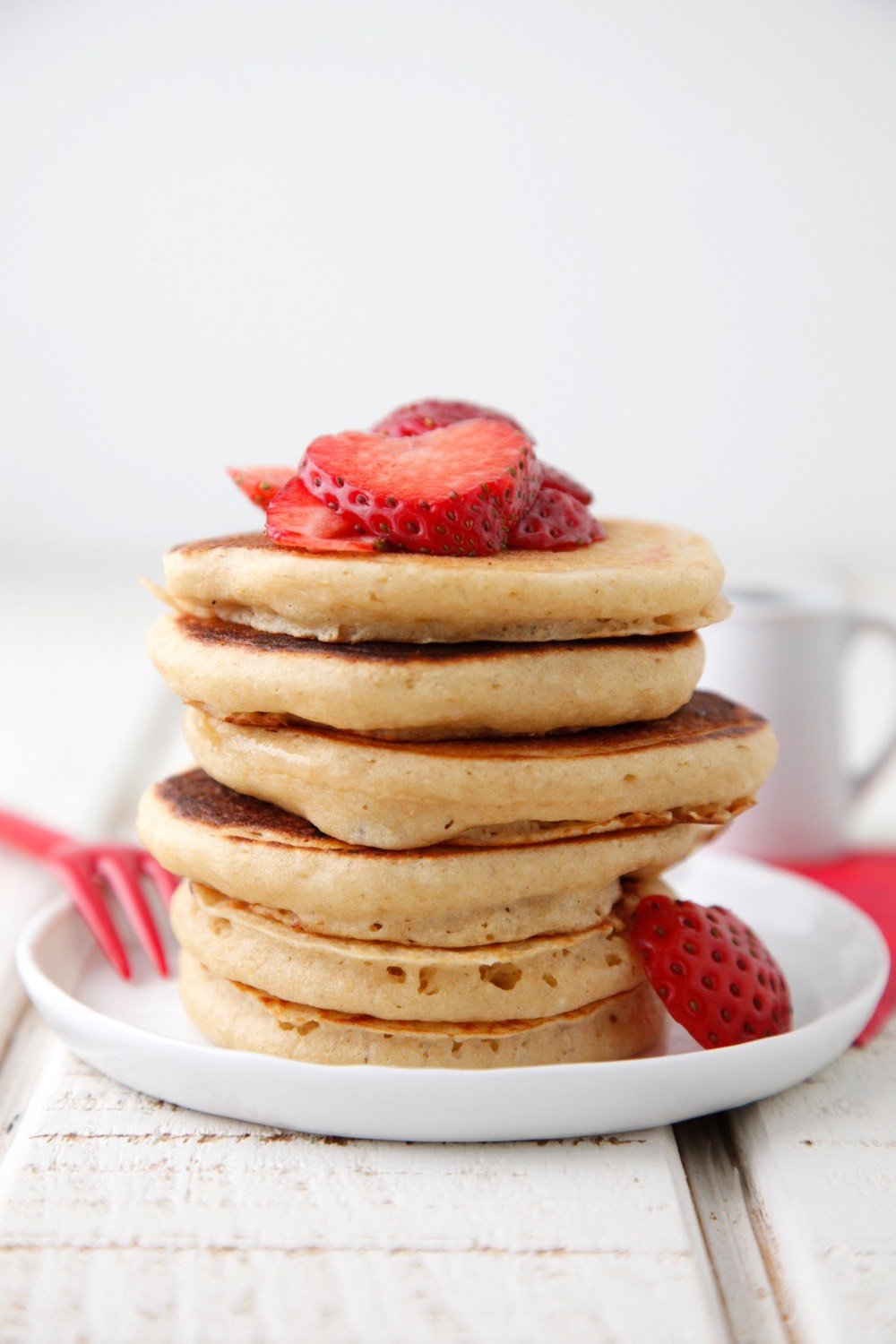 Pin
Valentine Strawberry Heart Pancakes
Ingredients
1

large

egg

1

cup

buttermilk

1

tablespoon

vegetable or canola oil

1

cup

white whole wheat flour

1

tablespoon

sugar

1

teaspoon

baking powder

1/2

teaspoon

baking soda

1/4

teaspoon

kosher salt

6

large

strawberries, cored, sliced lengthwise into 4-5 pieces to resemble hearts
Instructions
Whisk the egg, buttermilk and oil in a large bowl.

In a separate bowl, whisk together the flour, sugar, baking powder, baking soda, and salt.

Mix the dry ingredients into the wet ingredients until just combined.

Heat a large pan or griddle over medium heat and grease with butter or oil.

Pour about 2 tablespoons of the pancake mixture onto the griddle, gently press a strawberry slice onto the top and cook for 2 minutes.

Flip the pancakes and cook an additional 1-2 minutes.

Note: If you do not have buttermilk you can make it by adding 1 tablespoon vinegar or lemon juice to 1 cup of milk. This mix also works beautifully with any type of milk you prefer!