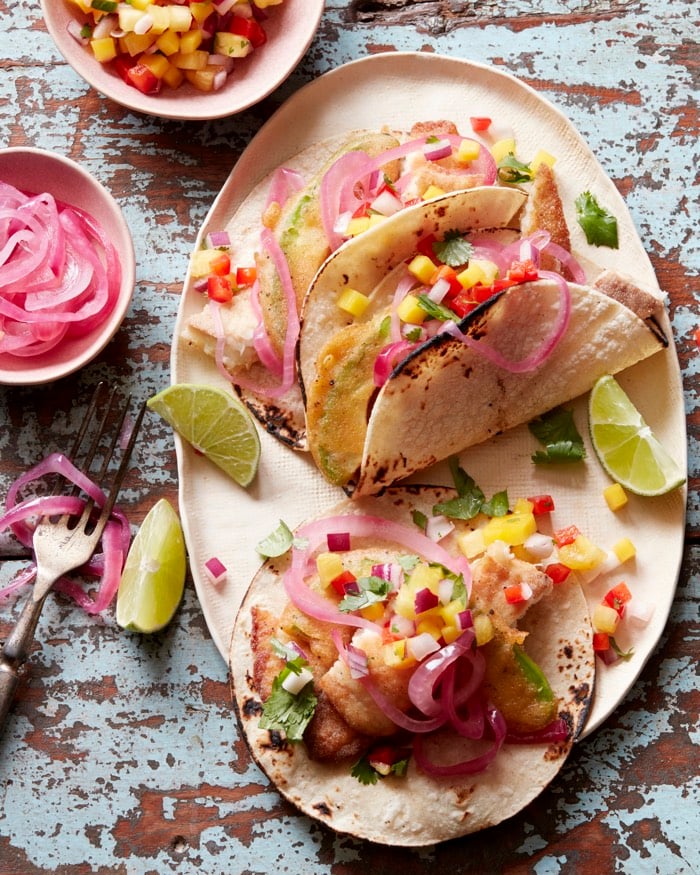 Pin
If there's one smell that transports me to another country it's tacos! The smell of fresh tortillas when they're warmed is as intoxicating to me as a Chocolate Chip Cookie Cake right out of the oven. When I was in 7th grade I was an exchange student living in Mexico with a family who made homemade tortillas every day. Just a whiff of that smell and I feel like I'm right back there. My Mexican mother in Toluca (just south of Mexico City) would use fresh masa to make the softest tortillas and then fill them with anything from pulled pork to steak to making simple chicken and bean quesadillas.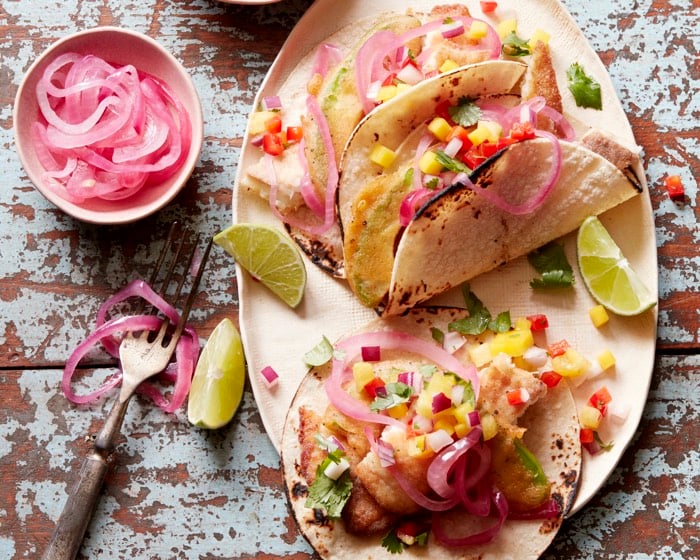 Pin
Just like myself as a kid, I find that Kenya and Chloe will eat just about anything I put in a tortilla. It's the perfect canvas for just about anything! I originally started making these Whitefish and Crispy Avocado Tacos for my organic family friendly meal delivery company, One Potato. I wanted to use a white flakey fish and the buttery avocado I was buying at the farmers market. Lightly battered and pan seared it transforms simple fish into something truly special.
I usually serve tacos with salsa or guacamole, but the tropical salsa here made with mango and papaya is so fresh it adds a ton of flavor to these tacos. If your crew is really brave you can add some jalapeño, but heads up_ you might want to remove the seeds as that's where all the heat is located! Either way these Whitefish and Crispy Avocado Tacos are crazy delicious!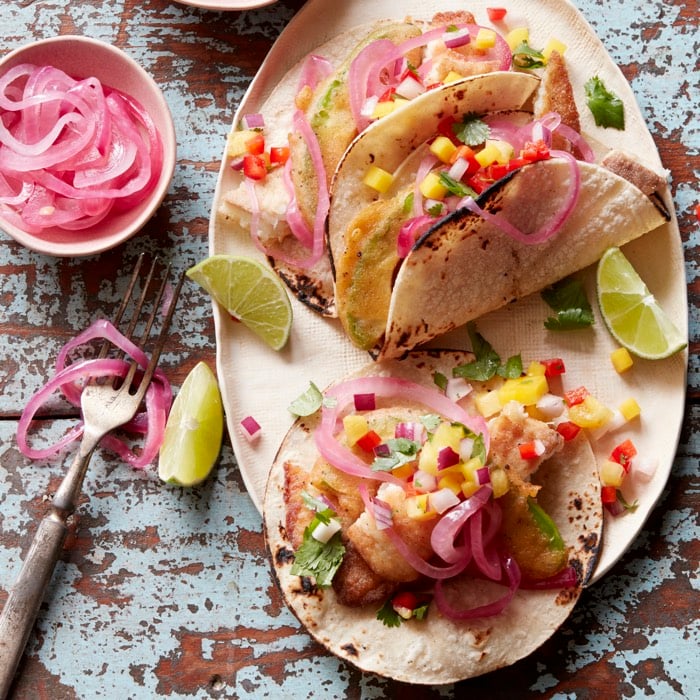 Pin
Photos by Matt Armendariz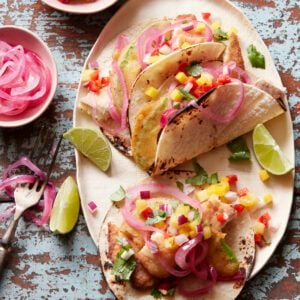 Whitefish and Crispy Avocado Tacos
Ingredients
For the Salsa
1

cup

diced pineapple

1

cup

diced mango

1

small

red onion, diced

1

small

red, orange or yellow bell pepper, diced

1/2 a lime

1/2

cup

chopped cilantro

1/4

teaspoon

kosher salt, or more to taste
For the Pickled Onions
1

red onion, sliced

2

tablespoons

sugar

1/2 a lime

1/4

cup

water
For the Tacos
1/2

cup

rice flour

1/4

teaspoon

cumin

1/4

teaspoon

paprika

1/2

teaspoon

kosher salt

1

pound

whitefish (tilapia, red snapper, or seabass)

1

ripe

avocado, cut into 1/4 inch slices

1

small bunch

cilantro

corn tortillas
Instructions
For the Salsa:
Place all the salsa ingredients in a bowl and stir to combine well. Set aside.
For the Pickled Onions:
In a saute pan, combine the sliced onions, sugar, lime juice, and water. Bring to a boil, and stir occasionally 1-2 minutes, until the sugar has dissolved and the liquid has reduced slightly. Transfer to a mixing bowl and set aside to pickle.
For the Tacos:
In a mixing bowl, combine the rice flour, cumin, paprika, and salt. Place half of flour mixture in a shallow bowl. Pat the fish dry, and dredge on both sides with the flour.

Heat a thin layer of oil in a saute pan, add the fish and cook 3-5 minutes on each side, until cooked through and golden brown. Remove from the heat and break into pieces.

Place the remaining flour mixture in a mixing bowl and stir in 1/4 cup water. Whisk well to create a batter.

Heat a thin layer of oil in the saute pan, Dip the avocado slices into the batter and allow excess to drip off.

Cook the coated avocado in the saute pan 1-3 minutes, until crispy. Transfer to a paper towel-lined plate.

Heat the tortillas if desired, and fill with fish, avocado, pickled onions, mango pineapple salsa, and extra cilantro.