These Air Fried Wonton Mozzarella Sticks are soon to be your new appetizer and snack obsession! Who doesn't love a crispy, crunchy and cheesy snack?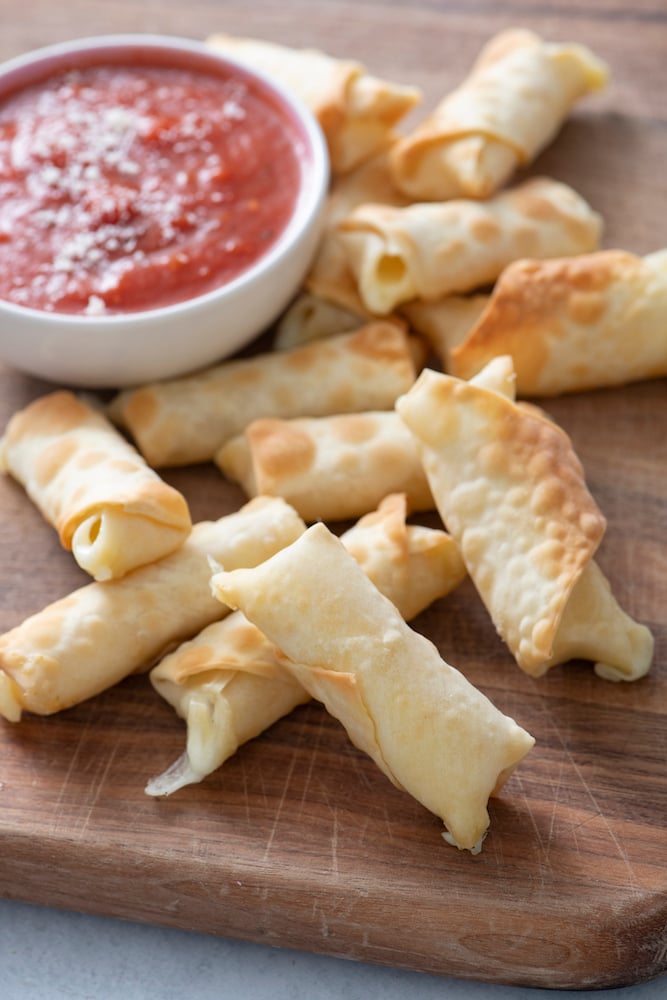 Ever had a craving for a cheesy, gooey mozzarella stick but didn't want to bother with all the breading? Allow me to introduce you to these super easy to make Air Fried Wonton Mozzarella Sticks! No messy breading required, and you still get the satisfying crunch you're looking for from the wonton wrappers. I made a batch of these for the kids for an after school snack and I couldn't believe how simple they were to make and just how quickly they came together!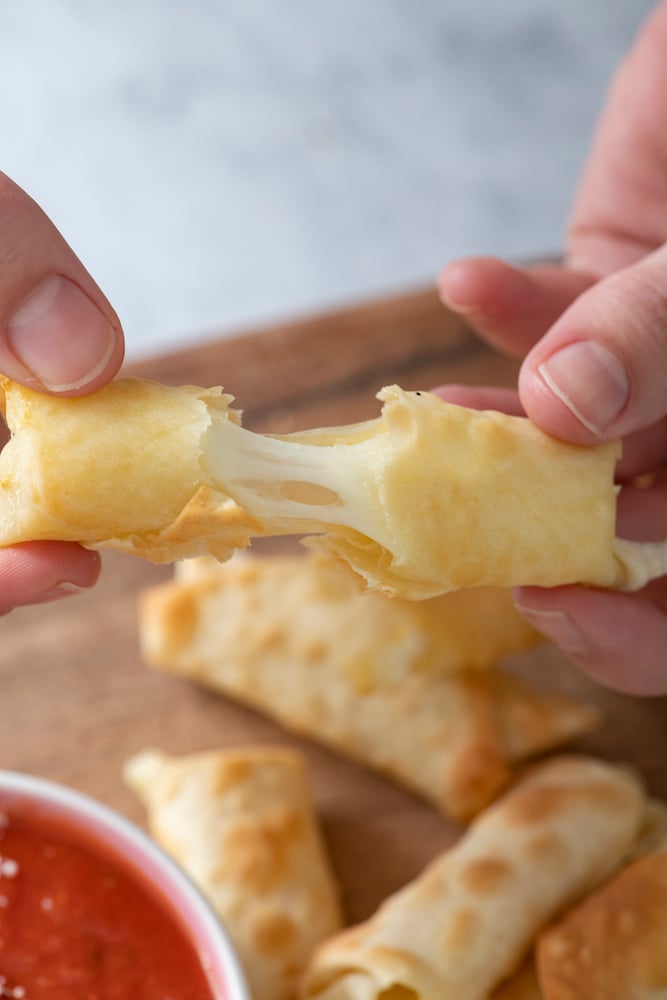 The other day the kids wanted mozzarella sticks, but I just didn't have the energy to get all the breading supplies together and make a mess of my freshly cleaned kitchen. I went to the refrigerator to see what I could do and spotted some wonton wrappers. A light bulb went off. I started wrapping the mozzarella cheese sticks in the wrappers and BOOM… our new favorite snack was created. Take a look at the next photos for a step by step how to!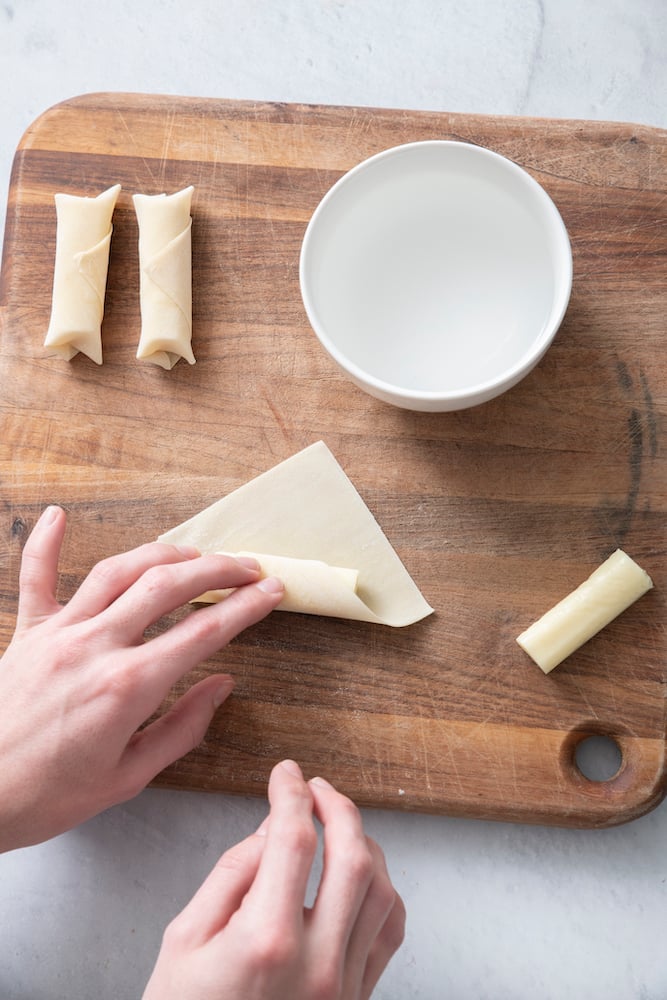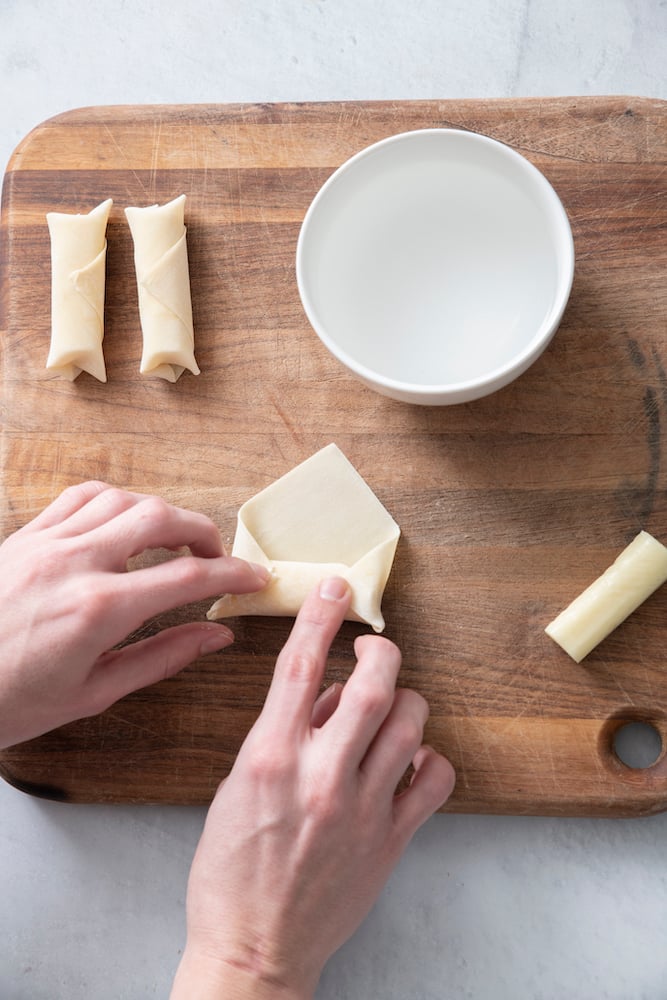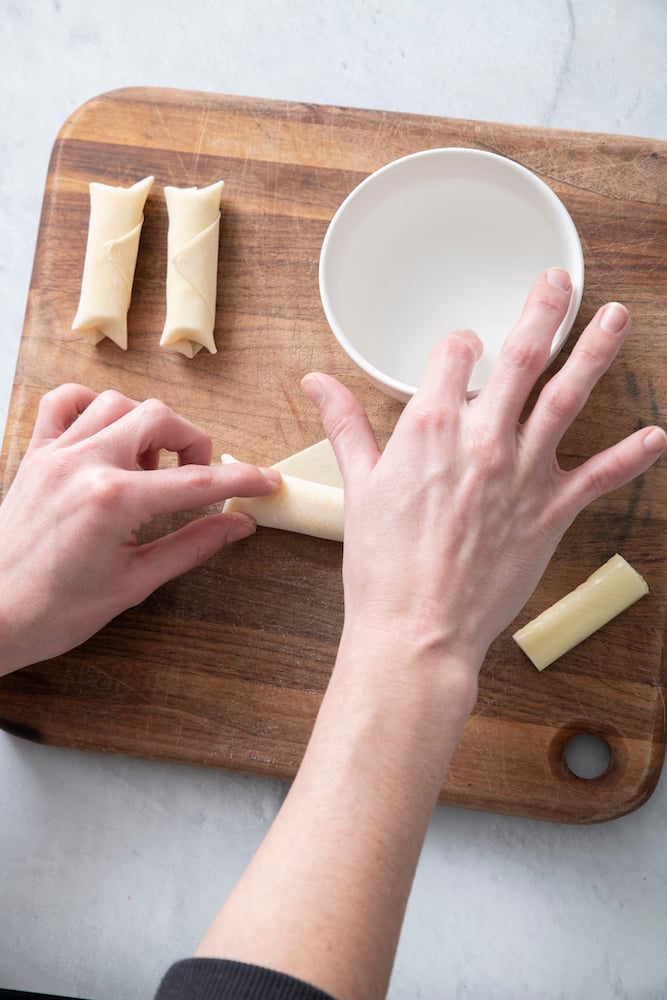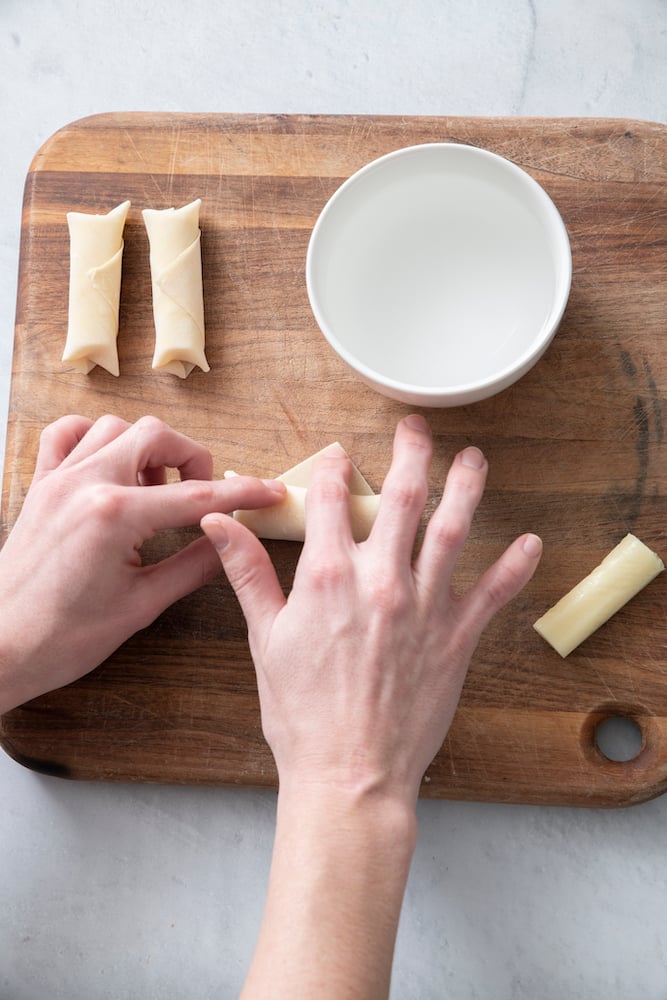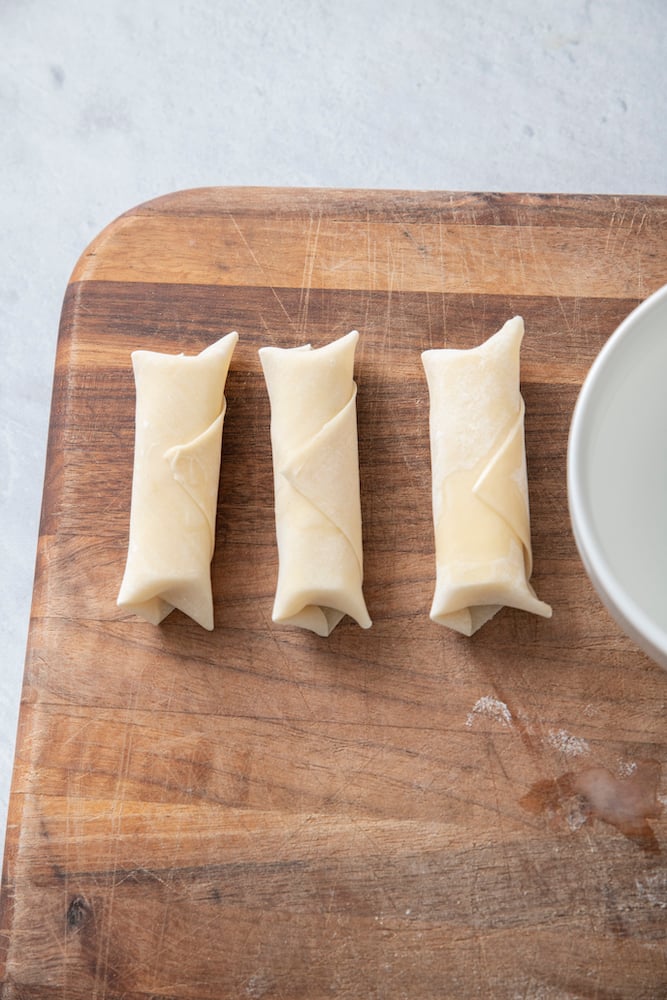 I've got a weakness for a good bite of melty cheese. Whether it be simply in a grilled cheese, Air Fryer Crispy Cheese Bites, Classic Macaroni and Cheese or Grilled Pizza Roll Ups, there's nothing better than the perfect cheese pull. And if you're like me, you're going to fall in love with these little cheese sticks too. Don't forget the marinara for dipping!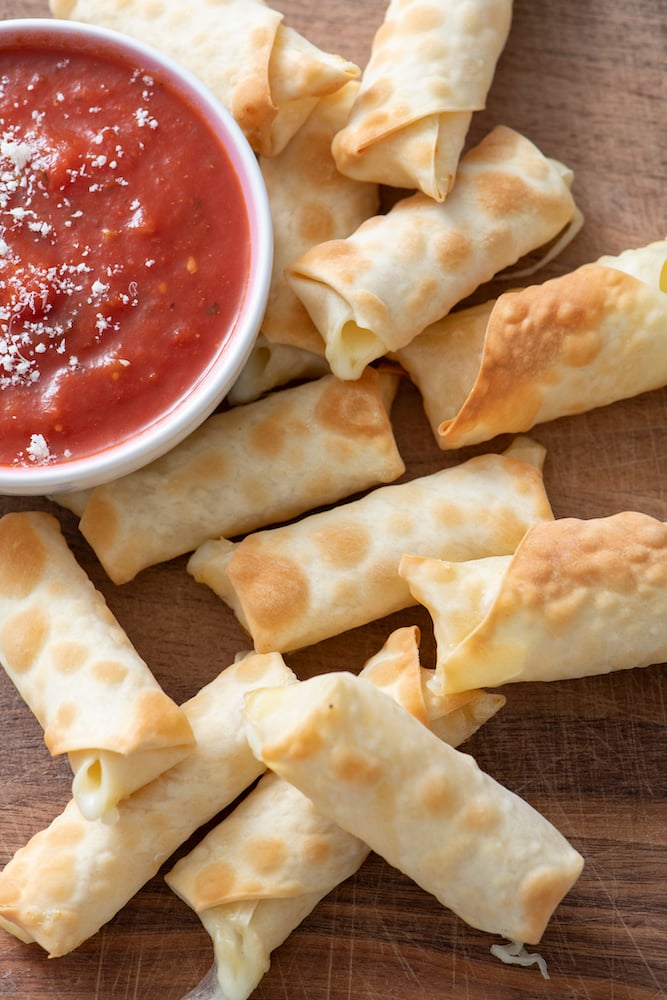 Also, you could totally make these cheese sticks using egg roll wrappers if you can't find wontons. You would just not cut the cheese sticks in half and wrap a whole stick in the egg roll wrapper. You'll still get the same crispy, cheesy goodness.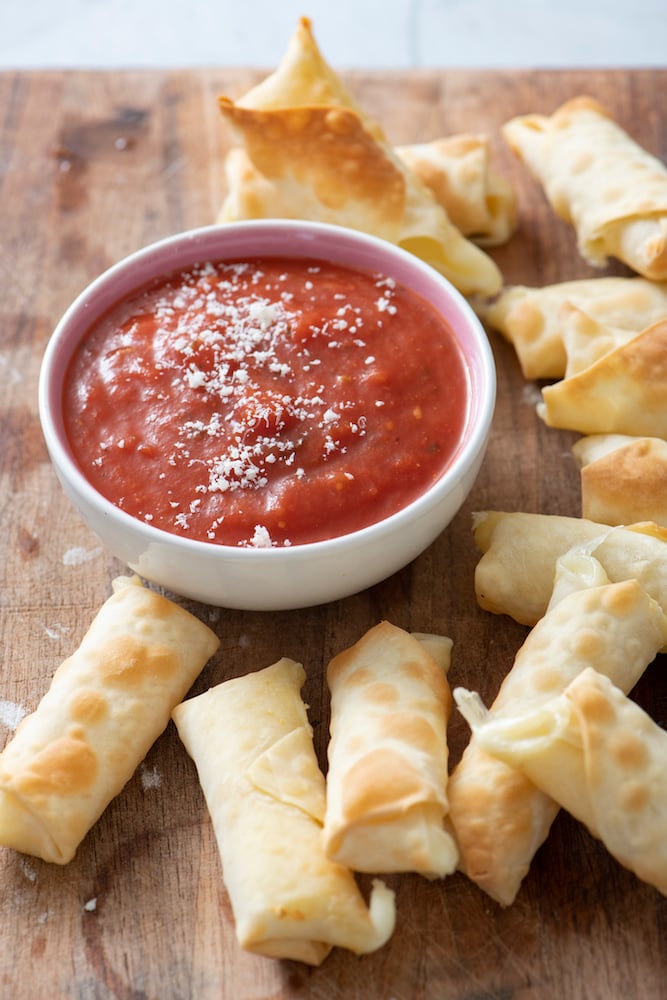 What do you think of these Air Fried Wonton Mozzarella Sticks? Let me know by tagging me on social media if you make them!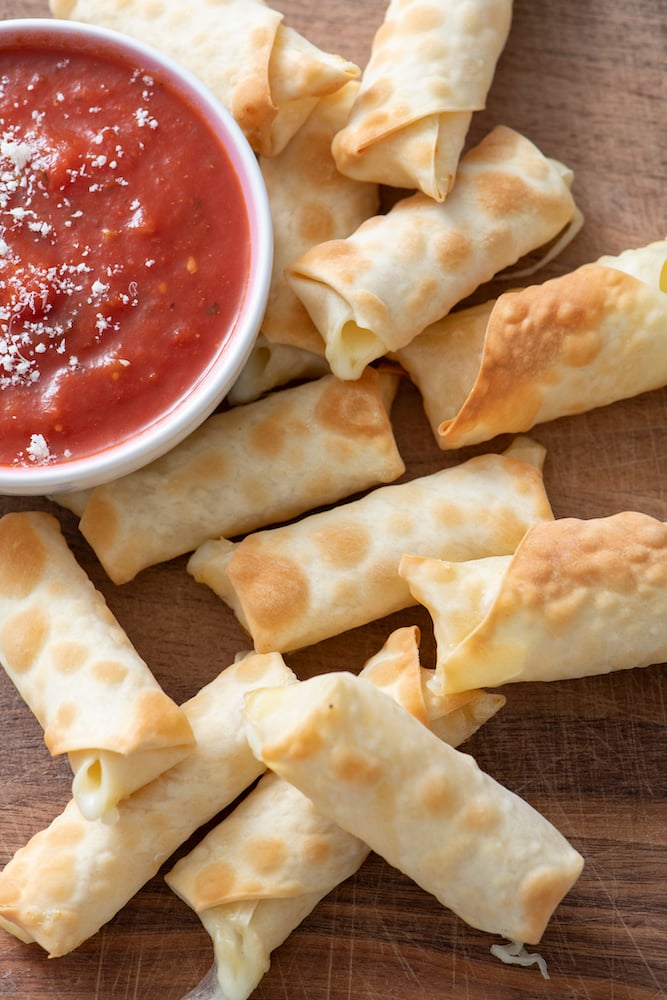 Air Fried Wonton Mozzarella Sticks
These mozzarella sticks are the easiest snack you'll ever make. Plus they're crispy crunchy and super cheesy!
Ingredients
16

wonton wrappers

8

mozzarella cheese sticks, cut in half (you should have 16 pieces)

olive oil cooking spray

marinara sauce, warmed or favorite dipping sauce
Instructions
Place a wonton wrapper point side towards you. Sprinkle lightly with garlic powder and a pinch of salt. Place 1/2 mozzarella stick on the end. Roll up halfway, fold in the sides and then continue rolling. Dip your finger in water and rub it over the end to seal the mozzarella stick into a cigar shape. Repeat with the remaining wrappers and mozzarella sticks.


Place the wrapped sticks seam side down in an air fryer basket and spray all over with olive oil spray.

Set air fryer to 375 degrees and cook for 8 minutes or until wrappers are golden.

Serve sticks with warmed marinara sauce.