Yummy, delicious, creamy, nutritious.. All the words I think of when describing this dish. The first time I tried a cherimoya was 3 weeks ago at the Farmers Market and my "avocado lady" gave me one. In some Latin cuisine, cherimoya ice cream is popular. To me, it tastes like banana crossed with strawberries and pineapple. When Kenya isn't in the mood to chew and I want to give him something sweet, pureed cherimoya is perfect. One night when he wasn't in the mood for it, but was devouring his avocado, I decided to throw the two in the blender and it made this gorgeous light green mousse. Packed with vitamin B6 and potassium, this is a fruit every baby should have the opportunity to try.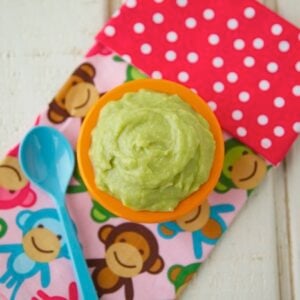 Avocado and Cherimoya Mousse
Instructions
Wash both fruits.

Halve the avocado, remove the pit and scoop the light green flesh into a food processor.

Halve the cherimoya and remove the big black seeds. Scoop white flesh into a food processor.

Puree until smooth and serve.