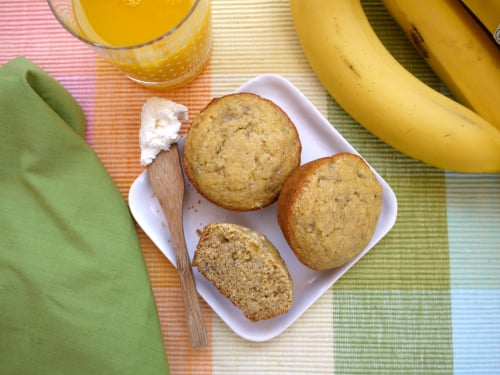 Open your pantry and look deep inside. Go ahead, open it. Now reach in and stretch out your arm. Come on now, all the way to the back. Do you feel that neglected box of cornmeal? You know, the one that's been there since last Thanksgiving? It's time for it to emerge from the recesses of your kitchen and fulfill it's potential. As long as the expiration date on the box is ok, you can rejoice and make a batch of these moist little jewels.
These muffins are simple to make. Really simple. And the best part is that you've probably already got all of the ingredients on hand so you can feel good that you don't have to go spend more money to make your family this scrumptious treat.
Did you have any idea something so delicious was hiding in your kitchen?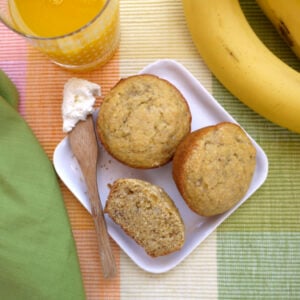 Banana Corn Muffins
Instructions
Preheat oven to 400°F.

Whisk the first 5 ingredients in a bowl.

In a separate bowl, whisk the remaining ingredients to combine.

Slowly whisk the dry ingredients into the wet ingredients until just combined, trying not to over-mix.

Fill batter into greased or lined mini-muffin cups, about 2/3 of the way up, bake for 15 minutes for mini muffins and 20 minutes for regular sized muffins and serve.
Nutrition
Calories:
140
kcal
|
Carbohydrates:
31
g
|
Protein:
3
g
|
Sodium:
220
mg
|
Fiber:
1
g
|
Sugar:
9
g