One of Kenya's favorite snack foods is Trader Joe's "Nothing But Bananas, Flattened". As the name clearly states, there's nothing in them except for bananas. As much as I truly adore Trader Joe's, I wanted to see if I could save a little money and make a similar version to this treat on my own. When I tell you my attempt took no effort or time, I mean it. All I did was slice the bananas, lay them on a cookie sheet and bake for just over an hour. It was so easy and I think they're even better than the Trader Joe's version.
But, don't take my word for it. Let your family do a taste test and see for yourself. When Kenya saw these come out of the oven, he proceeded to eat the entire tray's worth. Good thing I had more bananas on hand to make another batch!
P.S. This is a great teething snack for babies.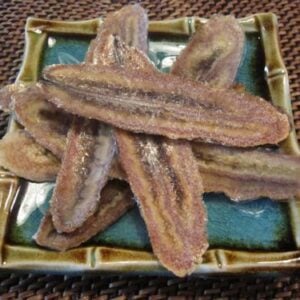 Banana Leather
Instructions
Preheat oven to 250°F.

Slice the bananas lengthwise into 1/8 inch strips.

Place the banana strips on a Silpat or parchment lined baking sheet and cook for 1 hour and 15 minutes.

Cool and serve.
Nutrition
Calories:
20
kcal
|
Carbohydrates:
4
g
|
Fiber:
1
g
|
Sugar:
2
g