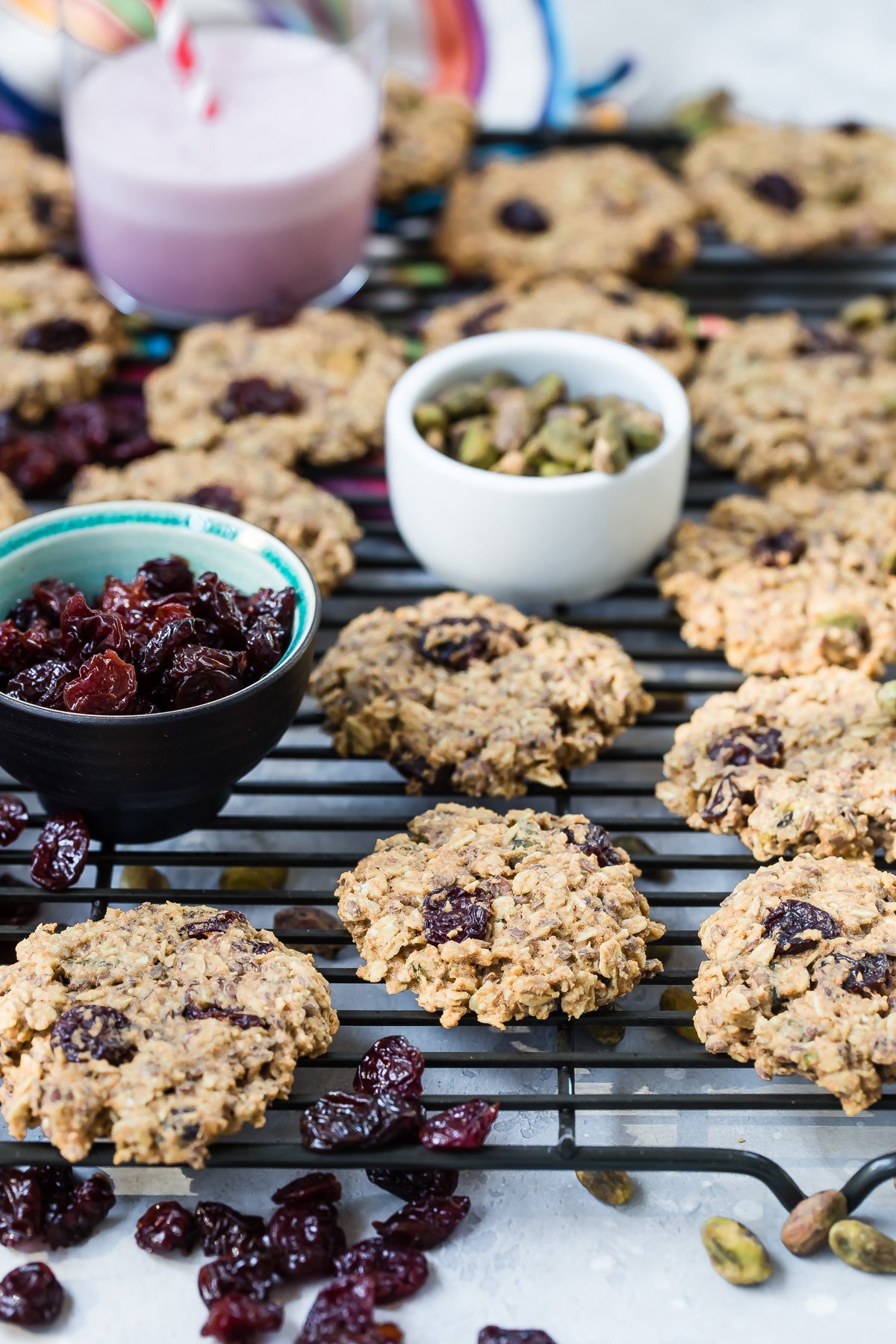 As my kids get older I notice more and more that lunch can be a slippery slope. One day the lunchbox comes home totally empty, while other days it's halfway-to-completely full as kids tend to get preoccupied chit chatting or immediately bolt to the playground at lunchtime to let off some steam.
Nutritionally kids tend to get what their bodies need, so it's no cause for alarm, but parents understandably get unnerved when they notice their kids haven't eaten much during the day. That's why breakfast is so important. Knowing your kids left the house with full bellies in the morning can make your after-school encounter with an untouched lunch box a little less unsettling.
But why do I hear so often from parents that breakfast is the bane of their existence? It doesn't have to be if you have batches of Breakfast Cookies on hand. You heard me right, Breakfast Cookies!
I've said it before and I'll say it again, give a kid food in the form of a pancake like Banana Bites, put it on a stick (consider French Toast on a Stick) or call it a cookie and it will almost guarantee they will be excited about eating it.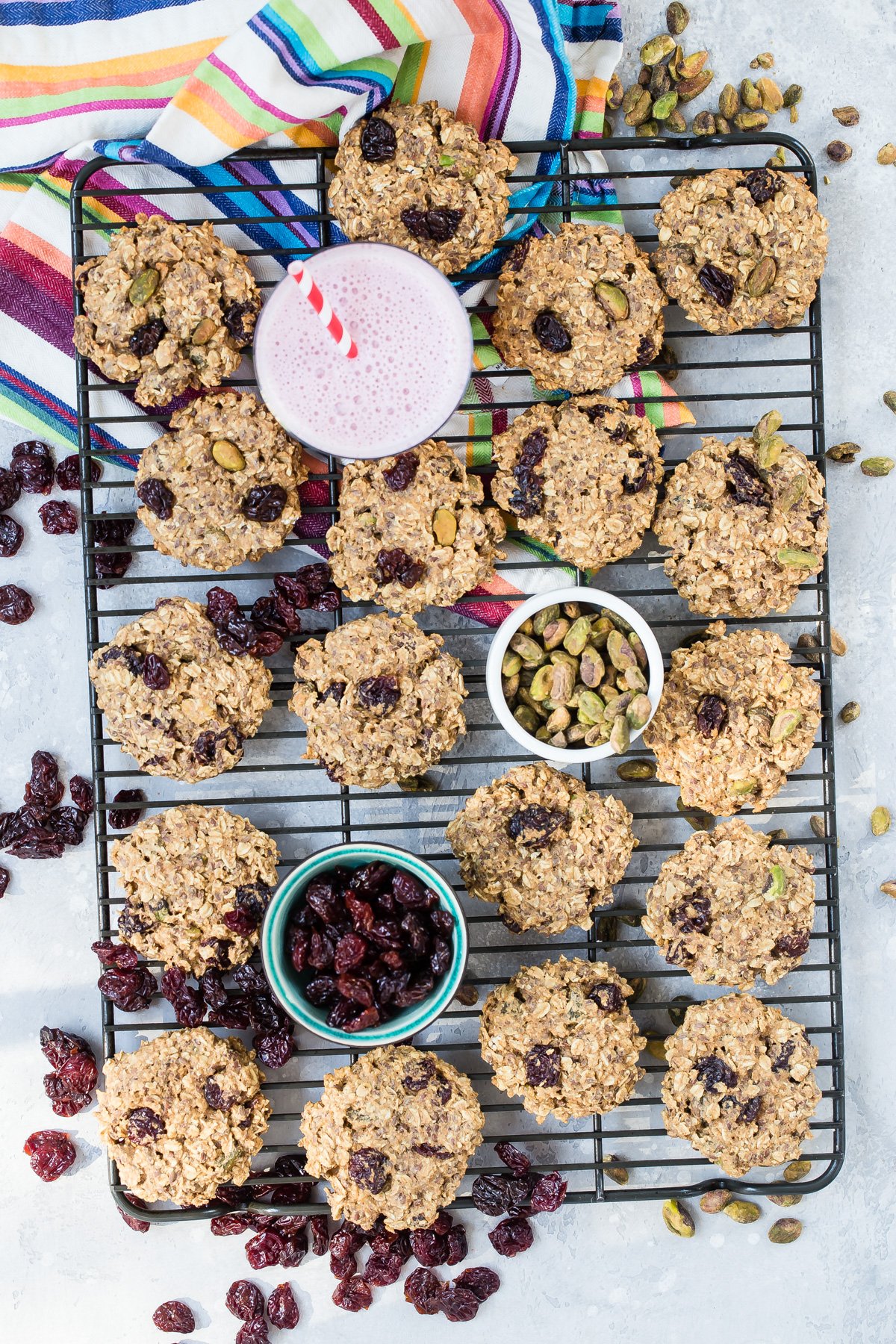 These Breakfast Cookies are awesome because they have tons of protein, Omega-3 fatty acids to support brain development and carbohydrates — all things you want to get your kids going first thing in the morning.
For moms who prefer not having all the butter of a traditional cookie, I've reduced what this recipe would normally call for and replaced it with apple sauce, which also gives these cookies a naturally sweet and moist texture.
If everything I've told you so far hasn't gotten you excited enough, these Breakfast Cookies freeze beautifully before or after you bake them so all they require is a quick pop in the toaster. How easy is that? Your kids will be so happy being sent off to school fueled with cookies and you'll actually feel good about the breakfast you served!
What's your favorite on the go food when you're running out the door in the morning?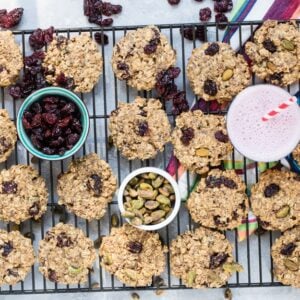 Breakfast Cookies
Ingredients
1/4

cup

unsalted butter, softened

1/2

cup

apple sauce

1/2

cup

maple syrup

1

large

egg

2

teaspoons

vanilla extract

1

cup

whole wheat flour

2

cups

old fashioned oats

1/2

teaspoon

baking soda

1/2

teaspoon

kosher salt

1

teaspoon

ground cinnamon

1/2

cup

shelled pistachios

1/2

cup

dried cherries

1/2

cup

flax seeds
Instructions
Place the butter, apple sauce and maple syrup in a bowl or standing mixer and beat until well combined.

Add the egg and vanilla extract and beat until smooth.

In a separate bowl, whisk together the flour, oats, baking soda, salt and cinnamon.

Slowly add the dry ingredients into the wet and mix to incorporate.

Fold in the pistachios, cherries and flax seeds.

Using a small ice cream scoop or 2 tablespoon measure, drop dough onto Silpat or parchment-lined baking sheets. Use the palm of your hand to gently press down the cookies, as they do not spread during baking.

Bake for 15 minutes and remove to a cooling rack.

To Freeze: Before baking, after step 7 place in the freezer for 1 hour and then transfer to zipper bags. When ready to bake add an additional minute to the cooking time.

To Freeze: After baking, place in freezer bags and freeze up to 3 months.
Nutrition
Calories:
150
kcal
|
Carbohydrates:
20
g
|
Protein:
4
g
|
Fat:
6
g
|
Cholesterol:
15
mg
|
Sodium:
100
mg
|
Fiber:
3
g
|
Sugar:
6
g