Caramelized Shallot Pasta with Gruyere is soon to be your new favorite recipe for a quick weeknight dinner the whole family will love.
Pasta is always a huge win when it comes to dinnertime in our house. It's one of the few types of dishes that can satisfy both vegetarians and meat eaters at the same time, which is always a plus for our household. Plus, there's nothing better than a simple recipe that you can whip up in under 30 minutes, and that's exactly what this Caramelized Shallot Pasta with Gruyere can be. I love pulling this dish together on a busy weeknight. It's only a few ingredients and takes hardly any time to make.
Ingredients for Caramelized Shallot Pasta with Gruyere
Penne Pasta: Feel free to substitute another pasta shape that you may already have in your pantry. Fusilli, Rigatoni or Ziti would work great.
Shallots: The star of the show! Make sure to very thinly and evenly slice the shallots. It helps them caramelize better.
Gruyere: Adding gruyere to this pasta sends it to the next level. It's creamy, slightly nutty and melts super well. If you can't find gruyere you could substitute with gouda, fontina or maybe a mild cheddar. But, I'd really encourage the gruyere!
Garlic: Because pasta is just better with garlic pretty much always.
Olive Oil: a quarter cup of oil sounds like a lot, but it's just enough to cover the bottom of the pan and caramelize your shallots
Balsamic Vinegar: just a splash! Adding balsamic to this pasta adds a bit of acidity and brightness to the dish.
Salt and Pepper: always a good addition to a recipe.
How to Make Caramelized Shallot Pasta with Gruyere
In a large pot, bring salted water to a boil. Add your pasta and boil for 10 minutes, or until al dente. Drain, reserving 1/2 cup of pasta water, and set aside.
Meanwhile, add olive oil and thinly sliced shallots to a pan and saute on low for 15 minutes, until soft and caramelized. Make sure you stick to sauteing low and slow to allow the shallots to caramelize without burning.
Add garlic and saute an additional 2 minutes then add the balsamic vinegar and saute for 30 more seconds.
Now you can add your pasta and shredded gruyere to the pan of caramelized shallots. Give it a good mix and then gradually add in the reserved pasta water as needed.
I've been making this recipe on repeat lately, and everyone is loving it. The combination of flavors takes just a few simple ingredients and turns them into something really special with minimal effort. Serve this pasta alongside a big salad with citrus herb vinaigrette and you've got dinner fully taken care of. Pro tip: add this lemon herb chicken on the side if the meat eaters want a bit more protein.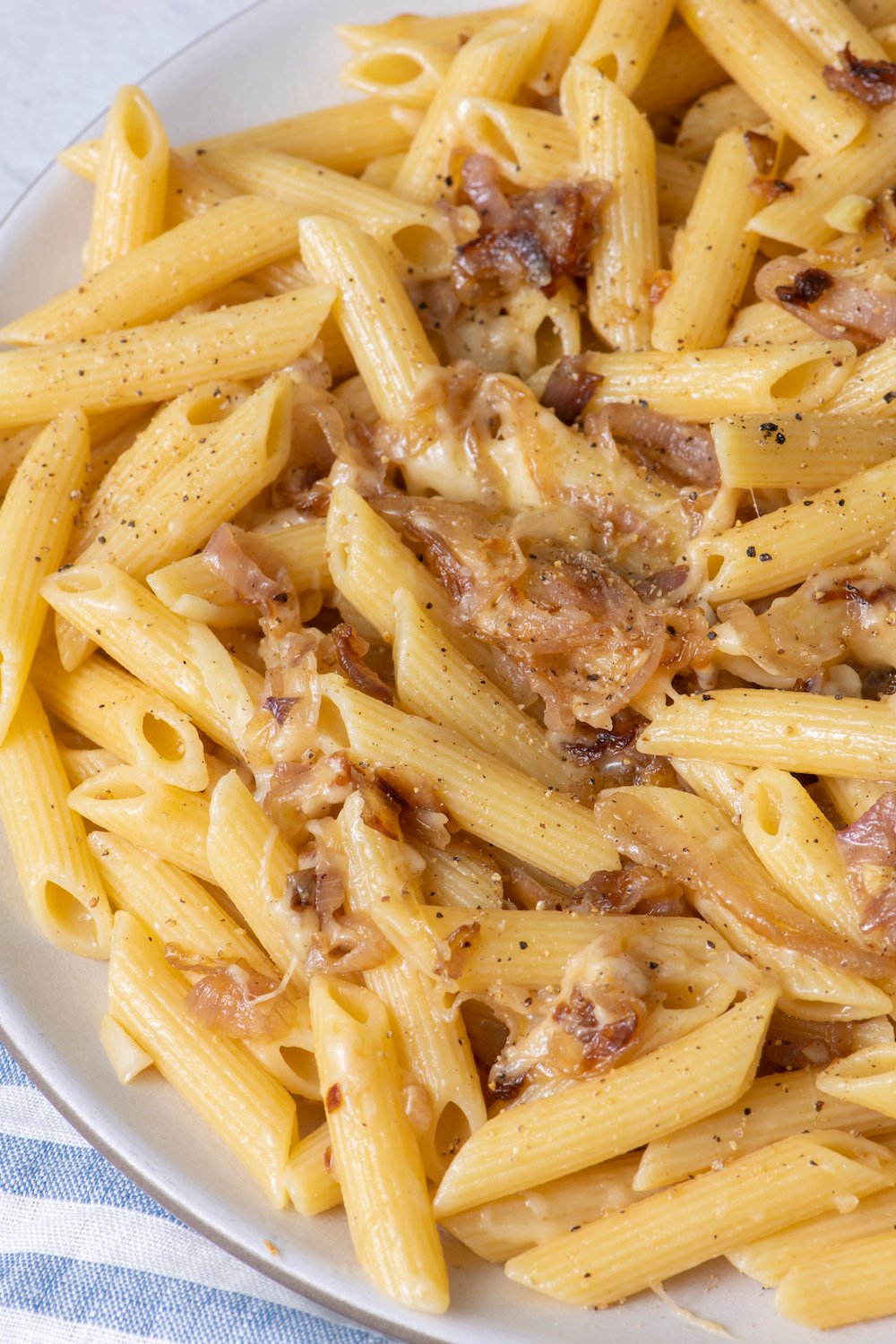 More Easy Pasta Recipes
Make weeknight dinner a breeze with this Caramelized Shallot Pasta with Gruyere! Let me know what you think in the comments and tag me on Instagram if you make it!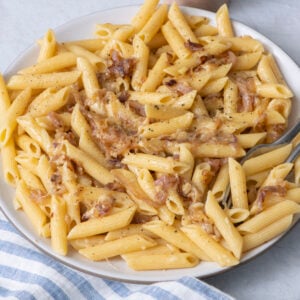 Caramelized Shallot Pasta with Gruyere
The slight sweetness from the caramelized onions and the creaminess from the gruyere cheese take this simple pasta recipe to the next level.
Ingredients
8

ounces

penne pasta

1/4

cup

olive oil

8

shallots, thinly sliced

5

garlic cloves, thinly sliced

1

teaspoon

kosher salt, plus more for salting water

2

tablespoons

balsamic vinegar

3/4

cup

grated gruyere cheese

pepper, to taste
Instructions
Bring a large pot of salted water to a boil over high heat. Add the pasta and cook according to package instructions, about 10 minutes. Drain, reserving 1/2 cup pasta water, and set aside.

Meanwhile, in a large saute pan, add the olive oil and shallots. Saute on low for 15 mins, adding salt about 5 minutes in. Saute until shallots become soft and caramelized.

Add garlic and saute for another 2 minutes. Then add balsamic vinegar and saute for 30 seconds, until fragrant.

To the pan of shallots, add the cooked pasta and gruyere and stir. If needed, slowly add pasta water until desired consistency is reached. Add salt and pepper, to taste.