We're heading into summer and that means BURGER time! If you want to jazz things up with your family and friends try these Chicken Sun Dried Tomato Burgers! We've been buying the most incredible sun dried tomatoes at the farmers market and Chloe wants to put them on everything from her sandwiches in school lunch, in her salads which in turn reminded me I needed to make these burgers again. Check out this video for how to make them and enjoy the updated photos, too!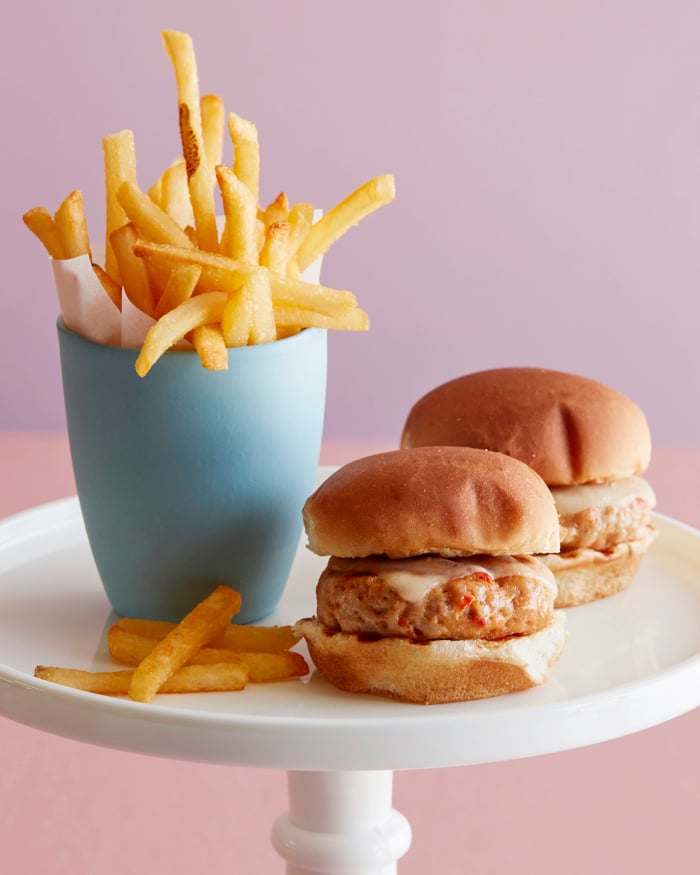 Pin
It's almost Memorial Day weekend and that means time to get your arsenal of holiday recipes ready! I realize that I've already posted one sun dried tomato recipe this week, but there's a good reason for that. Sun dried tomatoes add so much flavor to the most simple foods that I want to encourage you all to try using them more in your own recipes.
I always keep a jar of them in the pantry so whenever I'm stumped on how to boost the flavor of a fairly neutral tasting food like ground chicken, I've got a great go-to ingredient that I know will deliver big on taste. Throw in a bit of Parmesan and you can turn these burgers into a holiday meal your guests will remember.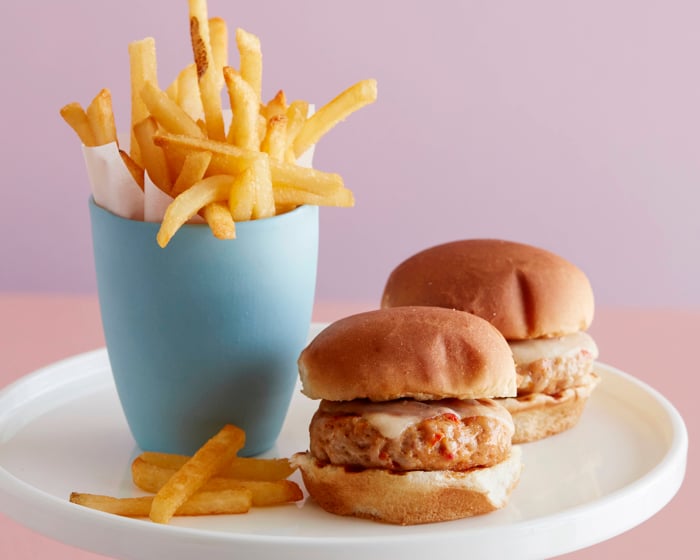 Pin
So if you're looking for the perfect backyard recipe when you fire up the grill this weekend, try these sun dried tomato chicken mini burgers. They're easy to make and everyone from the kids to the grandparents will love them!
Photos by Matt Armendariz
Chicken Sun Dried Tomato Mini Burgers
Ingredients
1/3

cup

sun dried tomatoes, packed in oil

1

1/4 pound

ground chicken

1/4

cup

parmesan cheese

1

teaspoon

kosher salt

2

slices

mozzarella, provolone, white cheddar or any kind of cheese you like, cut in fourths

8

mini burger buns (I got them at Trader Joe's)

olive oil
Instructions
Preheat grill, panini maker, or saute pan.

Place sun dried tomatoes in a food processor, process for 30 seconds until chopped.

Add ground chicken, parmesan cheese, and salt and process until all ingredients are incorporated.

Use a 1/4 cup of the chicken mixture and form into patties for mini burgers, or use a 1/2 cup and form into larger patties.

Grease grill, panini maker or pan with olive oil.

Toast burger buns for one minute and remove.

On the grill or pan, cook patties for 3 minutes on each side for mini burgers, 4 minutes for bigger burgers. In the panini maker, cook a total of 6 minutes for minis, 8 minutes for larger burgers.

Add cheese to the patty in the last minute of cooking to melt. (If you are cooking with the panini maker, remove patty once fully cooked and add cheese and let patty rest for one minute (the cheese will melt while the burger is resting).

Place patties in burger buns and serve.

To Freeze: Shape into patties and place on a cookie sheet and freeze. After 30 minutes place the par-frozen patties in a ziploc bag, label and freeze. When ready, defrost in fridge for 24 hours or put them straight on the grill or pan adding at least 5 minutes cooking time.
Nutrition
Calories:
200
kcal
|
Carbohydrates:
14
g
|
Protein:
18
g
|
Fat:
9
g
|
Cholesterol:
55
mg
|
Sodium:
550
mg
|
Fiber:
2
g
|
Sugar:
1
g