Chicken Tikka is surprisingly simple to make and absolutely delicious. Serve with this refreshing Cucumber Mint Raita for a perfect flavor combination.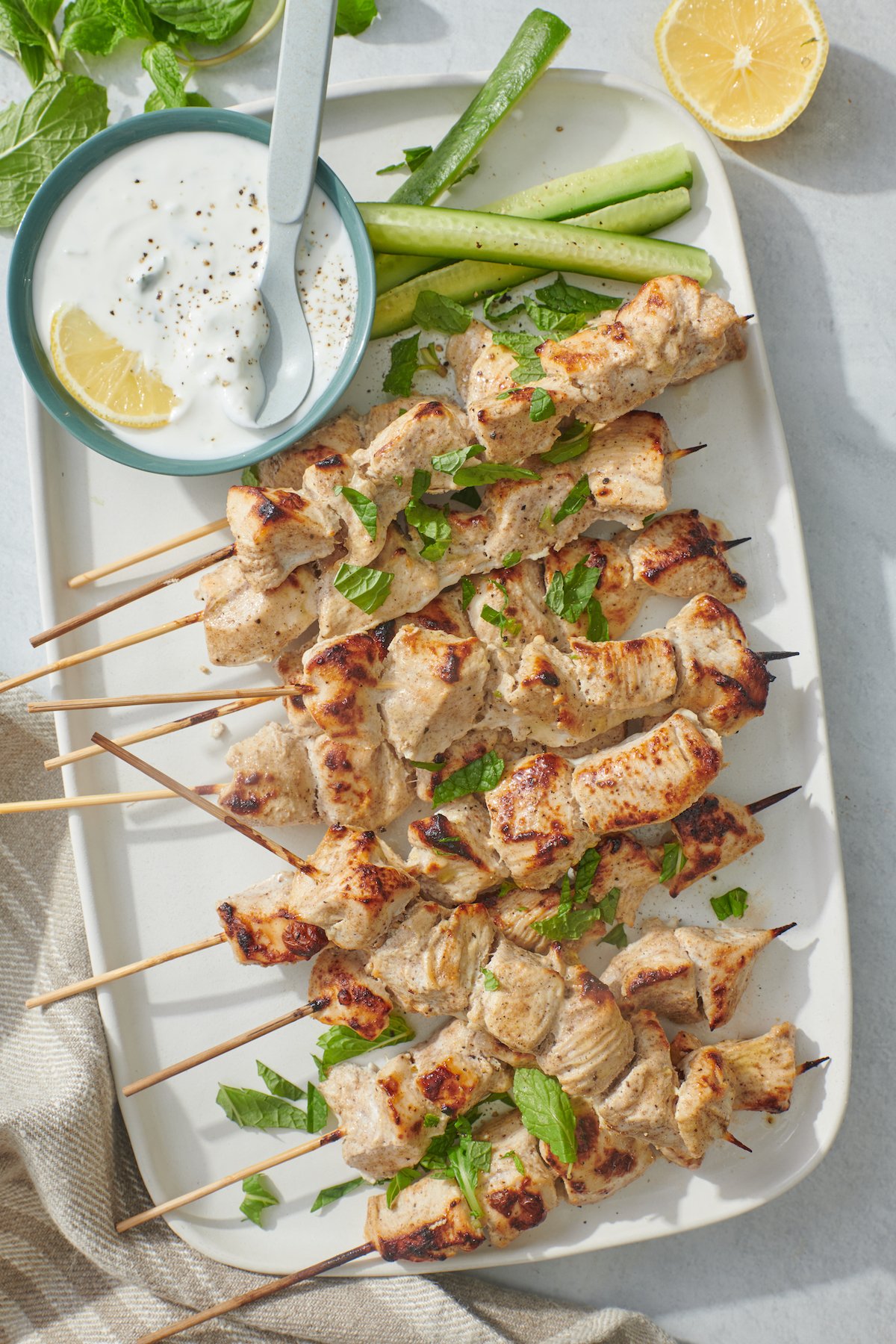 When I was pregnant with my kids, I had huge cravings for foods with spice — specifically Indian cuisine. I've always wondered to what degree what we eat during our pregnancy determines the foods and tastes that our kids end up loving, especially because all of my kids are now huge fans of Indian spices! I decided to whip up this Chicken Tikka with Cucumber Mint Raita recipe which seems daunting, but is surprisingly very easy to prepare and even more delicious to eat! They all LOVED it!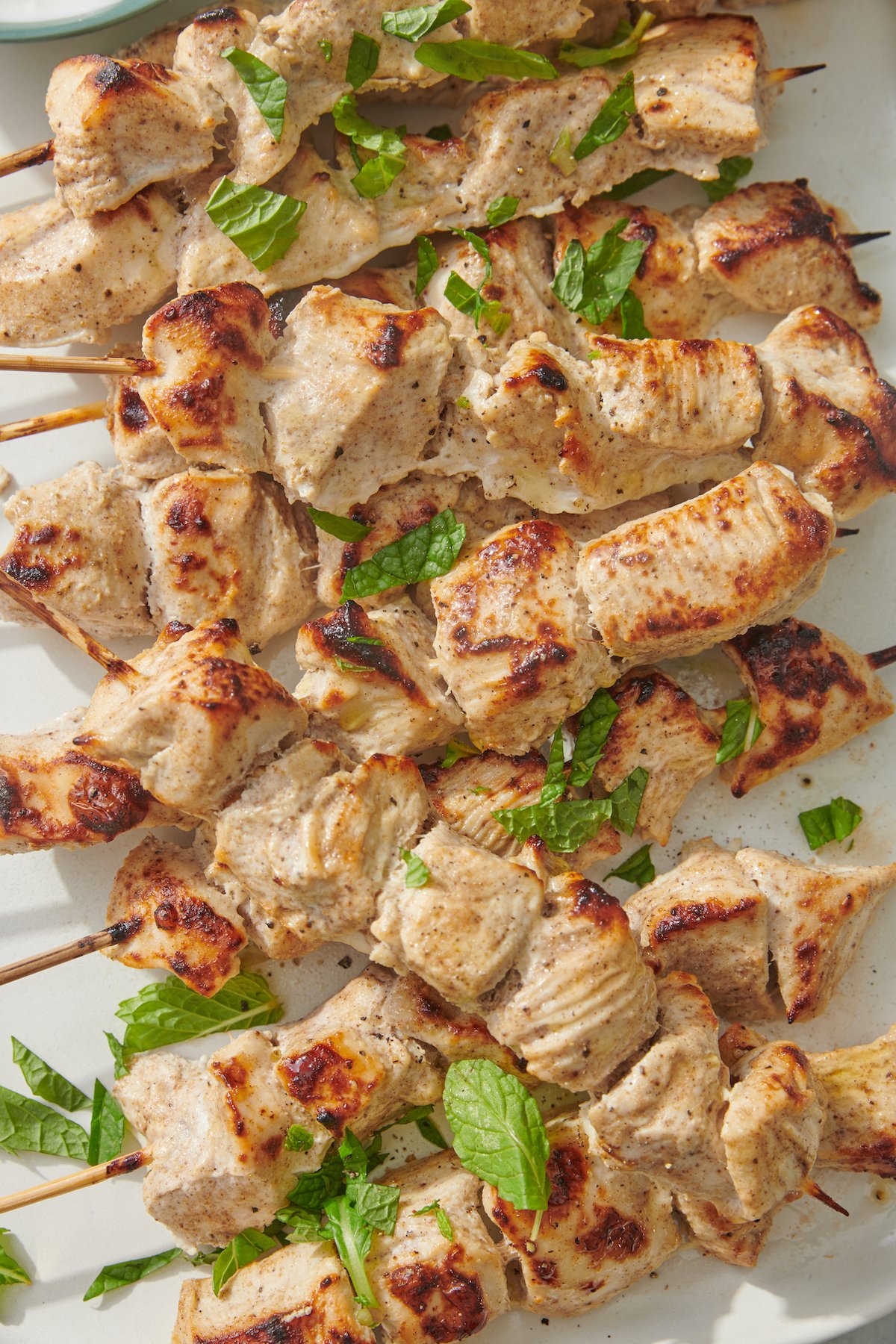 What is Chicken Tikka?
Chicken tikka is a dish from Indian cuisine that's made with small chunks of boneless chicken that are marinated in a spiced yogurt mixture. It was traditionally made in a clay oven also called 'Tandoor', but you can also make it in an oven or outdoor grill. It's a super popular appetizer or main dish served in Indian restaurants around the world, typically with a side of rice or bread. Try it next time you're at an Indian restaurant or make it at home with this recipe!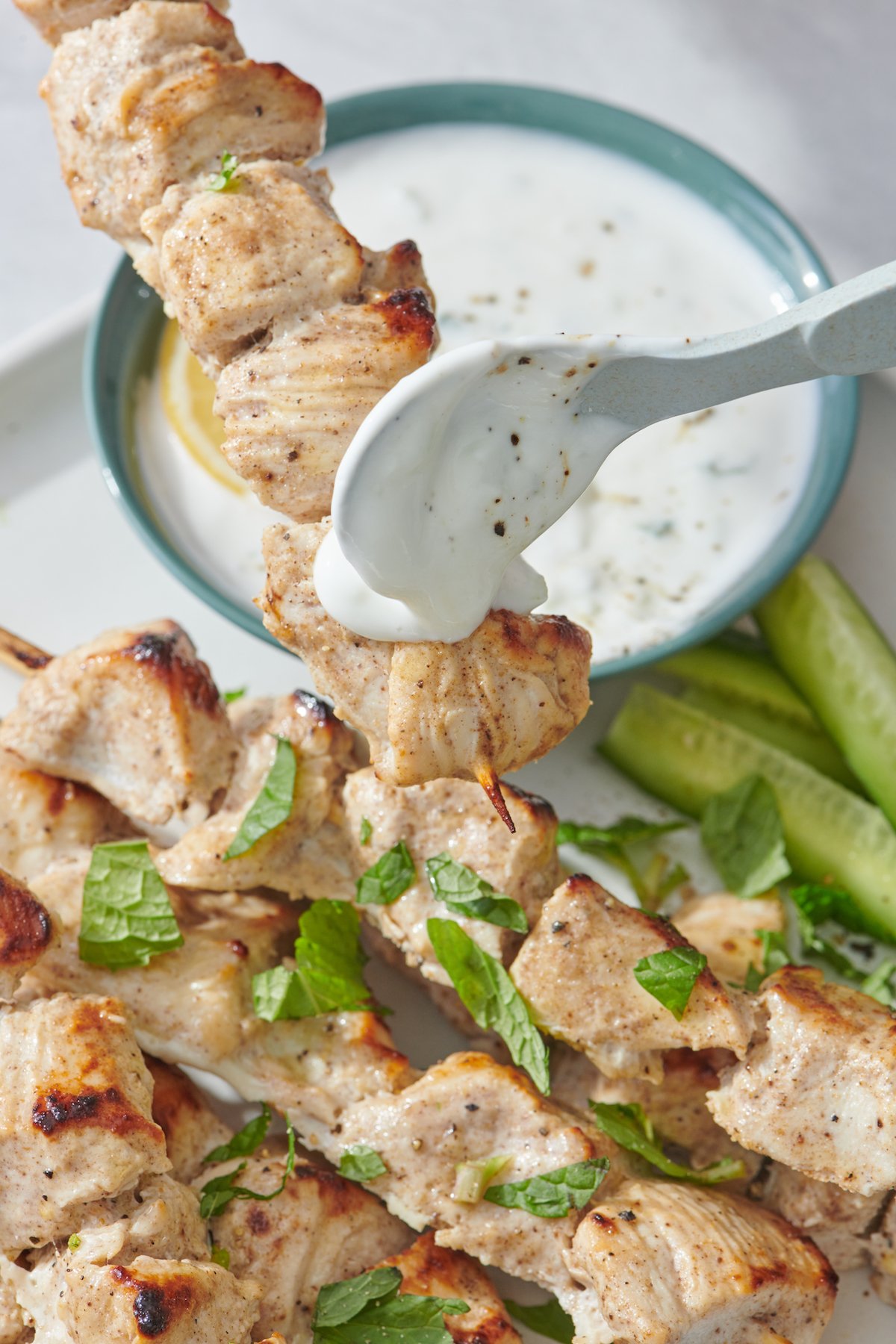 Tips for The Best Chicken Tikka
Marinate the chicken for at least an hour, but preferably several hours or overnight. It will be delicious regardless, but the longer the yogurt and lemon juice have to tenderize the chicken the better!
To prevent your bamboo skewers from burning you can soak them in water for 15 minutes. Or just cover the ends with aluminum foil so they don't get too burnt.
When placing the chicken pieces on the skewers, you want them to just barely be touching and not overcrowded. This will help the chicken cook more evenly.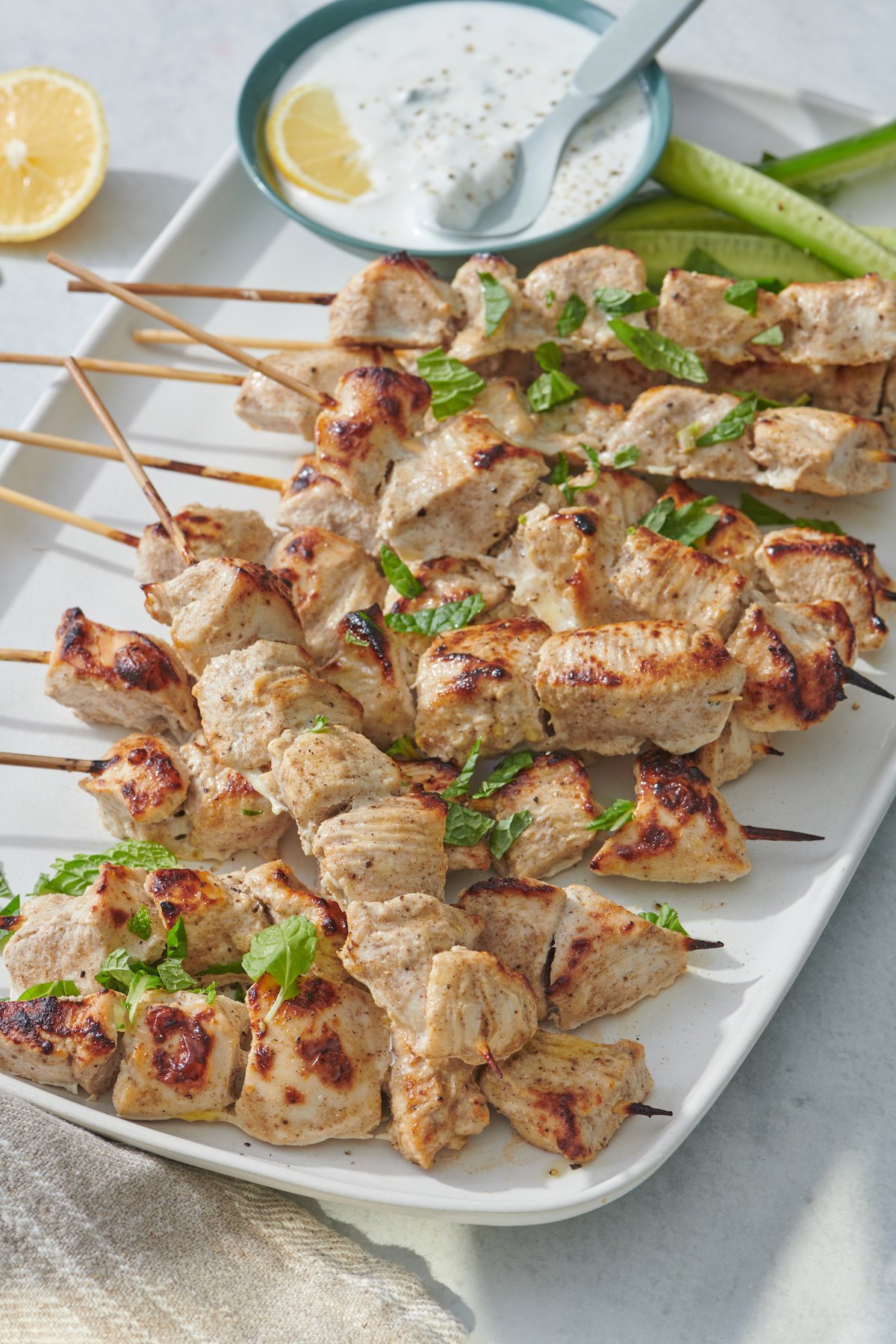 What to Serve with This Dish
The best part of Chicken Tikka is that it's super versatile and can be served with a plethora of sides and dips. Our favorite is to dip it in Cucumber Mint Raita (recipe below). It's refreshing with the crispy cucumber and fresh mint and pairs really well with the spices from the chicken tikka. A perfect meal in my book? Chicken Tikka with Cucumber Mint Raita and some warm basmati rice! YUM!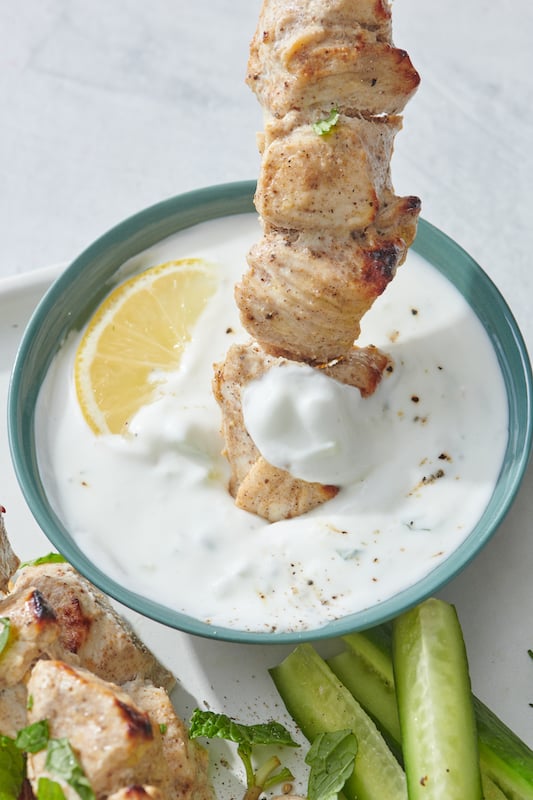 More Chicken Breast Recipes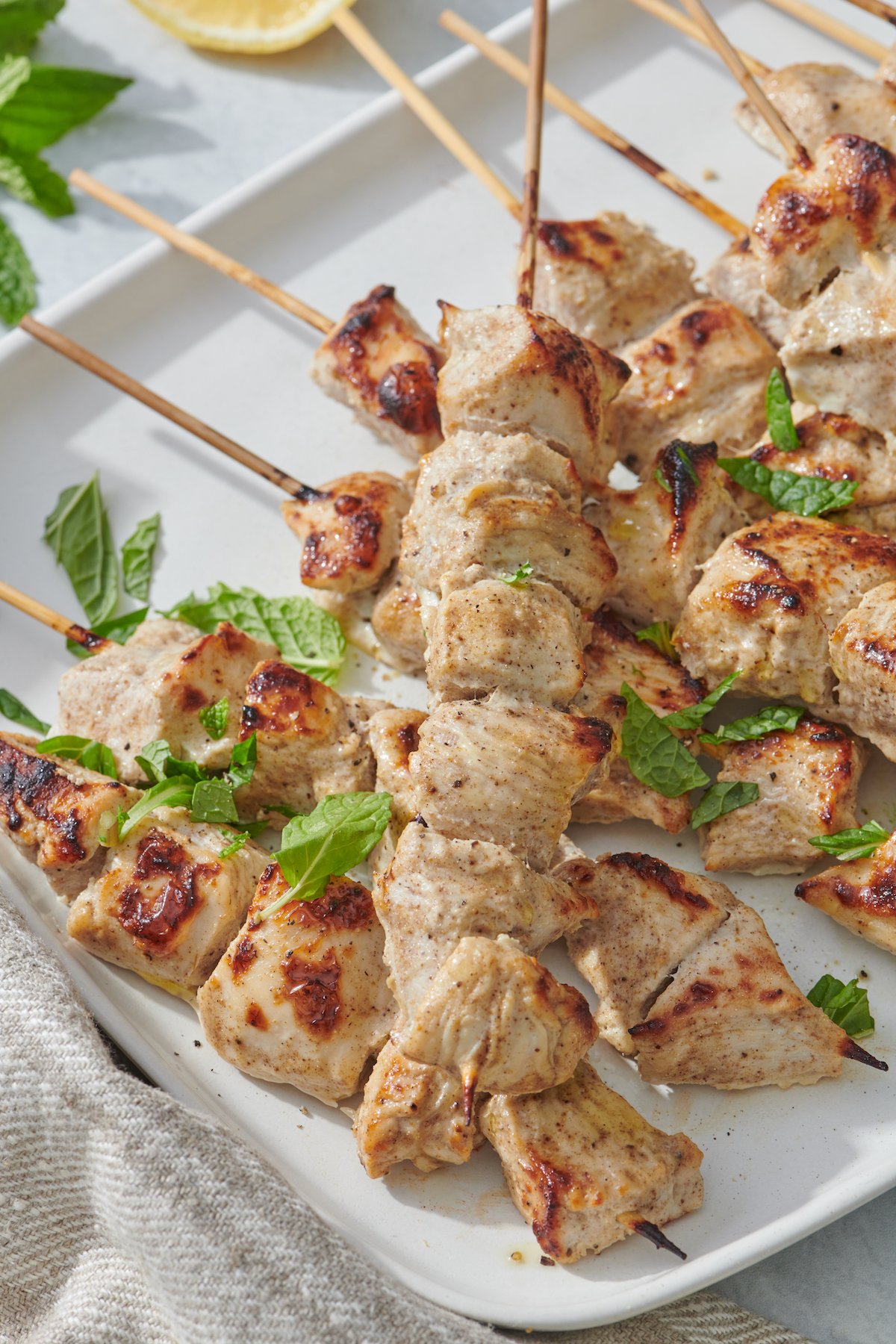 Chicken Tikka with Cucumber Mint Raita is a delicious, flavorful and versatile dish that even the pickiest of eaters will love. With its unique blend of spices and tender, juicy chicken, it's a dish that will leave you feeling satisfied but craving it all the time. Let me know in the comments what you think of this recipe or tag me on social media!
Images by Ivan Solis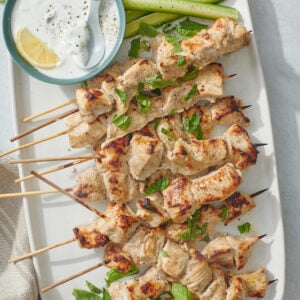 Chicken Tikka with Cucumber Mint Raita
Ingredients
Chicken Tikka
1/2

cup

Greek yogurt (2% or whole)

juice of 1 lime

1

teaspoon

cumin

1/2

teaspoon

garam marsala

1/2

teaspoon

kosher salt

4

chicken breasts, boneless and skinless cut into 2 inch cubes

skewers (if using wooden skewers, soak for 30 minutes)
Cucumber Mint Raita:
1

persian cucumber, peeled, seeded and diced

1

cup

yogurt (I used 2% Greek)

juice of 1/2 lemon

1

tablespoon

fresh mint, chopped

1

teaspoon

salt
Instructions
Chicken Tikka:
Place the first 5 ingredients in a large bowl and stir to combine.

Add the chicken cubes and coat with the yogurt marinade. Let sit at room temperature for up to an hour or covered in the refrigerator overnight.

Preheat the broiler.

Place the chicken on skewers and then onto a foil lined and greased baking sheet. To prevent the skewers from getting too dark you can cover the ends in foil.

Broil chicken 6 inches from the heat for 8-10 minutes.

Serve with mint raita (below).
Cucumber Mint Raita:
Combine all the ingredients in a bowl
Nutrition
Calories:
290
kcal
|
Carbohydrates:
3
g
|
Protein:
52
g
|
Fat:
7
g
|
Cholesterol:
155
mg
|
Sodium:
590
mg
|
Sugar:
2
g