Sometimes my kids' culinary experiments don't exactly work out the way they intend them to, but other times, as in the case of Kenya and these Chocolate Banana Bites, they can really hit a home run.
Pin
One of the most beautiful things over the past 7 years has been watching Kenya's passion for cooking take shape. He started at an early age, mastering little jobs in the kitchen such as peeling bananas, stirring, and cutting with a wooden knife. Over time those actions have turned into truly useful skills and Kenya's own grand recipe ideas — many which I welcome, while others can feel more like mad scientist food projects (the flour, egg, kumquat, and vinegar recipe wasn't exactly tasty, but even when one of Kenya's experiments don't work I know he is learning why not).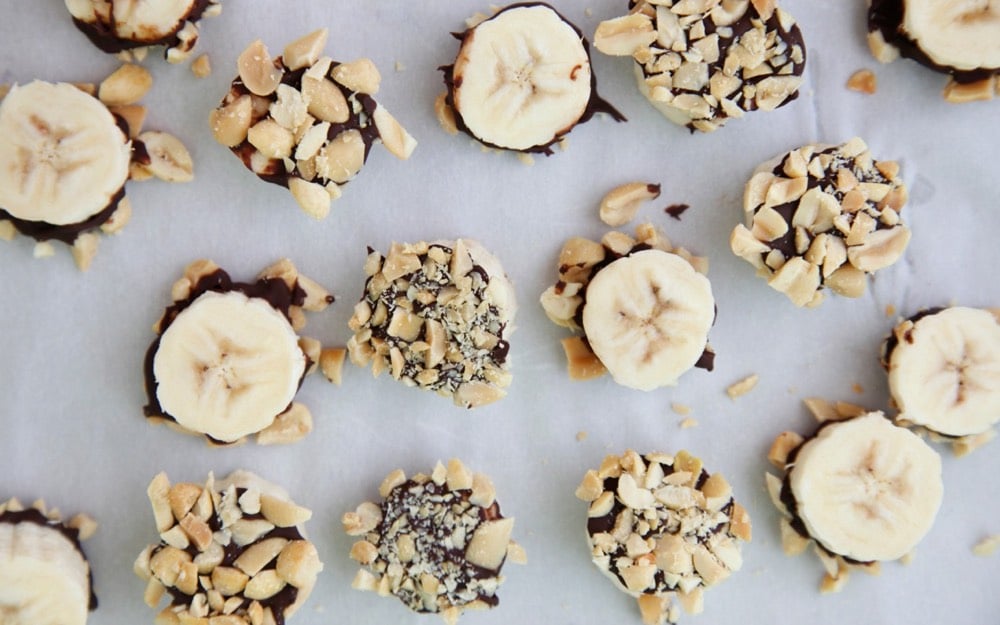 Pin
Many afternoons, we will return home from school and Kenya will declare that he has a major food idea which he must immediately turn into a reality. I do my best to take a deep breath and remember this is a burgeoning passion, then help him realize his vision. One of my all time brainchild favorites of Kenya's is his Peach Cake, which he has perfected over time and he I still make it today.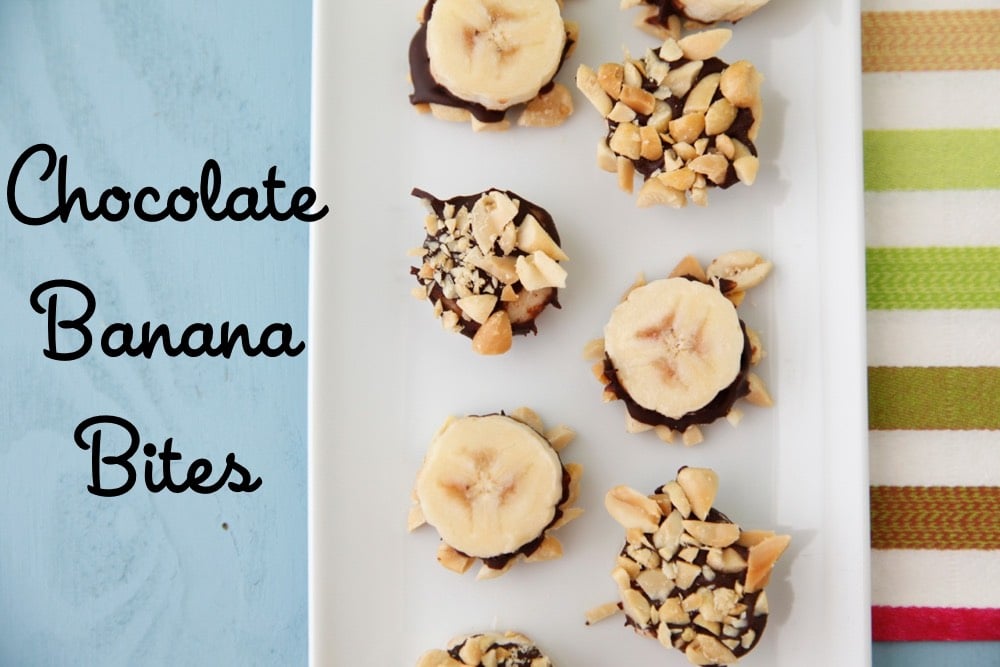 Pin
Recently, Kenya decided that he wanted to take slices of banana, dip them in melted chocolate and then roll them in peanuts. Sounds delicious enough, but his twist of tossing them in the freezer rocketed his recipe to an entirely new level. After dinner Kenya and I peeled the frozen bites off the parchment paper and literally couldn't stop putting them directly into our mouths — we loved them frozen solid. Chloe winced as her teeth bit into each icy cold bite, then realized if she waited about 10 minutes for them to defrost a bit she could share our confectionary bliss. The mix of the slightly frozen sweet banana, coated with crunchy chocolate and salty peanuts truly makes for the easiest of desserts, yet it couldn't seem more out of the ordinary.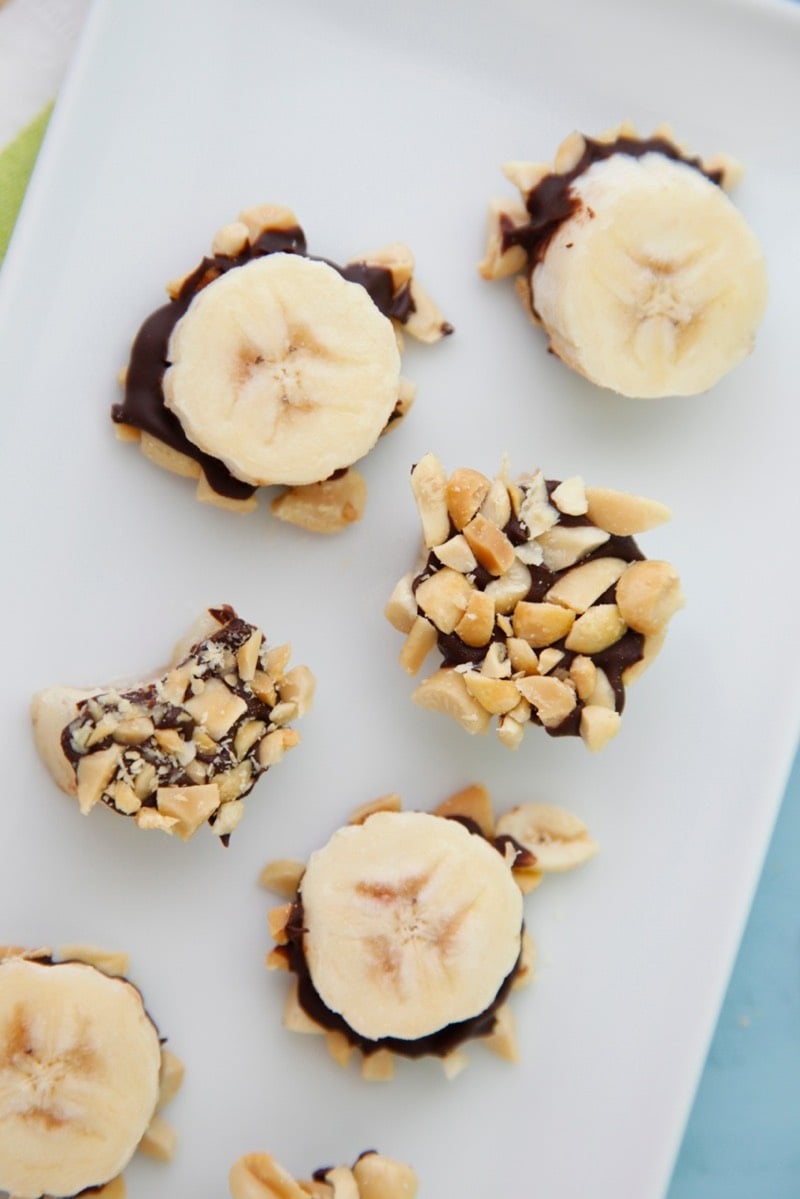 Pin
I'm not sure if Kenya knew the extent of his genius idea when he started this cooking experiment, but these Chocolate Banana Bites are insanely delicious! And with the thermometer rising, they're also the perfect summertime treat!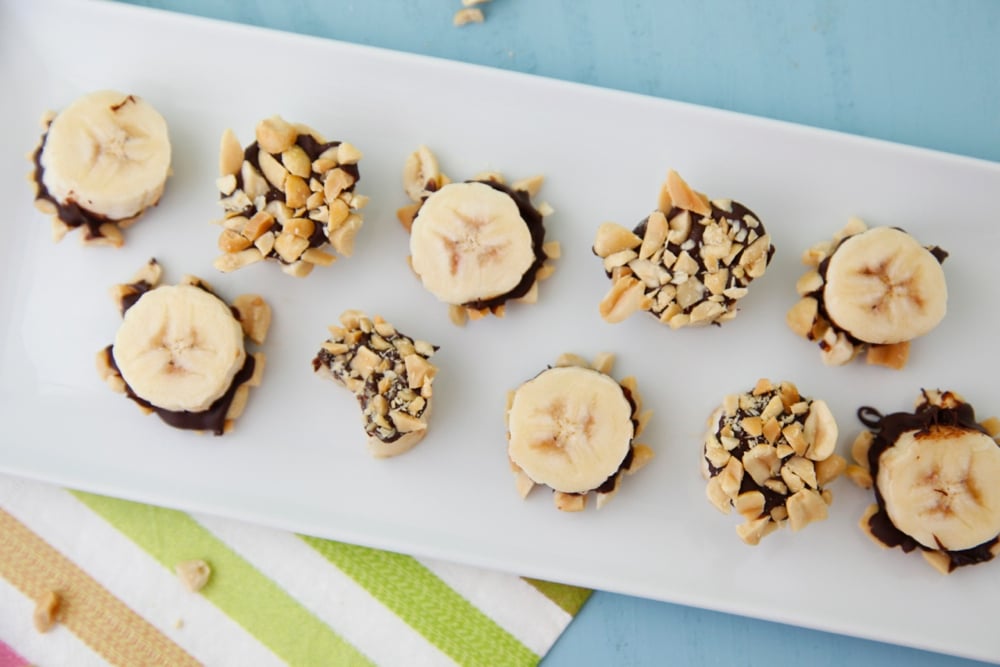 Pin
Pin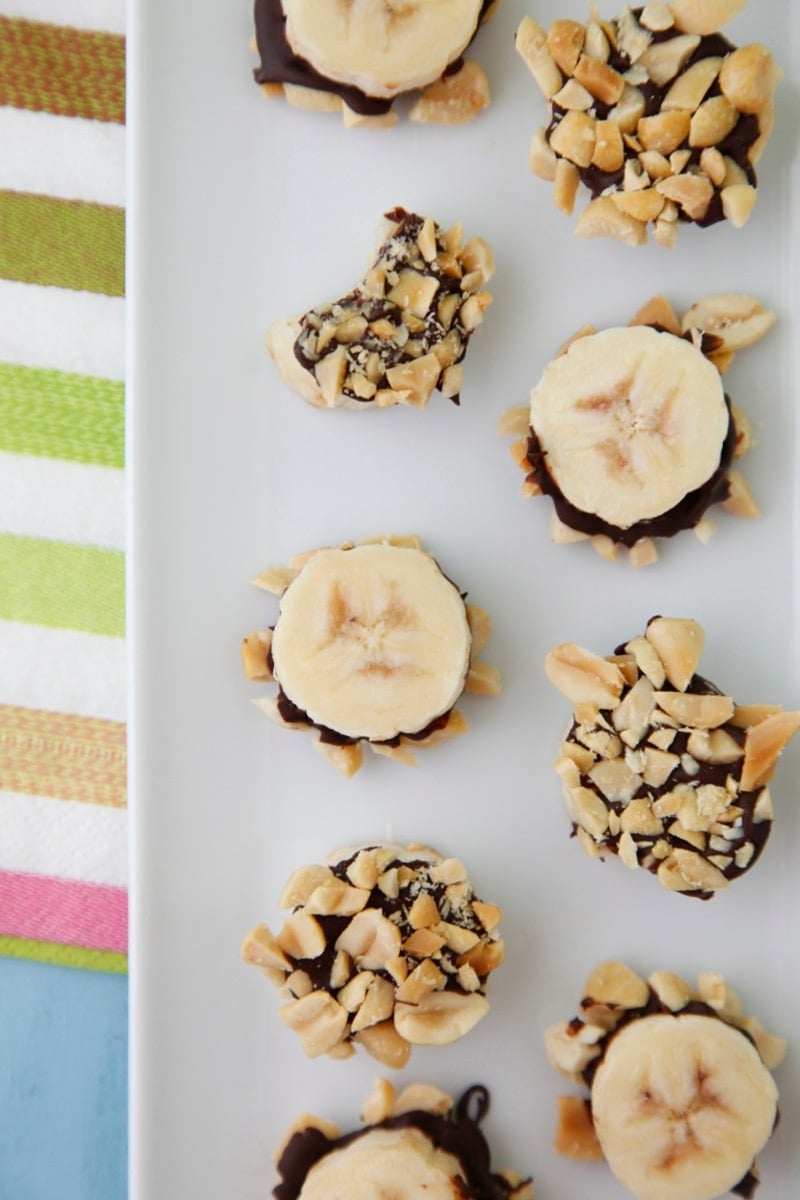 Pin
Chocolate Banana Bites
Ingredients
2

bananas

1/2

cup

semi-sweet chocolate morsels

1/2

cup

nuts (peanuts, almonds, cashews, etc)
Instructions
Chop the banana into 1-inch thick slices.

Place the chocolate morsels in the microwave for about 50 seconds, until melted and smooth.

Dip the banana slices in the the melted chocolate, then the chopped nuts, and place on a dish in the freezer for 30 minutes.

Note: You can also serve these as is without freezing them!
Nutrition
Calories:
270
kcal
|
Carbohydrates:
29
g
|
Protein:
7
g
|
Fat:
15
g
|
Cholesterol:
5
mg
|
Sodium:
20
mg
|
Fiber:
4
g
|
Sugar:
19
g