I wasn't sure how Kenya would react when I made him a chopped Caesar Salad for lunch, but not only did he like it, he devoured it. I don't know why I was worried — I mean, what's not to like? Crispy croutons, cheese and bites of crunchy lettuce with a tangy Ceasar dressing to coat everything. I'm pretty sure the croutons inspired Kenya to eat everything because they were the first thing to go. Whenever you have day old bread on hand, this is a perfect recipe for using it! Now, I double the amount of croutons I make so I can put a few handfuls aside for Kenya's lunch box or just for him to have as a snack.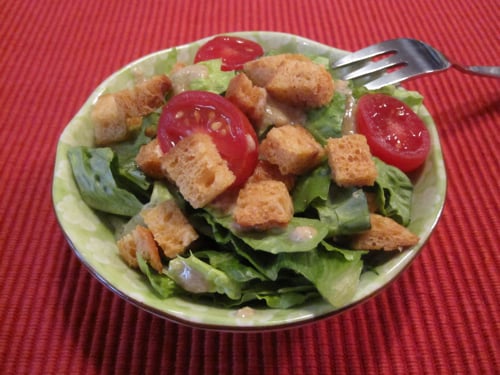 Chop't Caesar Salad
Ingredients
2

cups

bread cubes

I like to use french baguette

1

tablespoon

olive oil

4

cups

chopped romaine lettuce

1/4

cup

halved cherry tomatoes

2

tablespoons

grated parmesan cheese
Instructions
Preheat oven to 350 degrees.

In a bowl, toss the bread cubes and olive oil to coat.

Place the bread cubes on a baking sheet and toast for 25 minutes or until golden. Set aside to cool.

Place the first 5 ingredients in a bowl and toss. Drizzle with caesar dressing and toss to lightly coat all of the ingredients.