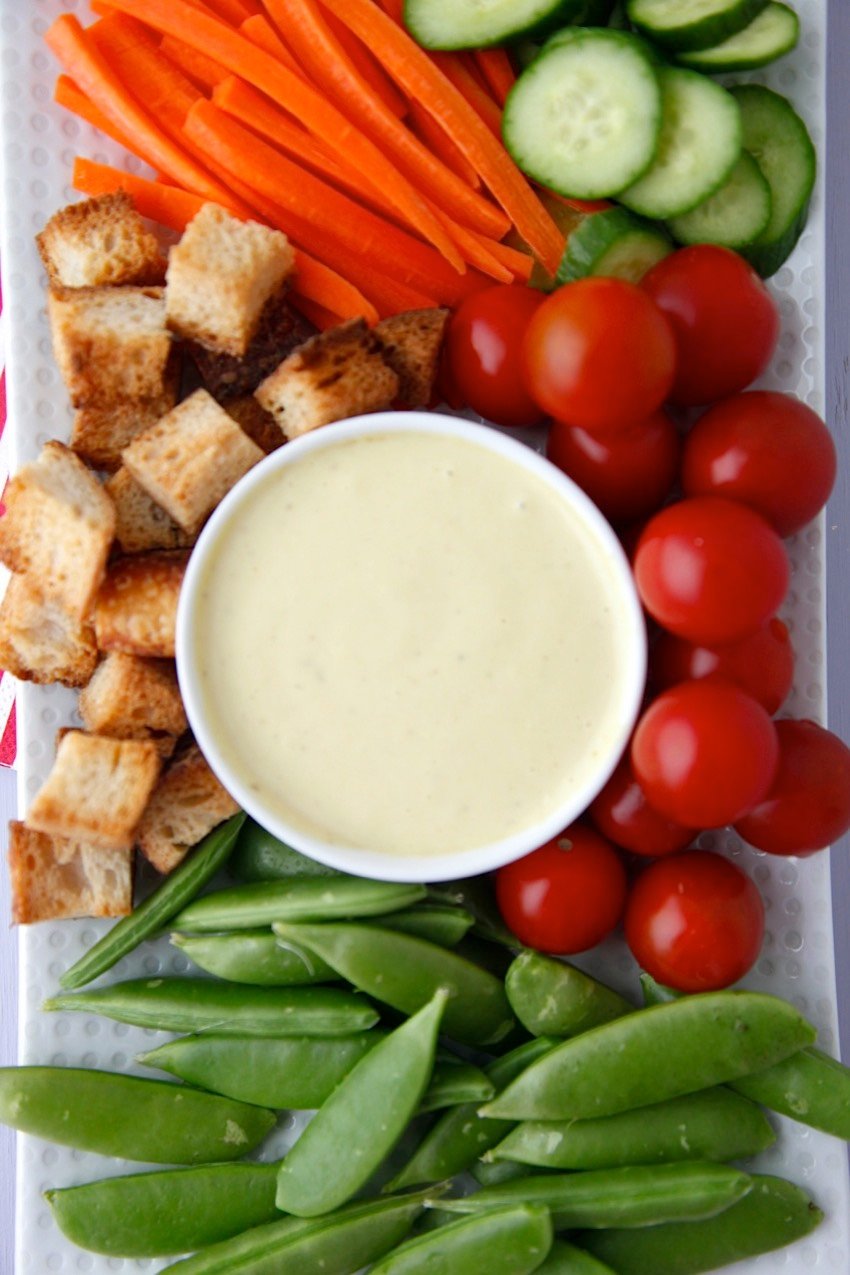 Pin
I don't want you to be scared by what I'm about to tell you, so promise me you won't be!
Ready? OK, here we go. One of my kid's favorite salad dressings happens to be this Classic Caesar Dressing and — drum roll please — it's made with raw egg yolks and anchovies.
At this point you're either disgusted and about to find another recipe on the site, or centering yourself with a deep breath and thinking about giving it a shot. I understand if you have a wary reaction. Even Chloe was dubious about this recipe when I made it with her the first time. WIth her face semi-scrunched up she asked me with mild alarm, "can I really eat raw egg yolks?!" Since I use Safest Choice pasteurized eggs to make this dressing I assured her she didn't have to worry, but it got me thinking that both of my kids often choose Caesar dressing when we go out to eat and I never really give much thought to the raw egg thing when they're gobbling it up. I'm actually ok with it but if you're really concerned or eat a vegan diet, you could make this equally delicious Eggless Caesar Dip instead.
Pin
However the second — bigger — hurdle Chloe had to overcome, was the addition of anchovies. Most people I know have a love-hate relationship with anchovies. Personally, I could eat them till I'm blue in the face, but to a 5 year-old they can look weird and kind of scary. For this dressing they add tons and tons of flavor, vitamins and minerals, so if you are making it with your kids, try your best to make them seem as appealing as possible (or — and I can't believe I'm saying this — make the dressing in the corner of the kitchen when no one's watching!).
I love serving this Caesar before dinner as a dip alongside raw carrots, celery, cherry tomatoes, bell peppers, sugar snaps and other veggies, or tossed with crunchy croutons and chopped romaine lettuce in a DIY Salad Buffet.
It may take a second to get over the fear of a few ingredients here, but I promise that as soon as you take your first bite you'll think it's totally worth it!
This post is sponsored by Davidson's Safest Choice Eggs. All views and opinions expressed are my own.
Classic Caesar Dressing
Ingredients
6

anchovy filets

1

garlic clove

1/4

teaspoon

kosher salt

2

large

egg yolks

2

tablespoons

lemon juice

1/2

teaspoon

dijon mustard

1/2

cup

extra virgin olive oil

2

tablespoons

grated parmesan cheese
Instructions
Place all the ingredients in a food processor and pulse until smooth.