A Crouton recipe might seem a little unusual to you, but I think its actually quite useful…and timely. It's a busy time of year, but it's also a time that you're hopefully home with the kids and want to come up with some fun and easy activities. The inspiration for this video came when I made a huge dish of stuffing for Thanksgiving. My eyes were obviously way too big when I ordered two huge loaves of challah to make it (the people at the bakery must have thought I was feeding a small army with them). I only wound up using one loaf and I didn't want the other to go to waste, so Chloe and I cut it up into cubes, along with all of the other partially used loaves of bread I had sitting around, and toasted them up to make croutons.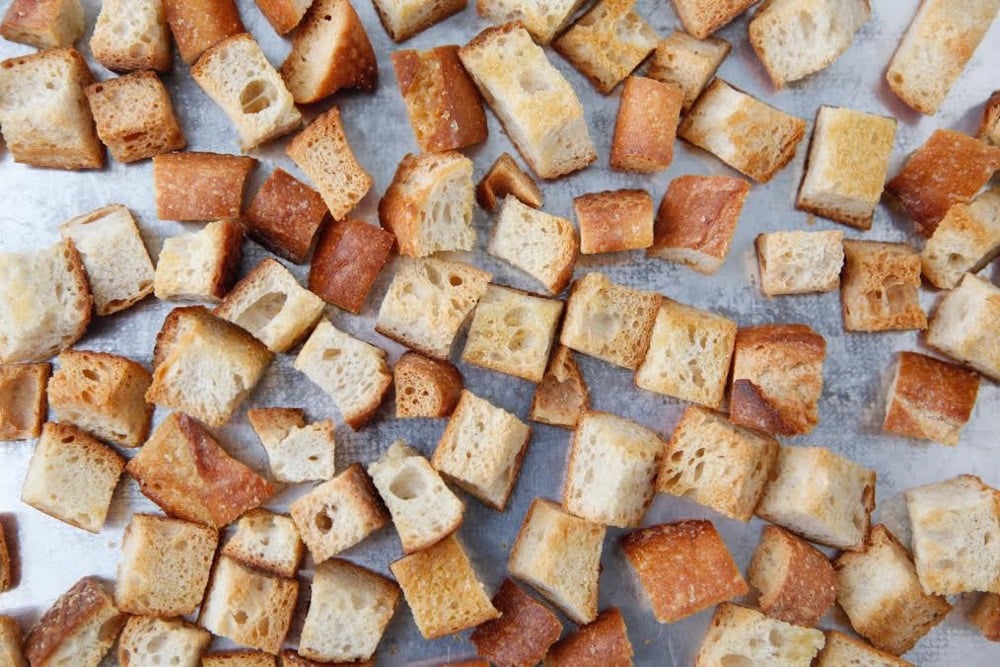 Pin
I love bread, but croutons take it to the next level. Crunchy and golden they're delicious to eat in so many different ways_ arranged on a board with a variety of cheeses, including our beloved Mini Baby Bel; on top of a nice bowl of warm soup like Crock Pot Lentil Veggie Stew; or tossed with crunchy Romaine lettuce and a tasty Caesar Dressing.
Kenya and Chloe are obsessed with eating croutons — to the point where it's become one of their favorite snacks. So now, every time I have day-old bread, I make a new batch of croutons to keep up with demand. I've come to consider them healthy junk food! They're crunchy, which kids love, have a warm, toasty and savory flavor and are much healthier and far less expensive then the boxed crackers or chips that you'll find loaded with additives at the grocery.
Of course you can toss these croutons into your favorite salads or soups, but I'm here today to say they're just as yummy on their own, and one can never run out of great snack ideas for kids!
Croutons
Ingredients
3

Cups

of Day-Old Bread, cut into 1/2 inch cubes (you can use baguette, whole wheat or any kind of bread you have on hand)

1

1/2 Tbsp

olive oil
Instructions
Preheat oven to 350 degrees.

In a bowl, toss the bread cubes and olive oil until cubes are coated.

Place the bread cubes on a baking sheet and toast in the oven for 25 minutes or until golden.
Nutrition
Calories:
460
kcal
|
Carbohydrates:
53
g
|
Protein:
8
g
|
Fat:
24
g
|
Sodium:
540
mg
|
Fiber:
3
g
|
Sugar:
5
g