Toss out those boxed fish sticks and make these Crispy Fish Fingers asap! They're super crispy on the outside and moist, flakey and mild in flavor on the inside.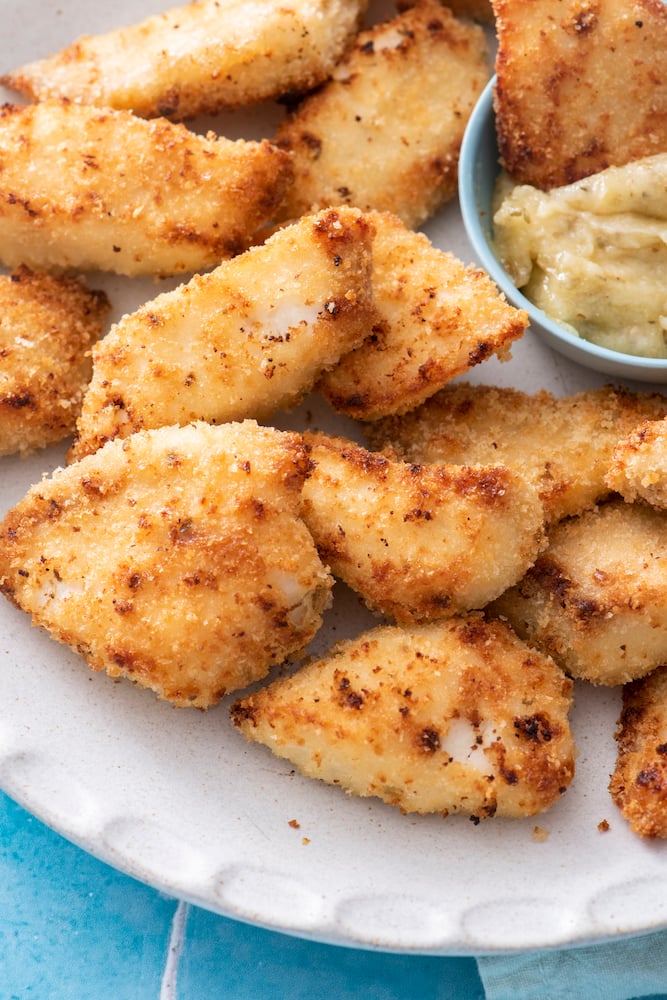 As all too many parents know, getting kids to eat fish can be an endless challenge. Just yesterday, a grandmother told me that her two grandkids, aged 3 and 7, had never even tried fish. Zowzers! Pretty astounding but I truly feel the pain of any parent who can't seem to turn their kids on to fish, especially when certain kinds of fish offer a whole host of health benefits.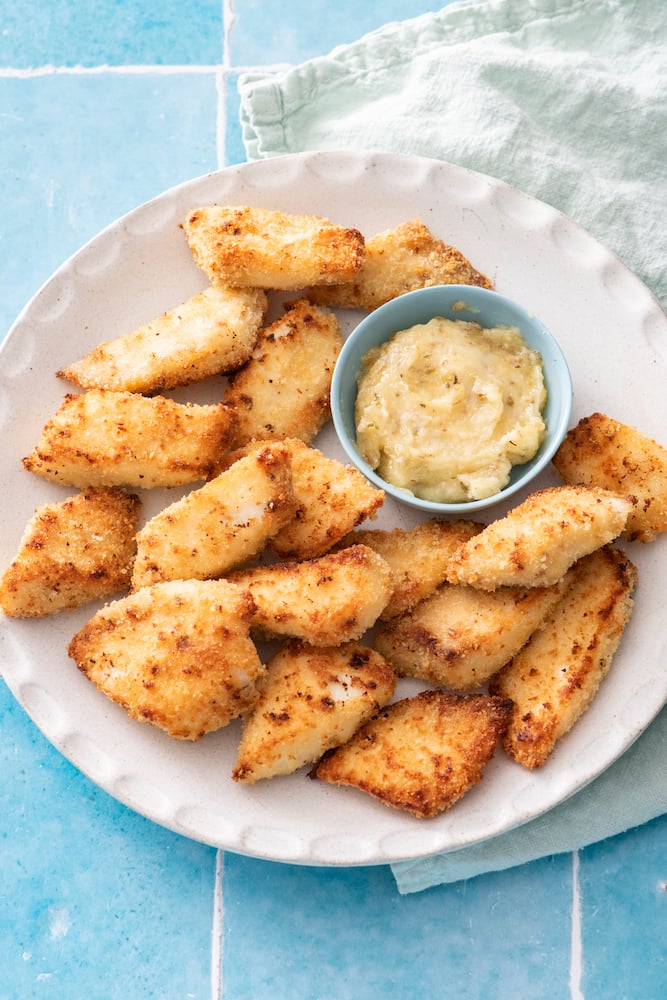 Whenever the fish monger at our local farmers' market has fresh sole in season, I buy a bunch of filets from her to make a huge batch of Crispy Fish Fingers. I bake some fingers that night for dinner, the rest I freeze for another night when I have to get a quick dinner on the table.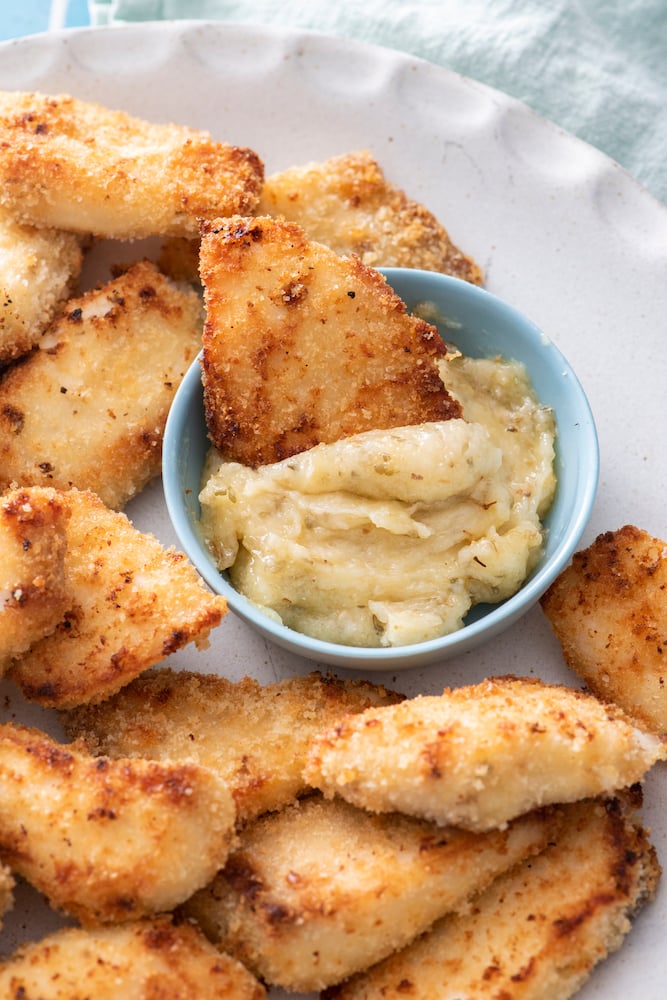 These Crispy Fish Fingers live up to their name. They are seriously crispy on the outside, and moist, flakey and mild in flavor on the inside. They're delicious and nothing like the boxed kind you may have been forced to eat as a child — for starters, they're made with just a handful of ingredients and therefore a whole lot healthier. Plus, with just a light coating of herb infused mayonnaise for the bread crumbs to grab onto, it's like having a little tartar sauce baked into every bite.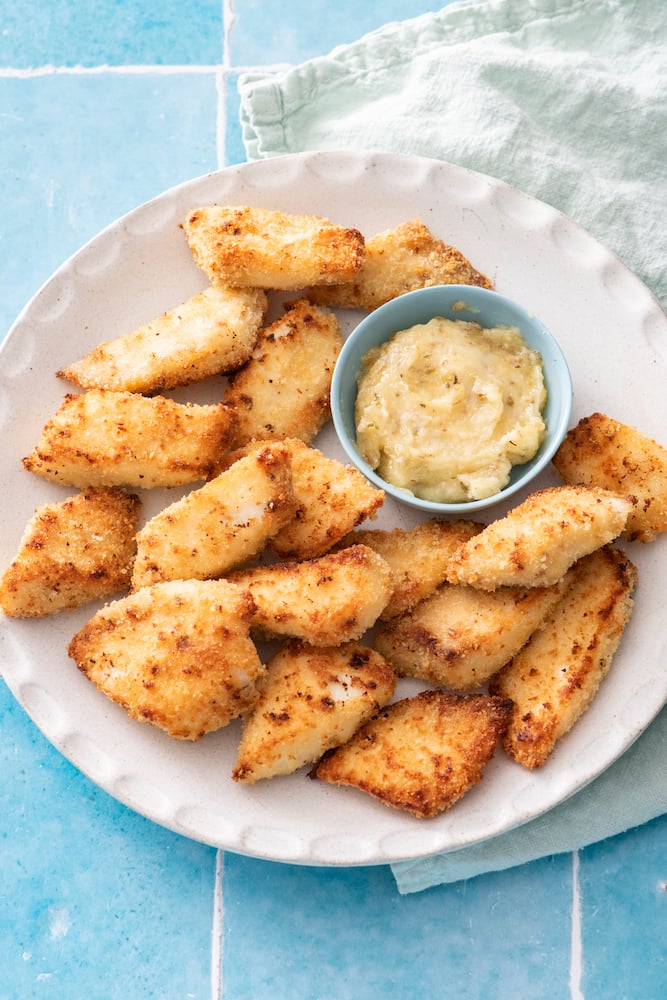 So don't be scared anymore to offer your kids fish, or be fearful that they will turn their noses up at anything you serve. Keep trying different varieties and experimenting with ways of preparing it and eventually you'll hit pay dirt. My guess is that when you take a chance with something simple like these beauties, it won't be too long before fresh fish moves quickly into their food-o-sphere! And once that happens, try out Maple Soy Salmon, Miso Marinated Fish or Fish Tacos to expand their fish pallete!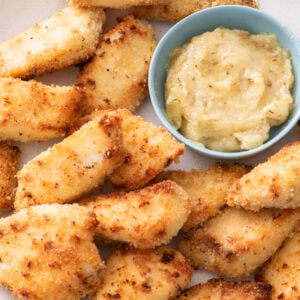 Crispy Fish Fingers
Ingredients
4

sole or tilapia filets, fresh or frozen, thawed

1/2

cup

mayonnaise (or vegan mayonnaise)

1

teaspoon

oregano

1

teaspoon

garlic powder

1/2

teaspoon

kosher salt

1

cup

breadcrumbs or panko
Instructions
Slice the fish into 1/2 inch x 2 inch strips or fingers.

In a medium bowl, stir together the mayonnaise, oregano, garlic powder, and salt. Mix until smooth and well combined. Separate the sauce in half and set half aside. *

Place the bread crumbs on a plate. Make an assembly line with 1/2 of the mayonnaise mixture and the breadcrumbs.

Gently roll the fish fingers in the mayonnaise mixture and then roll in the breadcrumbs to coat.

Place the coated fish on a metal rack that has been set on a baking sheet and sprayed with oil. Lightly spray the fish sticks with oil. Bake for 12-15 minutes, until the fish is flaky inside and golden brown outside. **

Use the second 1/2 of the mayonnaise mixture as a dipping sauce for the cooked fish.

* This may seem like a small amount of sauce, but the fish only requires a thin coating of it before rolling in the breadcrumbs . You'll need to lightly press the fish into the mayonnaise mixture, or brush it on with your fingertips.

** If you have a convection oven, set it to 425F and cook the fish for 12 minutes.

** If using an air fryer, place fish in baking grate, set to 400°F and cook for 10 minutes or until golden. 
Nutrition
Calories:
290
kcal
|
Carbohydrates:
22
g
|
Protein:
24
g
|
Fat:
11
g
|
Cholesterol:
75
mg
|
Sodium:
1080
mg
|
Fiber:
1
g
|
Sugar:
2
g