Fish Tacos are one of my favorite summertime meals because they're light and super flavorful! Fresh, flakey fish with all the toppings can't be beat.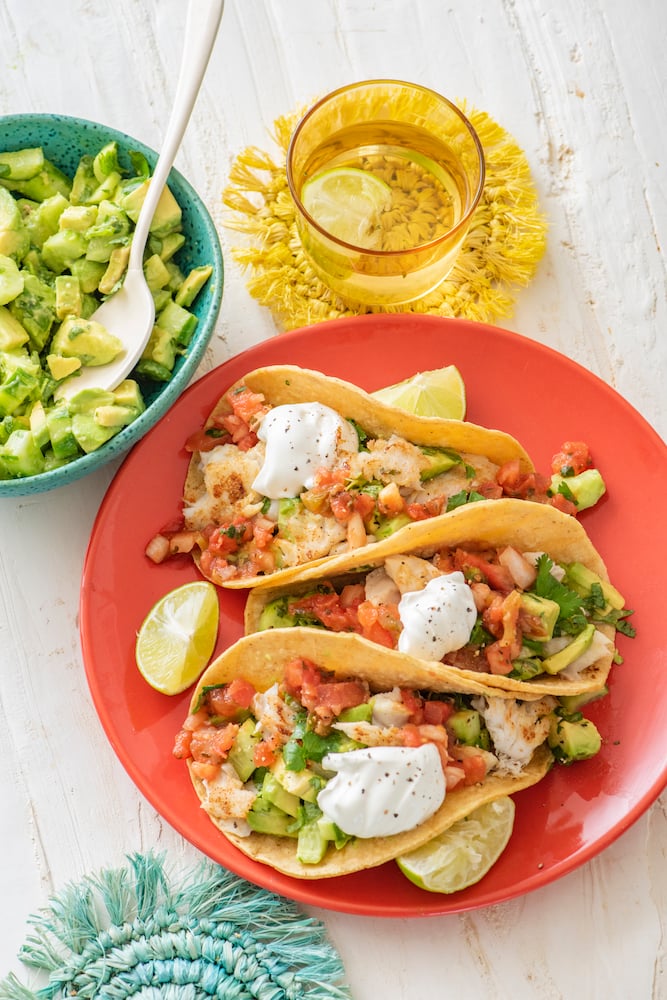 My husband didn't start eating tacos until he was in college. He told me that just the word "taco" used to make him ill when he was a kid because the only tacos he knew were the ones they served in his school's lunchroom. You know the ones…a hard shell that tasted like cardboard, greasy Sloppy Joe mix, wilted lettuce, soggy tomatoes and cold cheese. When he finally had a real Mexican taco in college, he said he couldn't believe how delicious the real thing was.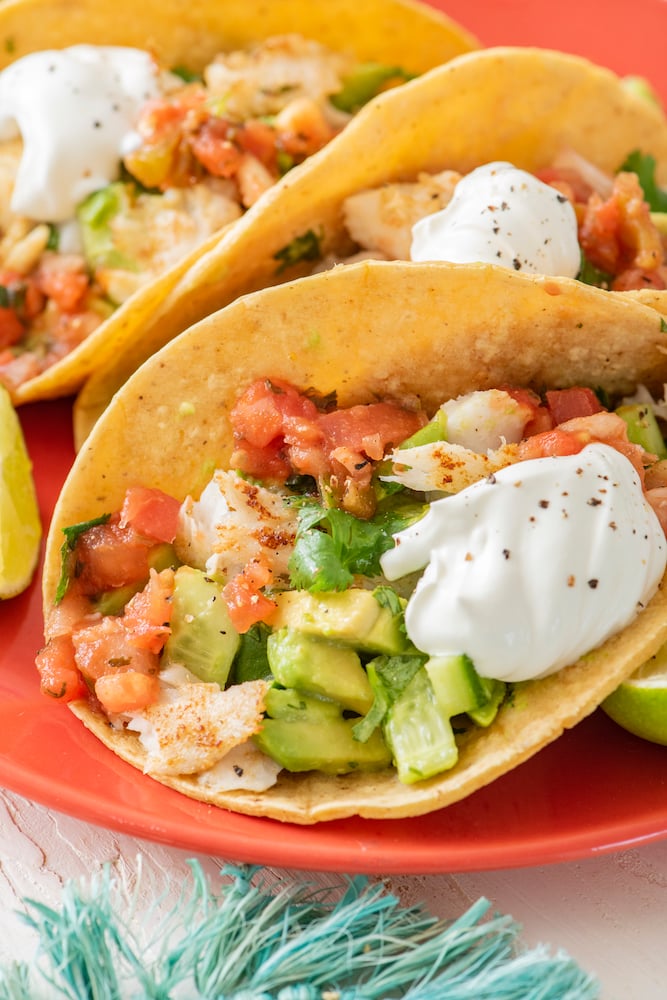 I don't know why fish tacos remind me of summertime, but they do. Maybe it's because they seem lighter than chicken or beef tacos. All I do know is that it makes me hungry just thinking about all the fresh flavors like ripe tomato, fresh onion and fragrant cilantro all on top of cumin seasoned fish.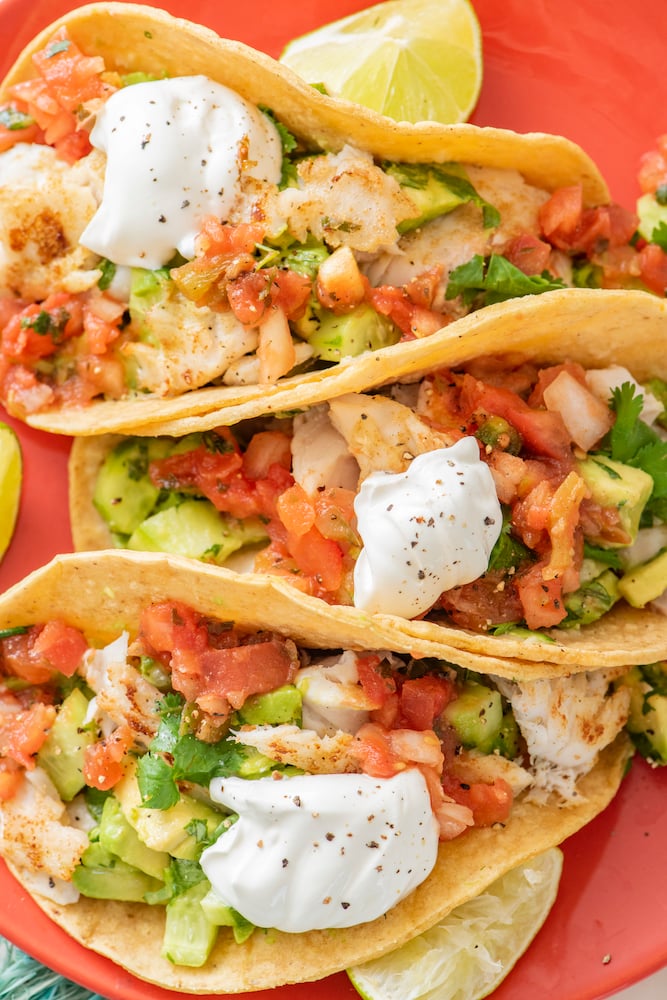 Fish Tacos are a fantastic and extremely healthy recipe to serve to a crowd by the pool or at the beach because it's easy to double or triple the ingredients to suit your needs, and I find that people love building their own tacos. Serve these with some homemade guacamole, fresh Cucumber Avocado Salsa or Heirloom Tomato Pico de Gallo and everyone will be fighting for the last bites!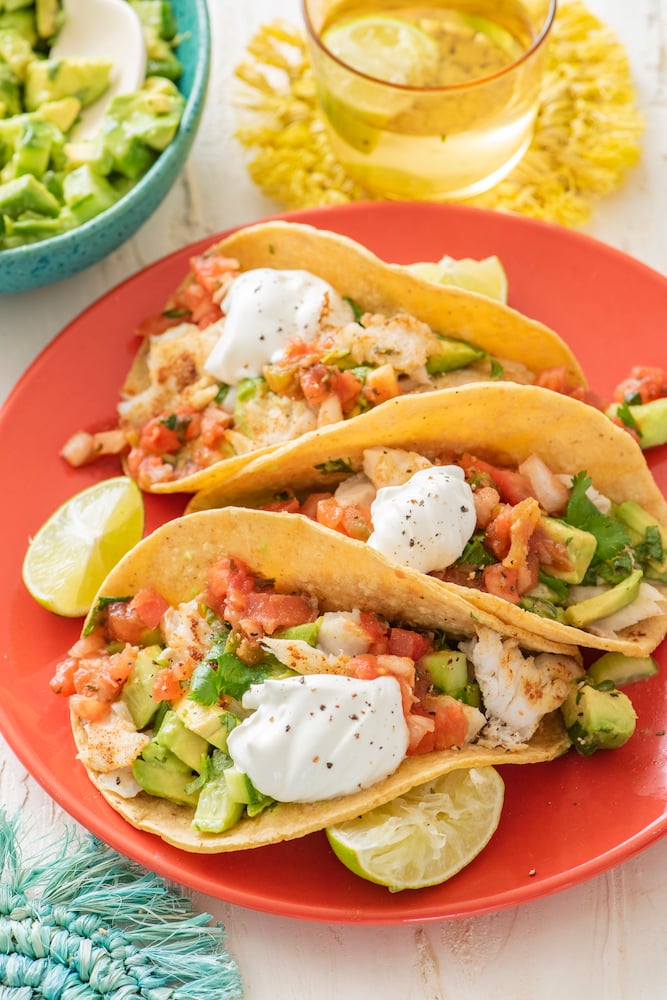 Kids especially love building their own tacos. It gives them ownership of their meal, and they're super proud of their creations. My three are the masters of building a taco from the tortilla up. I guarantee if you let kids add their own accompaniments and even roll them up like a taquito, they will be a fun meal and activity all in one!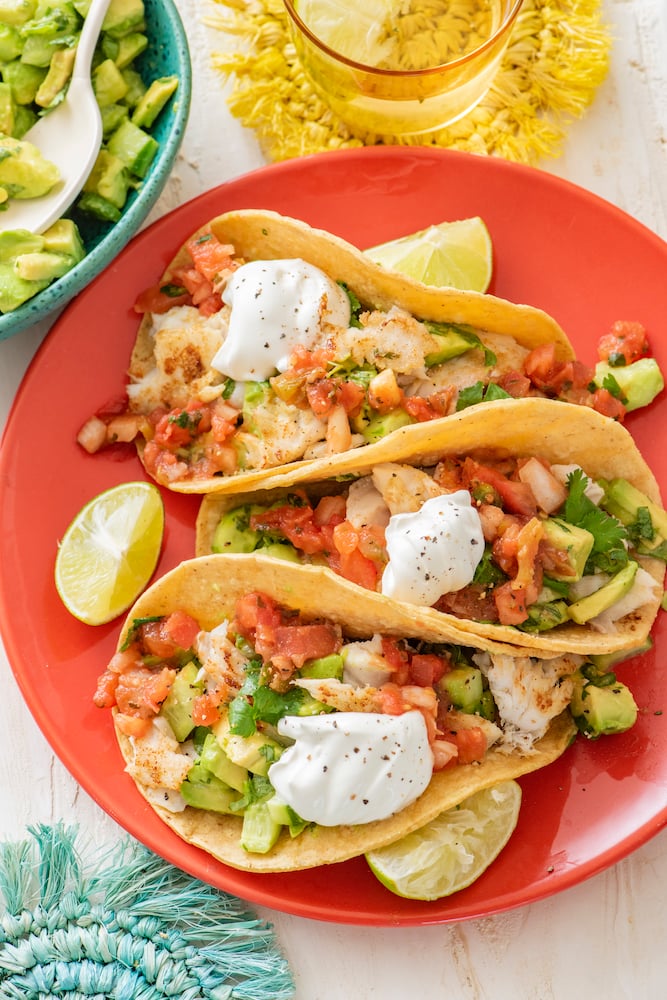 You'll love this super simple Fish Taco recipe! Let me know what you think and tag me on social media.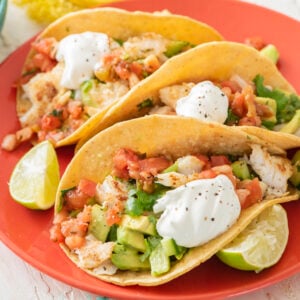 Fish Tacos
Ingredients
1

pound

fish (use a flaky white fish such as tilapia, halibut, or snapper)

1/4

teaspoon

kosher salt

1/4

teaspoon

cumin

1

tablespoon

olive oil

juice of 1 lime

1/4

cup

cilantro, chopped

4-8 corn tortillas (depending on how full you make them)
Instructions
Sprinkle the salt and cumin onto the fish.

Heat 1 tbsp olive oil in a large size pan over medium/high heat.

Cook the fish for 2-4 minutes on each side until cooked through and flaky.

Place the fish on a plate, flake with a fork into chucks and squeeze with lime juice and cilantro. Toss to coat.

Place 1/4 portion of the fish in each tortilla and top with accompaniments.

*If you want to serve the tacos warm, place the tortillas in a microwave between several pieces of moist paper towel for several seconds or wrap in foil and place in a 350 oven for several minutes.
Nutrition
Calories:
260
kcal
|
Carbohydrates:
25
g
|
Protein:
26
g
|
Fat:
7
g
|
Cholesterol:
55
mg
|
Sodium:
210
mg
|
Fiber:
3
g