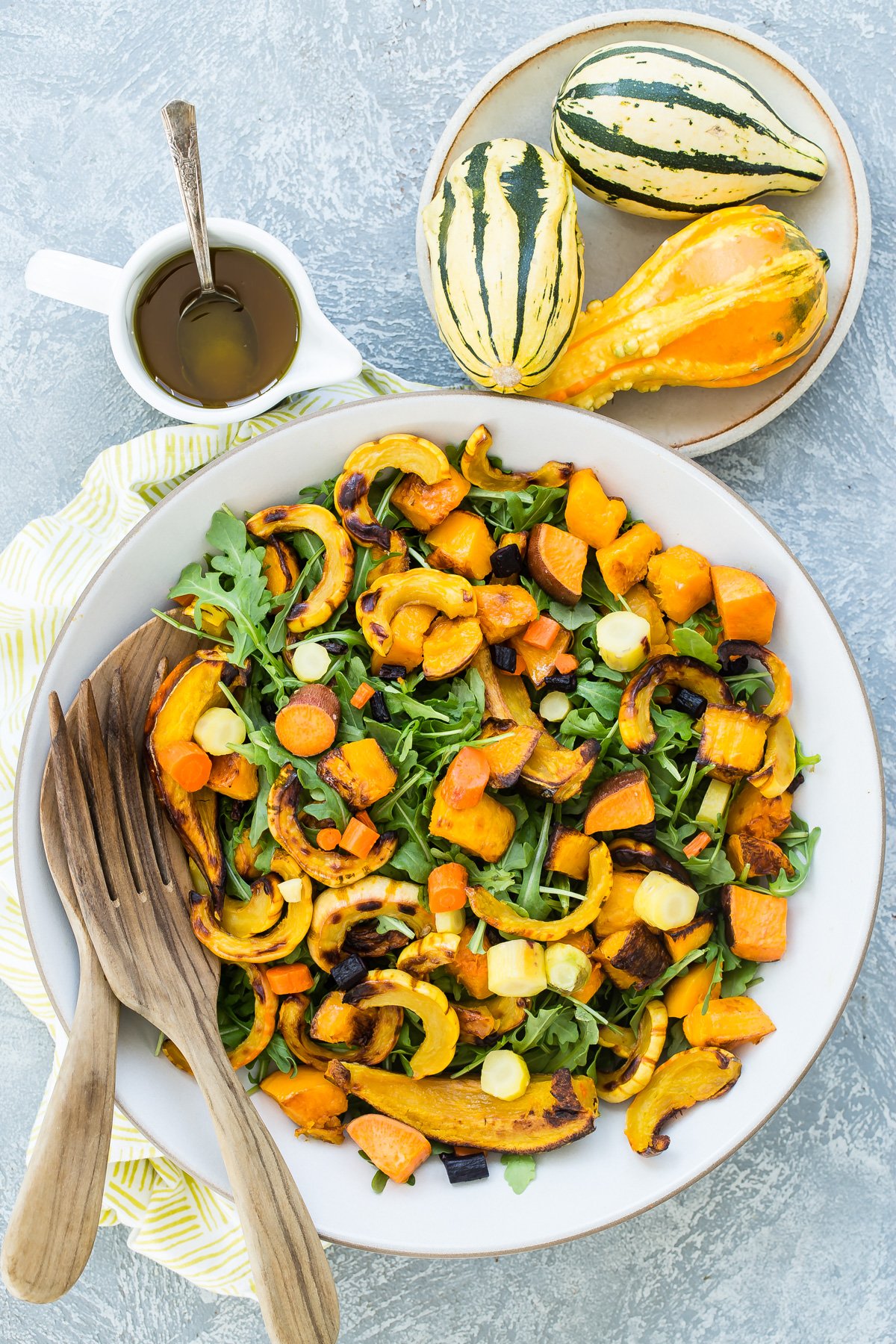 Ever since I figured out that something as simple as giving my kids a tiny side dish of maple syrup for dipping would inspire them to eat serving after serving of roast butternut squash I knew that I had stumbled onto something big. Of course not every kid is going to love every vegetable, so you just have to experiment until you find something that works. Sometimes just a sprinkle of this, a dash of that, or simply preparing vegetables in a new way can make the difference between them being eaten or neglected on the plate.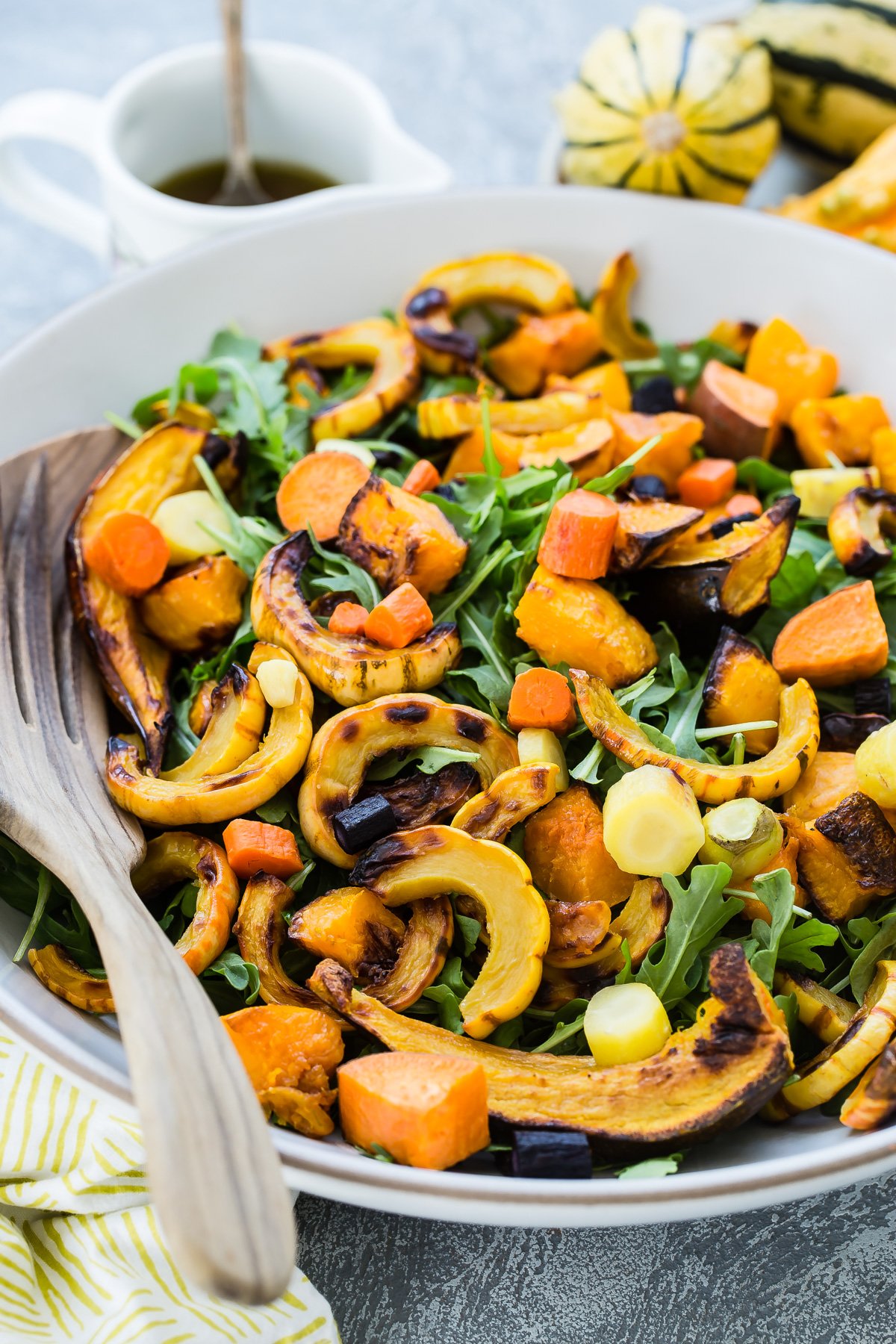 For Kenya's birthday party this year my menu consisted of Rice Cooker Mac & Cheese, Chicken Noodle Soup, and fresh fruit salad (all at Kenya's request) and I wanted to make a side dish that the kids and adults alike would also enjoy. No easy feat since I knew there were a few picky eaters in the mix. After roasting an array of veggies I tossed them with a zingy, maple syrup-sweetened vinaigrette to lightly coat every bite. Healthy and light, filling enough for the adults yet alluring and sweet enough that the kids would give it a try, this Roast Veggie Salad turned out special.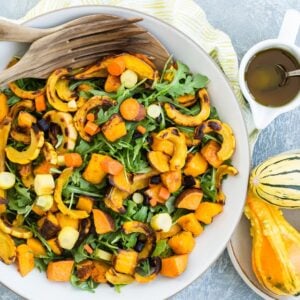 Easy Breezy Roast Veggie Salad
Ingredients
1

sweet potato, peeled and chopped into 1-inch cubes (about 1 cup)

1

small

butternut squash, peeled and chopped into 1-inch cubes (about 2 cups)

2

carrots, peeled and sliced into 1/2-inch coins (about 1 cup)

1

delicata squash, halved lengthwise, seeded and cut into 1/4 inch halfmoons

3

tablespoons

olive oil, divided

3/4

teaspoon

salt, divided

1

tablespoon

apple cider vinegar

2

teaspoons

maple syrup

1

7-ounce bag

arugula (or any salad mixed greens of your choice, such as romaine, spring greens or butter lettuce)
Optional additional toppings:
golden raisins, craisins, dried cranberries, dried cherries, goat cheese, brie, toasted walnuts, toasted pumpkin seeds
Instructions
Place the chopped veggies on a baking sheet, drizzle with 1 tablespoon olive oil and sprinkle with 1/2 teaspoon salt. Toss to combine and spread in an even layer on the baking sheet. Bake veggies for 30 minutes, until fork tender and lightly caramelized. Cool completely.

In a small bowl, whisk together the remaining oil, apple cider vinegar, maple syrup and salt.

In a large salad bowl, toss together the arugula, cooled veggies and dressing and toss to evenly coat.
Nutrition
Calories:
200
kcal
|
Carbohydrates:
26
g
|
Protein:
3
g
|
Fat:
11
g
|
Sodium:
450
mg
|
Fiber:
5
g
|
Sugar:
9
g