I hear all the time from parents that their kids "just don't like meat!" For all those children and parents out there that want a delicious burger without the red meat, this one's for you! These Eggplant Burgers are easy to prepare, freeze and will fulfill your craving for a big juicy one!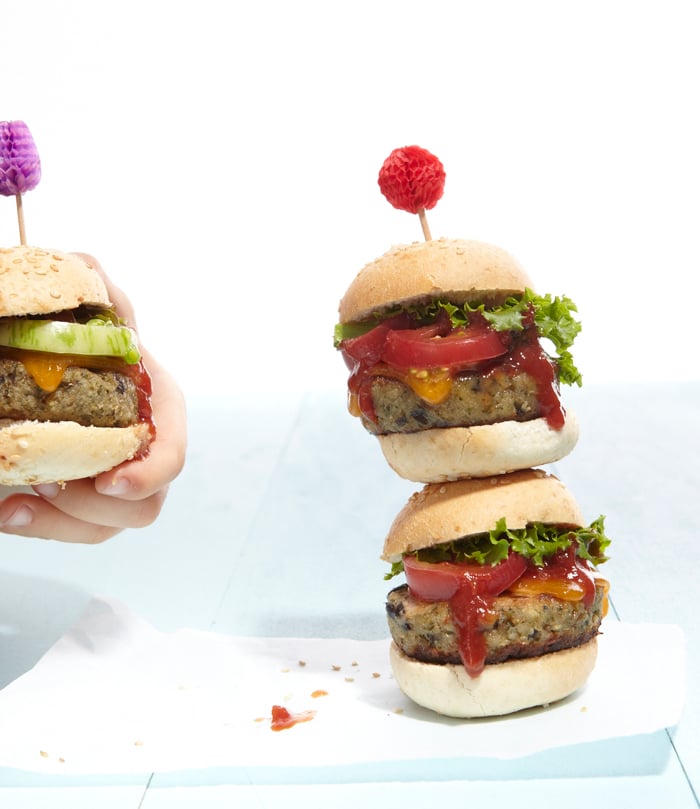 Pin
I dread the winter months when many of my favorite foods are out of season. Nothing's worse than craving a food you love to eat and knowing you have to wait eight months for it to return. Sure, these days you can get almost anything year round at your local grocery, but I'm not big on buying fruits and veggies that have to travel thousands of miles on planes, trains and automobiles to get there. So what's the solution?
Recently, I've made a big point of doubling most of my recipes and freezing half so that our family has food to eat on the day and also something to look forward to down the road. That's a real plus when I'm craving apples or pears in summer, or peaches or tomatoes in winter. And it means on cold nights when I'm dreaming of these Eggplant Burgers, they're only 10 minutes — not 8 months — away! These burgers have a firm texture, are moist inside and have a crisp outer crust. And since they're shaped into patties, they're perfect to put on a bun with some melted cheese and place in your little one's hand to munch on, for a snack, lunch or dinner. When time isn't on your side, but you still want something healthy and easy to prepare for dinner, you'll be happy to have these on hand — no matter what time of year!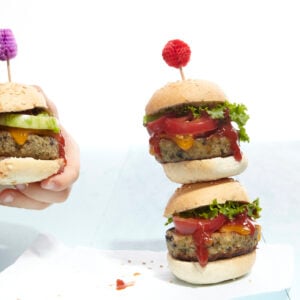 Eggplant Burgers
Ingredients
olive oil

1

medium

eggplant, cubed

1

garlic clove, minced

1/2

teaspoon

kosher salt

1/4

cup

chopped parsley

1

large egg

1/3

cup

grated parmesan cheese

1

cup

breadcrumbs
Instructions
Heat a thin layer of olive oil in a large sauté pan over medium heat and cook the eggplant cubes for 3 minutes.

Add the garlic and salt and continue to sauté for another 2 minutes.

Add 1 tbsp of water, cover and cook for an additional 3 minutes or until eggplant is fork tender. Allow to cool.

Place the eggplant and remaining ingredients in a food processor and puree until smooth.

Use about 2 tbsps of the eggplant mixture for mini burgers, 1/4 cup for bigger burgers and form into patties.

Heat about 1-2 tsps of oil in a large sauté pan and cook the eggplant patties for 2 minutes on each side or until golden brown.

* To freeze place the cooked patties on a baking sheet, freeze for 1 hour and place in a Ziploc bag, label and freeze up to 3-4 months. When ready to serve, place patties on a baking sheet in a 300 degree oven for 10 minutes until warm.
Nutrition
Calories:
110
kcal
|
Carbohydrates:
15
g
|
Protein:
5
g
|
Fat:
4
g
|
Cholesterol:
5
mg
|
Sodium:
320
mg
|
Fiber:
4
g
|
Sugar:
3
g