Homemade Play Dough is super easy to make and better than anything you can buy. It's the perfect activity to do with your kids at home!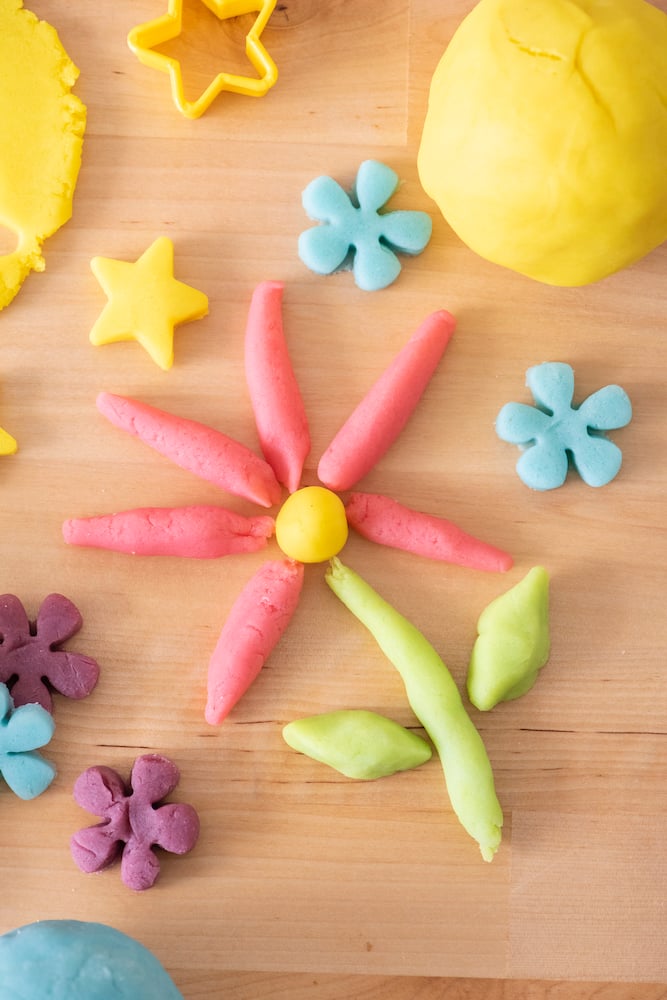 One of the greatest gifts I was given when I married my husband was an amazing mother-in-law. She's sweet, easy-going AND a pre-school teacher. Talk about a trifecta! She always shares her wise advice about all issues pertaining to young kids. One of the most fun activities she does with her classes is make play dough. She says the kids take such pride in making what they play with, and I found that very in line with my own philosophy about kids taking part in helping make their own meals.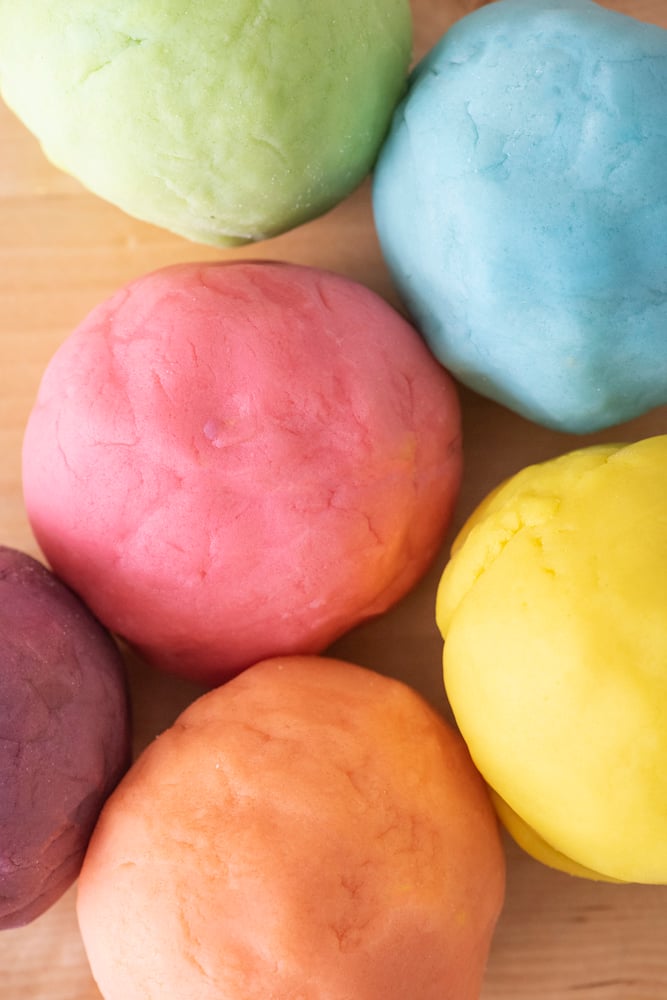 We first prepared this recipe with Kenya when he was only 18 months old, and he had a blast. It only took us minutes to make 3 batches so we could have 3 different colors and the recipe makes tons! This Homemade Play Dough is just about as much fun to make as it is to play with! They love coming up with their own fun play dough creations. It's amazing to see their imaginations run wild!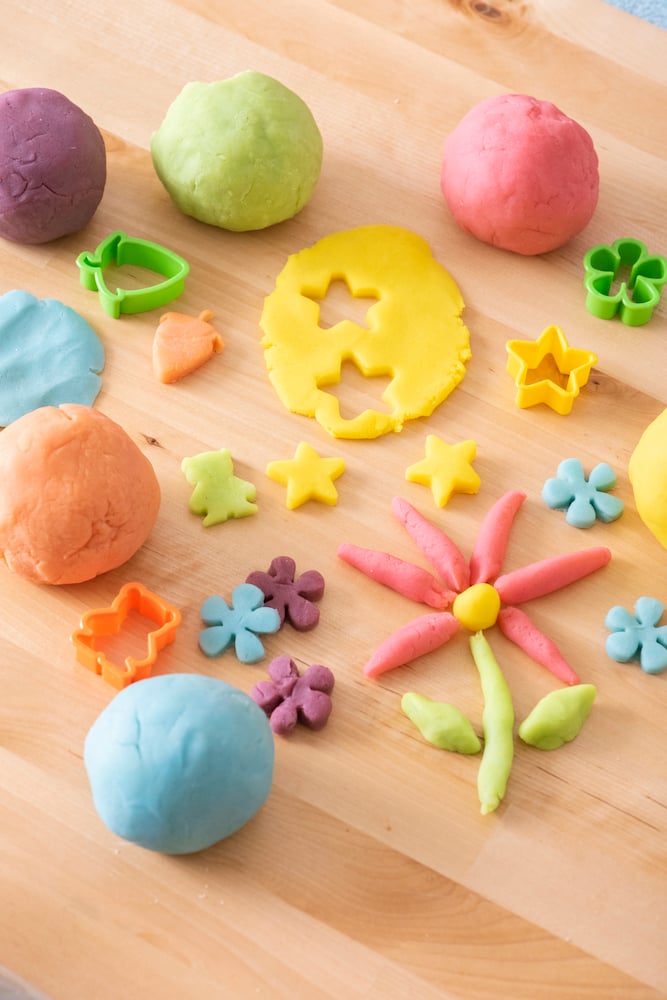 I've been making homemade play dough with all of my kids for years and the fun continues. It's a must for any kid looking to work on their fine motor skills and looking to expand their creativity for hours of play. I always have tons of cookie cutters on hand for making fun lunches and such, so those are great for this activity too! We try use dye free food coloring too.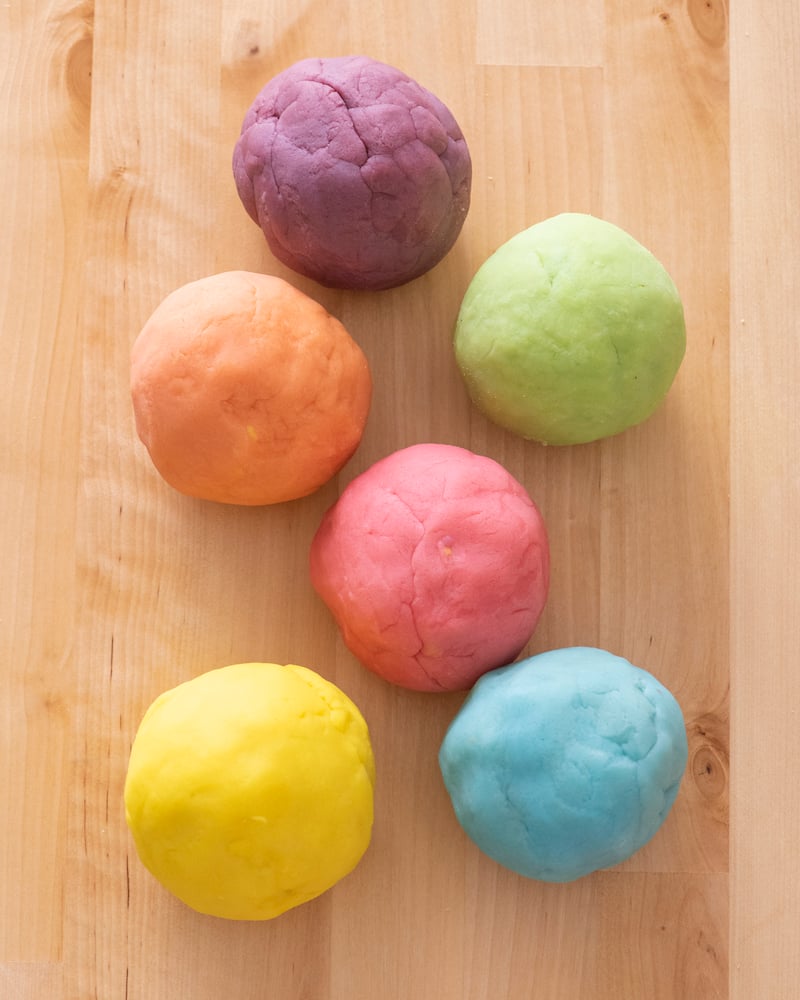 Homemade Play Dough is loads of fun at home! Make sure you store it in a ziploc bag or other storage container so that it doesn't dry out. There's nothing worse than cracked, dried out Play Dough! We love using these glass containers, but any tupperware will do. Give this homemade play dough recipe a try, and let me know what amazing shapes and colors your little ones make!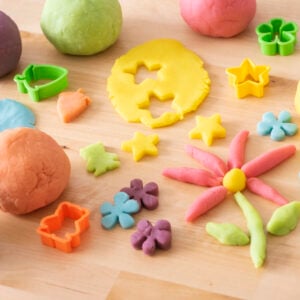 Homemade Play Dough
Ingredients
1

cup

flour

2

teaspoon

cream of tartar

1/2

cup

table salt (such as Mortons)

1

cup

water

2

tablespoon

vegetable oil

dye free food coloring (you can use as much or as little as you want depending on how intense you want the color)
Instructions
Place the first 3 ingredients in a medium saucepan and stir to combine.

Add the remaining ingredients (including the food color) and stir over low heat for 2-3 minutes stirring constantly until mixture forms a ball and starts to dry out.

Remove from the pot and place on a counter. Knead mixture 1 minute until smooth, elastic and cool.

You're ready to play! (Make sure to keep it in a ziploc bag or tupperware to retain it's moisture when you're not using it).
Video