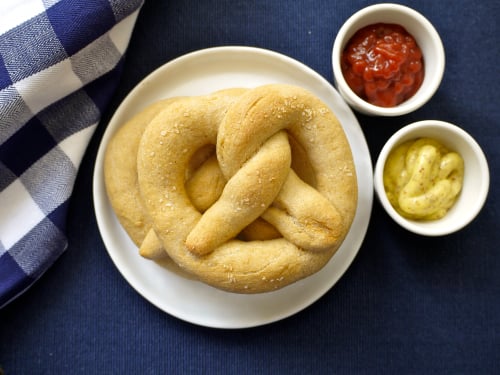 Whenever we pass a hot pretzel stand — no matter what time of day it is or wherever we may be — Kenya and Chloe beg me for one. The two of them will start chanting "PLEASE" so passionately and endlessly, you'd think they were training for the Polite Olympics. Well, who can blame them. I've never met a kid who didn't love him or herself a warm, soft, doughy pretzel to tear into pieces and savor, or just teeth on, as both of my kids did starting from when they were a year old. I remember watching Chloe gum her way through a whole one (after I rubbed every speck of salt off of it!).
Now that Kenya is 5, he's starting to realize that we can make at home almost any food that he sees in the outside world. A couple of weeks ago, after Kenya spotted a pretzel place at the mall and performed his well-honed pleading calisthenics on me, I suggested to him that we make pretzels together instead. I am so happy I did.
On first glance it may seem like there are a lot of steps to this recipe, but don't let that scare you off. Each one is so easy that even a kid can do them. Stirring, mixing, kneading and rolling the dough are incredible sensory experiences for kids and are great from everything to engaging their fine motor skills to letting them experience how food can transform from one form to another. I like to set aside some of the dough for K & C so they can manipulate it themselves into knots, twists, balls and other imaginatively inspired shapes. Both of my kids were enchanted with the entire process, from making to eating, and our whole family was convinced that our homemade pretzels were just as good as what we could buy at the hot pretzel stand…not to mention much cooler looking.
As for my little ones professional pretzel pleading, it hasn't subsided. But at least it all happens at home now.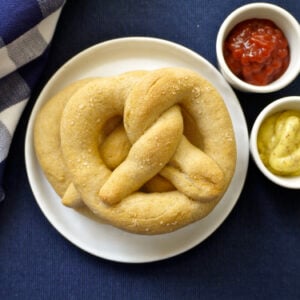 Homemade Soft Pretzels
Instructions
Preheat oven to 425° F.

In a large bowl, mix together the water and honey. Sprinkle the yeast over the water mixture and let sit for 10 minutes.

In a separate bowl, whisk together the flour and salt.

Slowly add the flour and salt to the yeast mixture. Stir until combined and the dough forms a soft ball (adding more flour if the dough is too sticky), about 5 minutes.*

Rinse out the mixing bowl and then grease it with the oil.

Place the dough in the greased bowl and turn it to coat with the oil. Cover the bowl with a kitchen towel and let the dough rest at room temperature for 20 minutes to 1 hour.

Place the dough on a lightly floured surface and knead two or three times to remove air bubbles.

Cut the dough into 16 equal pieces. Keep the dough covered with a kitchen towel when you're not working with it.

Roll each piece of dough into a 12-inch long rope.

Make a U-shape with the dough rope. Pick up each end and cross one hand over the other and press loose ends onto bottom of U to make a pretzel shape.

Place pretzels on a parchment or Silpat lined baking sheet, cover with a kitchen towel, and let them rest for 10 minutes.

Stir together the water and baking soda. Brush the pretzels with the baking soda and water mixture (if you don\'t have a brush, you can dip your finger in the liquid and rub it on).

Sprinkle pretzels with salt and bake for 15 minutes, or until lightly brown.

*This can be done by hand or using an electric mixer fitted with dough hook attachment.
Nutrition
Calories:
15
kcal
|
Carbohydrates:
2
g
|
Fat:
1
g
|
Sodium:
530
mg
|
Sugar:
2
g