Veggie Tortilla Rollups are a simple 1-2-3 meal which provide a vegetable, protein and carbohydrate all in one dish!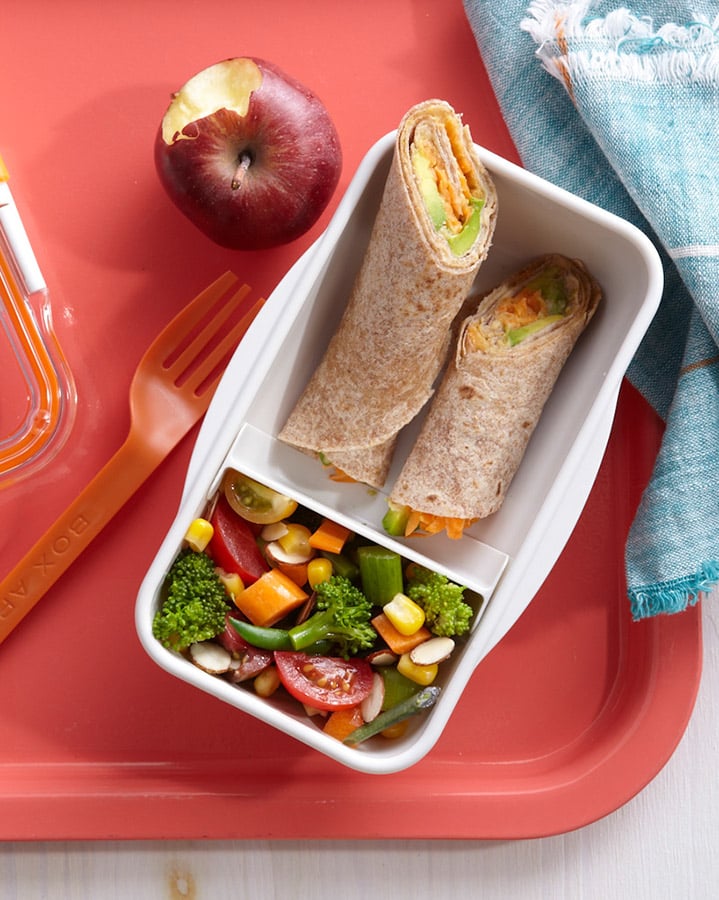 Pin
We just got back from a freezing cold spring break to Boston where my husband has been working. It has been a brutal winter on the East coast. No matter how much I miss the seasons, making snowmen and cold nights by the fire with mugs of soup and hot chocolate, my bones are still achy from being in the windy, cold wintery weather for weeks… in March and April!
Now that we're back and in the swing of things for school I'm wanting to come up with a few simple school lunches that are easy to prepare and remind me of real southern California warm weather flavors that we all love and missed. These Hummus Veggie Wraps are just what the doctor ordered! I featured them in my Parents Magazine "Snack Mom" column because they're great as a lunch, snack or even light dinner recipe. The wraps are slathered with a thick layer of protein packed vegetarian hummus and topped with crisp veggies like cucumbers, carrots and bell peppers, but you can use anything you enjoy and have on hand. You can stick with a traditional hummus (watch this video to see how to make it) or go wild and whip up White Bean and Basil, Red Beet and White Bean (my fave) or Avocado Hummus.
With just two months until school ends for the summer, let this quick lunch idea mix things up a bit!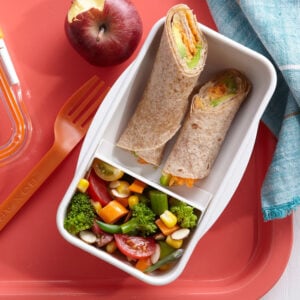 Veggie Tortilla Rollups
Ingredients
1/2

cup

hummus

4

whole wheat tortillas

1

medium

carrot, peeled and grated

1

persian cucumber, sliced into sticks

1/2

small

red bell pepper, sliced into sticks
Instructions
Place a tortilla on a flat surface in front of you.

Spread 1 tablespoons of the hummus all over the surface of the tortilla.

Sprinkle 1/4 each of the grated carrots, cucumbers, and bell peppers on half of the tortilla, close to the edge.

Roll up the tortilla tightly like a burrito.