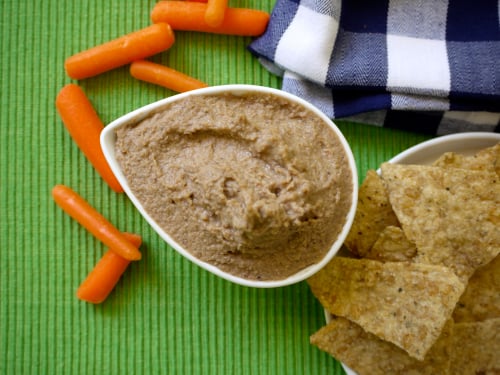 Pin
When I was pregnant with Kenya, my husband and I took birthing classes right next door to one of my husband's favorite restaurants, Real Food Daily. My husband, who I often refer to as a pretend vegan, was endlessly happy about this fact because it meant he could eat at RFD once a week. My hubby says that every time he leaves there, he instantly feels more healthy.
Don't get me wrong, I live for vegetables, but I'm also a big time carnivore. Yet somehow, even though I was the one eating for two, each week I found myself indulging my husband's pregnancy cravings.
One appetizer on the menu at RFD that everyone who has had it adores is their Lentil Pate. They serve it with wheat-free rice sesame crackers and it's absolutely addictive.
This is my version which I tweaked a bit so it would work using ingredients you likely have in your kitchen already. I admit that it's not the most pleasing dish to the eye, but after just one bite of this creamy spread you won't be concerned about looks. Packed with tons of umami flavor from the miso and a rich nutty finish, this is one of those protein-packed dips you'll want to keep stocked in your fridge all the time…especially in case my husband ever knocks on your door.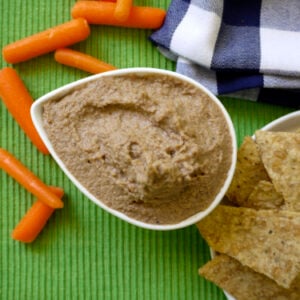 Lentil Walnut Dip
Ingredients
3/4

cup

dried green or brown lentils

3

cups

water

2

teaspoons

olive oil

1

small

onion, chopped

4

cloves garlic, chopped

1

1/4 cups

walnuts halves or pieces, toasted*

3

tablespoons

yellow miso

2

teaspoons

lemon juice

1

teaspoon

sesame oil

1/2

teaspoon

kosher salt

1/4

cup

water

*To toast the walnuts, spread out on a baking sheet in a 350°F oven for 10 minutes -- or in a sauté pan over medium heat for 5 minutes, shaking continuously.
Nutrition
Calories:
130
kcal
|
Carbohydrates:
10
g
|
Protein:
5
g
|
Fat:
9
g
|
Sodium:
220
mg
|
Fiber:
4
g
|
Sugar:
1
g