Abracadabra, disappear! These are the words Chloe uttered as she ran around the house when I gave her one of these beautifully delicious Magic Berry Wands. She walked up to a person or object, bit off a berry (for good luck), closed her eyes and then cast her spell. I'm not sure if the spells worked, but my magic sure did as she ate berry after berry making them disappear.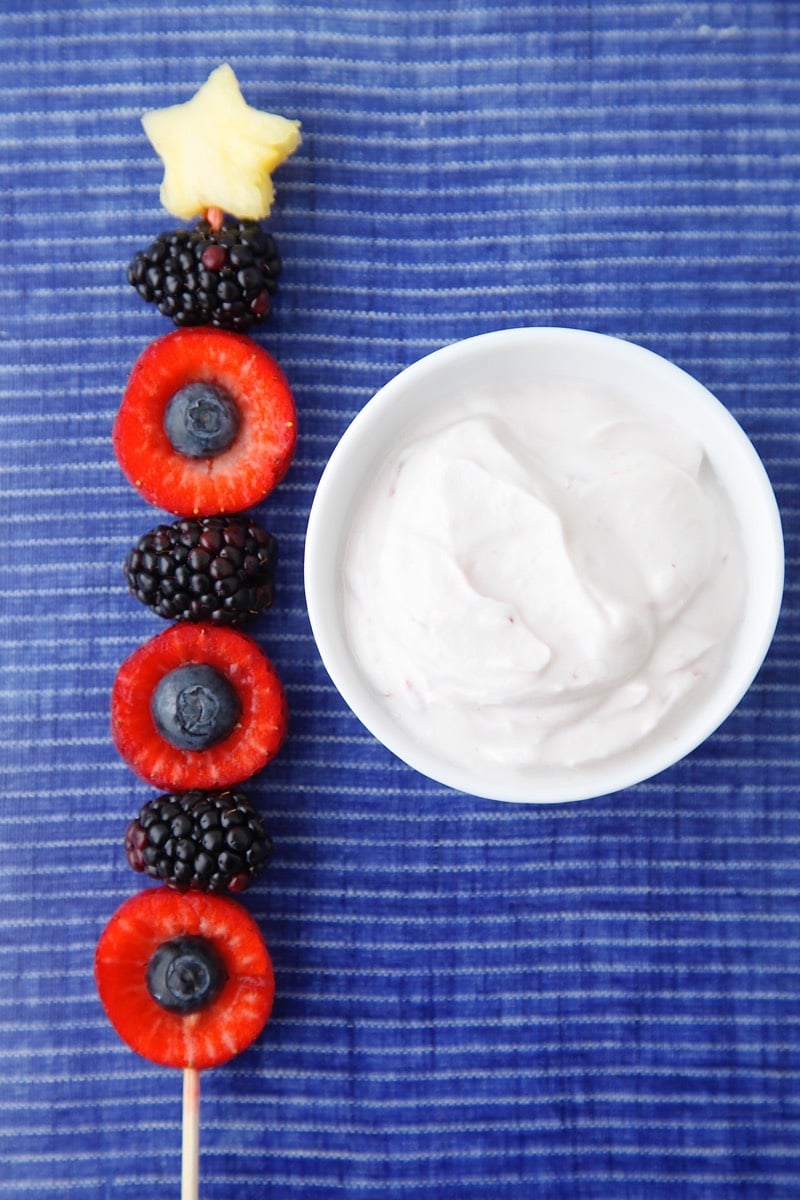 Pin
These wands are made with an array of vibrant berries like naturally sweet blueberries, strawberries and blackberries that you can dip into a creamy, protein mixture of plain greek yogurt with preserves swirled in for a touch of added sweetness. They make a great accompaniment to Bolthouse Kids Veggie Snackers (which are perfect for on the go as well as school lunch!)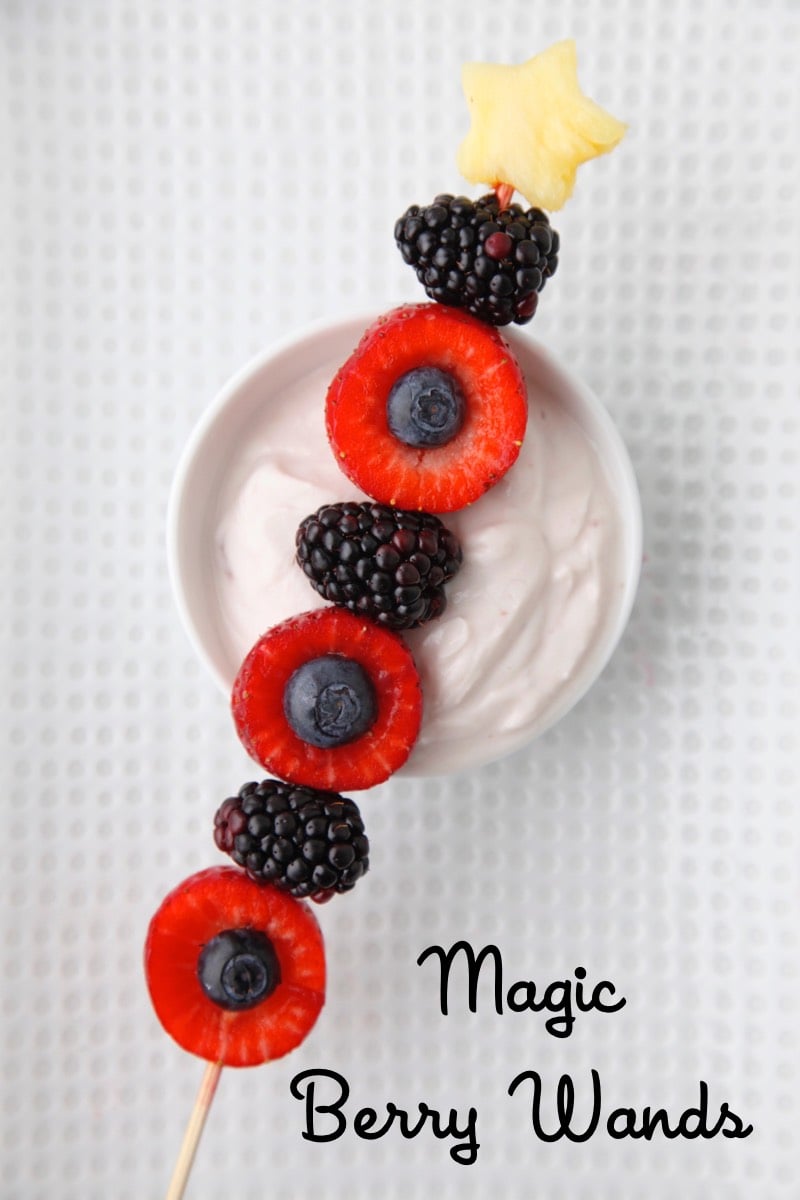 Pin
Magic Berry Wands are a great way to get kids to eat healthy and delicious berries. If you're thinking about hosting your own Bolthouse Farms UnBake Sale I guarantee these will be a hit with the kids. Doesn't it feel better raising funds for your school offering your kids the freshest foods possible and watching them have a fun and creative time doing it?!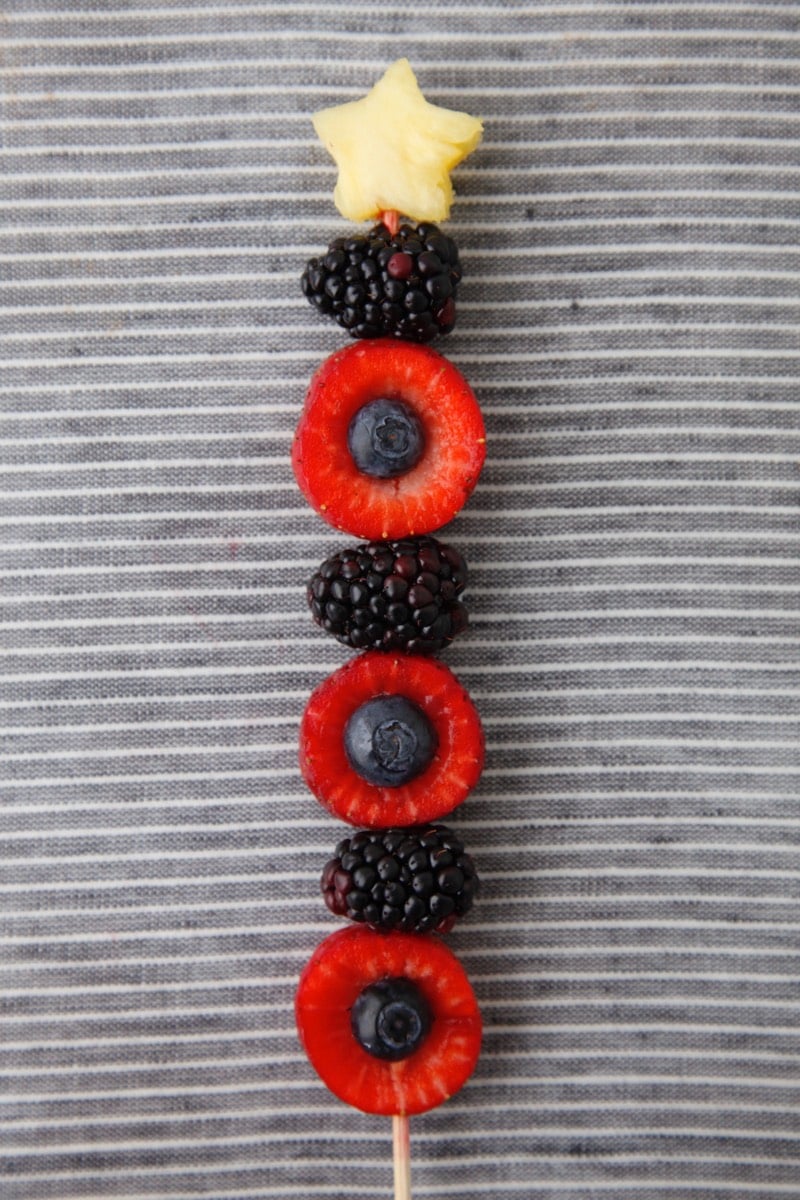 Pin
Magic Berry Wands
Ingredients
12

large

strawberries

36

blueberries

24-36

blackberries

1

small

pineapple

1/2

cup

plain greek yogurt

2

teaspoons

strawberry preserves

12

wooden skewers
Instructions
Remove the stem from the strawberries and slice them into 1/4 inch circles.

Use a pairing knife to cut a small hole, about the size of a blueberry into the center of the strawberry slices. Press a blueberry into the center of each strawberry circle.

Peel the pineapple and slice it into 1/4 inch rounds. Use a small star cookie cutter to cut out 12 stars.

Skewer a strawberry/blueberry circle onto a skewer, followed by a blackberry, and repeat once or twice to fill the skewer about 3/4.

Top each skewer with a pineapple star.

In a small bowl, stir together the greek yogurt and the strawberry preserves and serve it as a dip along with your Magic Berry Wands.