Meatloaf Meatballs have everything you'd expect to find in a classic meatloaf but packaged into delicious bite-sized portions. They're super kid-friendly and not to mention absolutely delicious!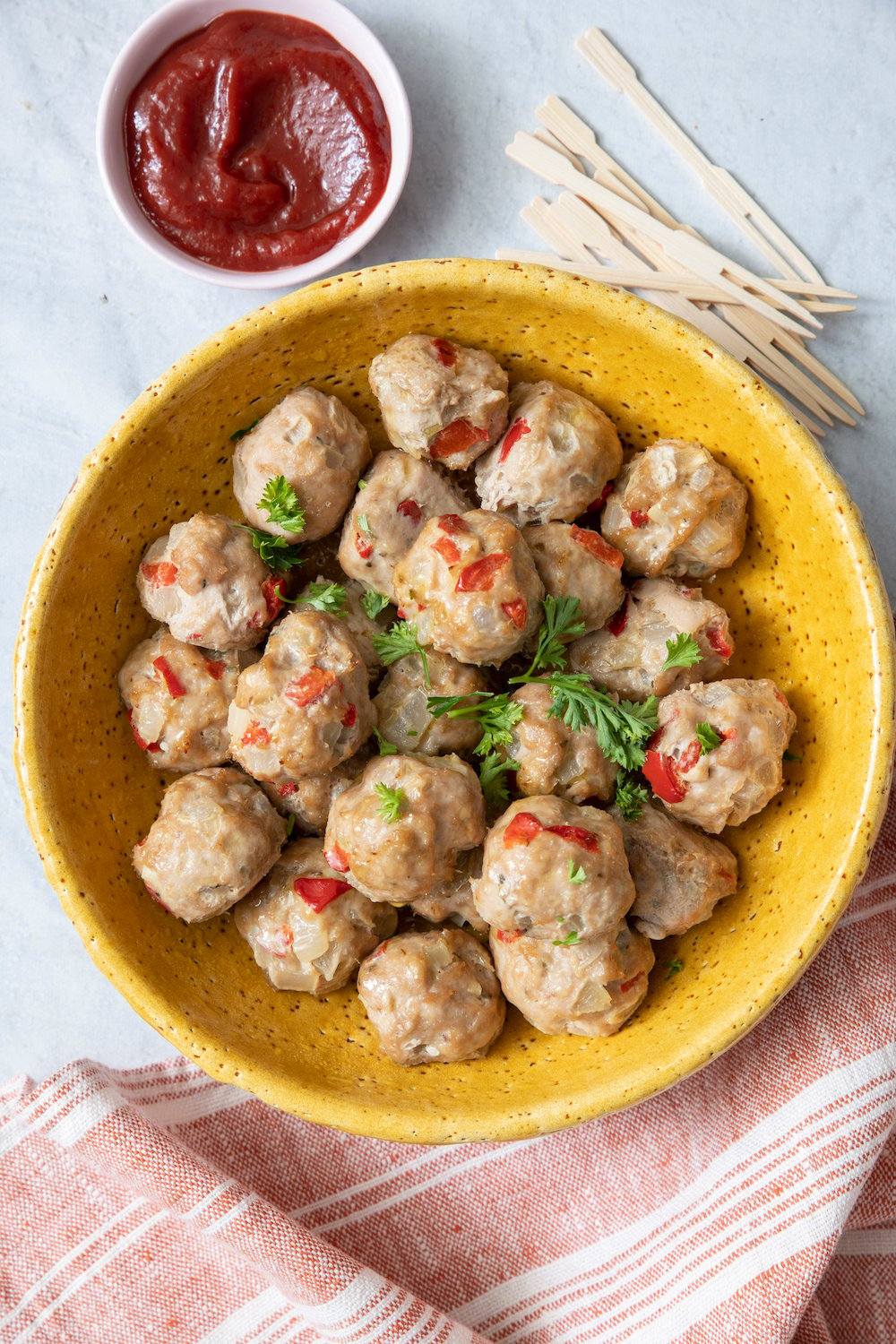 My oldest son has been a vegetarian since he was five, but my two daughters still very much so eat (and love) meat. They both love a good meatloaf, but the amount of time it takes for a whole meatloaf to cook in the oven sometimes steers me away from making it. These meatloaf meatballs solve that problem! It cuts the cooking time in half which is perfect for busy weeknights when you want dinner on the table ASAP.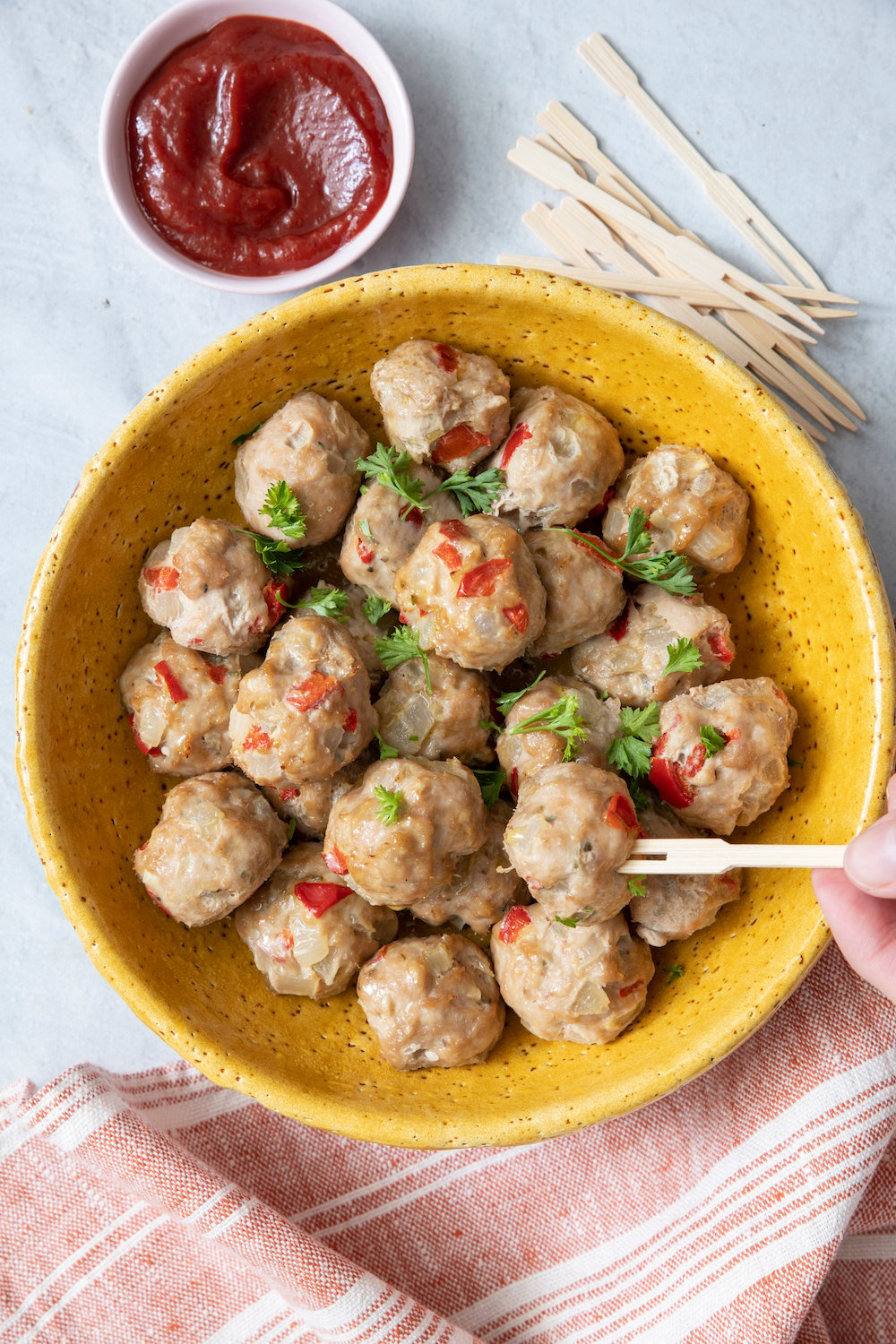 How to Make Meatloaf Meatballs
First, you're going to sauté your onions, peppers and garlic in olive oil until the veggies are soft.
Move the veggie mixture to a mixing bowl and allow to cool. Add your ground turkey, Italian herbs and salt to the bowl with the veggies and mix until combined. Using your hands works great, by the way!
Using a tablespoon measure, form mixture into balls and place in a greased baking dish.
Bake at 375 degrees F for 20 minutes, until cooked through. Serve with ketchup or favorite dipping sauce on the side!
Recipe Tip
When forming the meatballs, wet your hands with some water to prevent the mixture from sticking to you.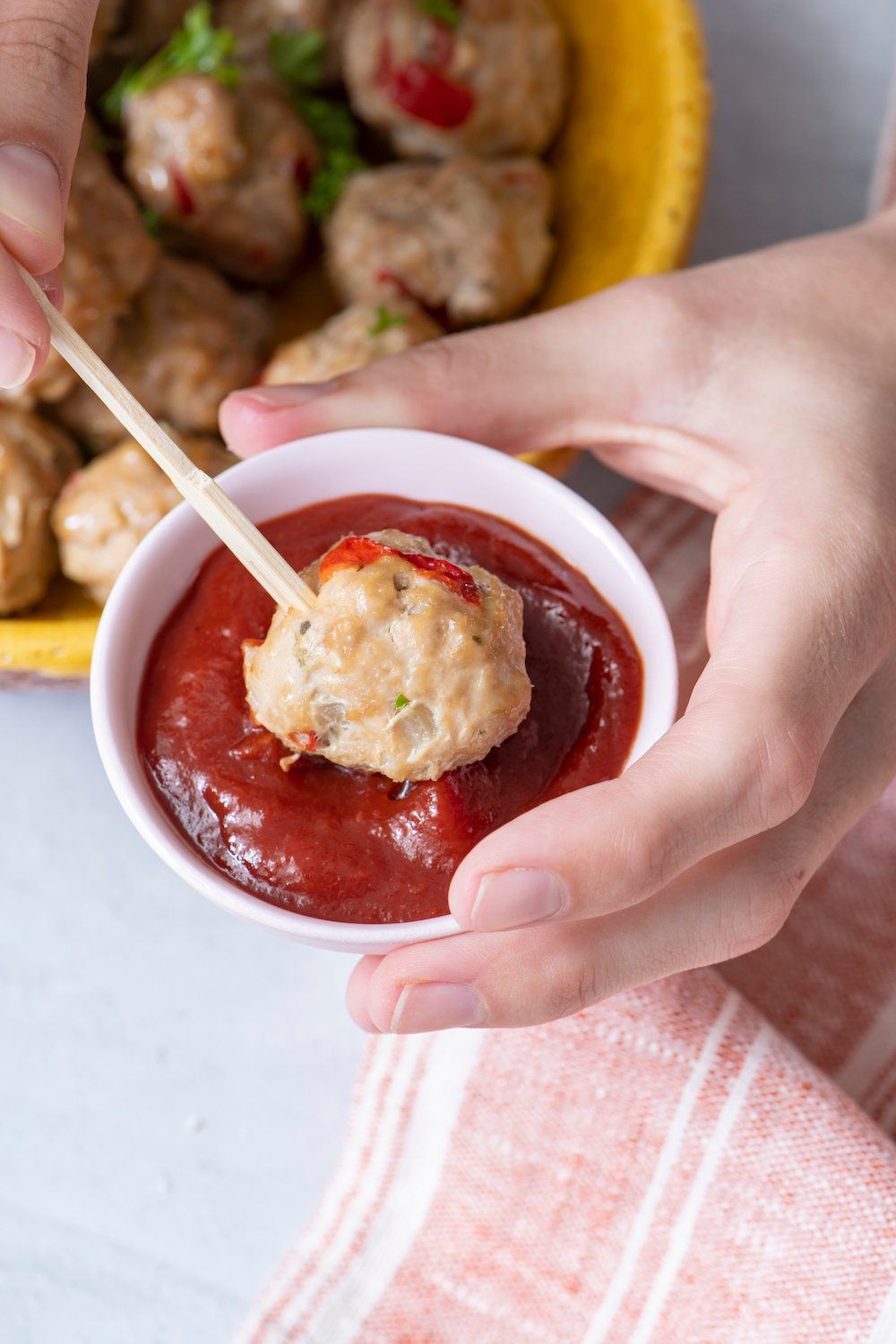 These were a total hit with both of my girls when I first made them. To add a bit more fun to this dish, I serve the meatballs skewered with toothpicks so the kids can easily dip them in ketchup or BBQ sauce. They're also an ideal leftover addition to the lunchbox. They're also a perfect appetizer to serve at your next tailgate or birthday party and a great recipe if you're looking to meal prep! The recipe name may sound like a mouthful, but isn't that a good thing?
More Meatball Recipes
Chicken Teriyaki MeatballsChicken Teriyaki Meatballs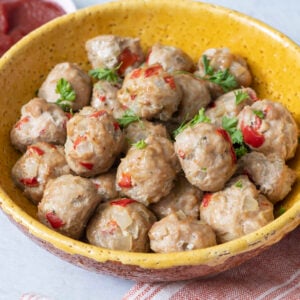 Meatloaf Meatballs
Ingredients
1/2

onion, diced small

1/2

bell pepper, diced small

1

garlic clove, minced

1

pound

ground turkey, dark or light meat

1/2

teaspoon

Italian herbs

1/2

teaspoon

kosher salt
Instructions
Preheat the oven to 375F degrees.

Heat the oil in a saute pan over medium heat.

Add the onions, bell pepper, and garlic, and cook for 5 minutes, until the veggies are soft.

Remove the veggies from the heat and allow to cool.

In a bowl, mix together the cooled veggies, ground turkey, italian herbs and salt, until well combined.

Using a 1 tablespoon measure, form the mixture into meatballs, and place in a greased baking dish.

Bake for 20 minutes, until cooked through.

Note: You can also sauté the meatballs over medium heat for 4-5 minutes, shaking the pan occasionally, and cover for 1 additional minute.
Nutrition
Calories:
100
kcal
|
Carbohydrates:
6
g
|
Protein:
16
g
|
Fat:
1
g
|
Cholesterol:
40
mg
|
Sodium:
1390
mg
|
Fiber:
1
g
|
Sugar:
4
g