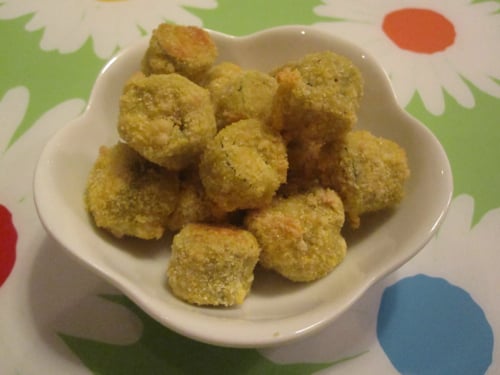 Whenever I tell people that Kenya's favorite vegetable is okra, they look at me like I'm crazy. How in the world could a little boy ever want to eat okra?! Well, it's true, he loves it and it's not the result of me pushing it on him. From day one it's always been his veggie of choice.
When I was growing up in the south, my mother and grandparents made okra all the time. My mother's favorite preparation of it was fried. So for any okra lovers out there, I decided to make my family's favorite version but with a healthy twist. Baked Okra Nuggets are crunchy and really fun to eat. If you've never tried okra before, this recipe is a good introduction to it and a great way to get kids to eat a veggie that they might have avoided before!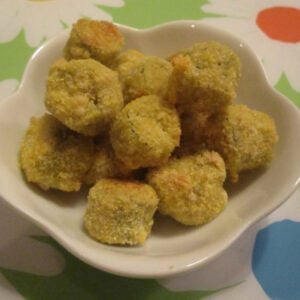 Okra Nuggets
Instructions
Preheat oven to 400 degrees.

Place the flour and salt in a bowl and stir to combine.

Whisk the egg in a second bowl.

Place the cornmeal and parmesan cheese in a third bowl and stir to combine.

Roll the okra in the flour and pat to remove excess flour.

Dip the flour coated okra in egg and then roll in the cornmeal/parmesan mixture to coat.

Place the okra on a cookie sheet sprayed or greased with olive oil (I use Spectrum Canola Oil Spray) and when all the okra nuggets are on the tray, spray again to lightly coat.

Bake for 15 minutes or until golden.

Serve.

*Freeze before baking. When ready to eat – take them out of the freezer and put them in the oven adding at least another 3-5 minutes baking time.
Nutrition
Calories:
140
kcal
|
Carbohydrates:
24
g
|
Protein:
6
g
|
Fat:
2
g
|
Cholesterol:
5
mg
|
Sodium:
700
mg
|
Fiber:
3
g
|
Sugar:
1
g