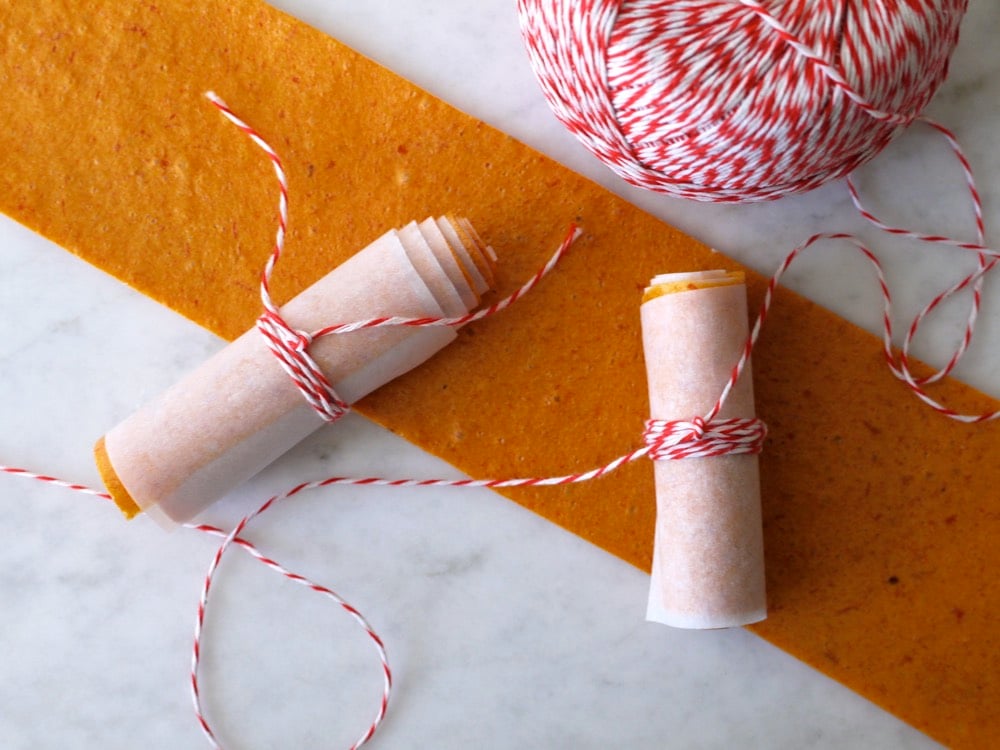 Prior to moving to California over 10 years ago, I had never seen a persimmon. I should also add that I had never heard of a persimmon either. How had I lived for so long without knowing about — let alone eating — one of the sweetest, most delicious fruits I've ever tasted? And if you think I seem enthusiastic about persimmons, you should see my kids. When Kenya noticed that persimmons had returned to our farmers' market this season he screamed, "PERSIMMON"! If there was anyone within one hundred yards of us who wasn't already aware that persimmons were back, they definitely were after Kenya's exclamation.
While persimmons are delicious in salads, in desserts or simply on their own, they're also one of my favorite fruits for making fruit leather. With only two, yes two, ingredients in this recipe, the hard part is the method by which you choose to cook it. My preferred method for making any kind of fruit leather is in the dehydrator. Dehydrators turn out the kind of fruit leather you find at the grocery or similar to the fruit leathers/roll-ups you probably ate as a kid — easy to roll, super sweet, evenly cooked and just all around naturally delicious. Even though I use mine to make everything from fruit leather to dried fruit and more, dehydrators are not something you find in most kitchens, so I've spent a lot of time figuring out how to make a comparable fruit leather in the oven. Actually, as I type this post, I've got two batches of leather in the oven and another two in the dehydrator — testing to see which version I like best. While I actually dig making fruit leather in the oven, the real trick to doing it that way is…..well, just checkout the recipe below to find out.
While they're in season (and if you can find them), grab as many persimmons as you can get your hands on and make this sweet and heathy Persimmon Fruit Leather treat that will have your kids ripping off long strips before you even have time to roll it up for them!
Persimmon Fruit Leather
Ingredients
3

medium

Fuyu Persimmons, unpeeled or Hachiya's, peeled
Instructions
Preheat oven to 200℉ or dehydrator to 135 degrees.

Wash persimmons well, remove stems and cut into pieces. If using hachiya's peel first.

Place persimmon pieces in blender and puree until smooth.

Pour the mixture onto a parchment-lined, or Silpat-lined, baking sheet and spread with the back of a spoon or spatula in a large rectangle, making sure that the thickness is completely even (this is one of the tricks to making perfect fruit leather).

Bake for approximately 2.5 hours if using parchment paper, 3 hours if using a Silpat mat or 5 hours if using a dehydrator or until leather is dry and firm to the touch. Remember, cooking times will vary depending on how thick you spread your mixture and how much water (juice) is naturally in the fruit.

Set fruit leather aside and cool at room temperature; it takes several hours for the fruit to soften up. Note that when you first take the fruit leather out of the oven, the edges may be a bit dry and crispy, but if you allow it to sit out for an hour it softens up.

Cut with a knife, pizza cutter or scissors into strips. Alternatively, if cooking on a Silpat you can peel the fruit leather off in one piece, place on a piece of parchment paper, cut into 2-inch wide strips and roll the leather into "roll ups".

Serve.
Nutrition
Calories:
90
kcal
|
Carbohydrates:
24
g
|
Protein:
1
g
|
Fiber:
5
g
|
Sugar:
16
g