Making Polenta Cutouts is a fun way to get to use those cookie cutters in your drawers that don't get enough love. Creating fun shapes using the polenta is a great way to introduce your kids to a new food they might not have tried before!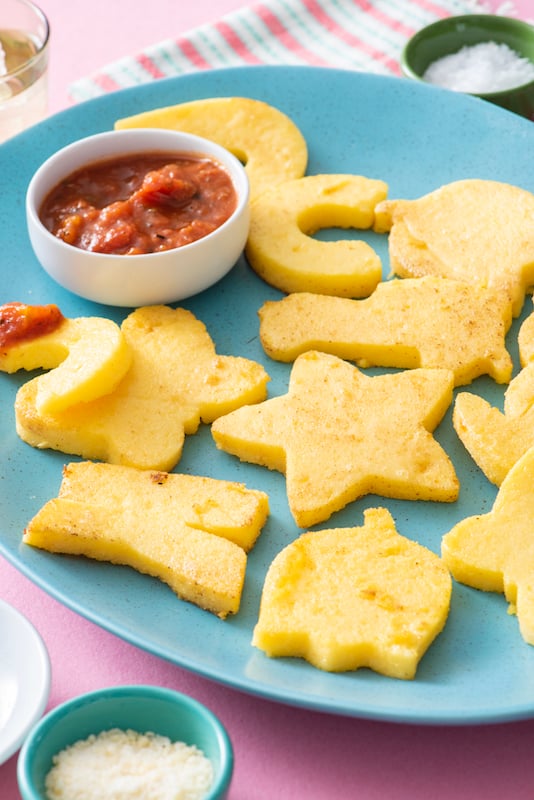 Pin
So, first of all, what is polenta? Polenta is a dish of boiled cornmeal that was historically made from other grains. It may be served as a hot porridge, or it may be allowed to cool and solidify into a loaf that can be baked, fried, or grilled. It's super easy to make if you use instant polenta mix (which I do!).
For most people, cookie cutters sit in a drawer collecting dust for over 11 months of the year. I've been collecting cutters for years in all different kinds of shapes and sizes, but, admittedly, mine don't get as much use as they should.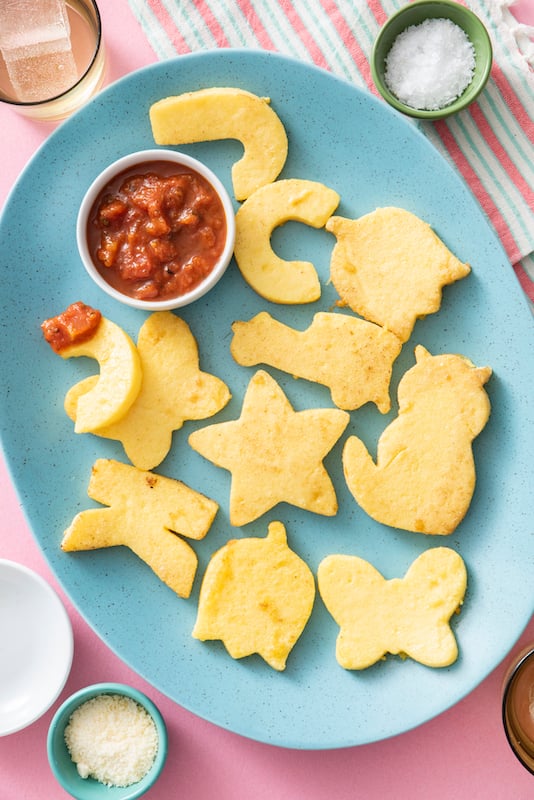 Cookie cutters are obviously great for cookies, but kids have such a blast baking with them that I wanted to use them to help introduce kids to new foods in a fun way. So I came up with these polenta shapes. The recipe is really easy, and it's perfect because you can keep the sheet of polenta in the fridge after you make it and cut them up whenever you want some.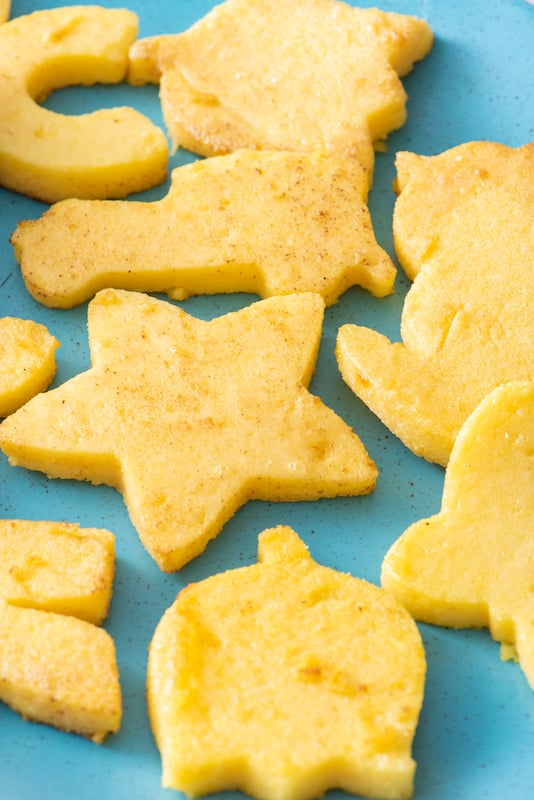 To test out my little experiment, I recently brought a sheet of polenta and a bunch of cookie cutters to our friend's house for a dinner so the kids could participate in making their meal. They each picked the shapes they liked best — the heart, bear, car and dolphin were my favorites — and proceeded to cut out the polenta shapes. It only took me minutes to pan sear them and let them cool before all the kids were holding their own creation and munching away!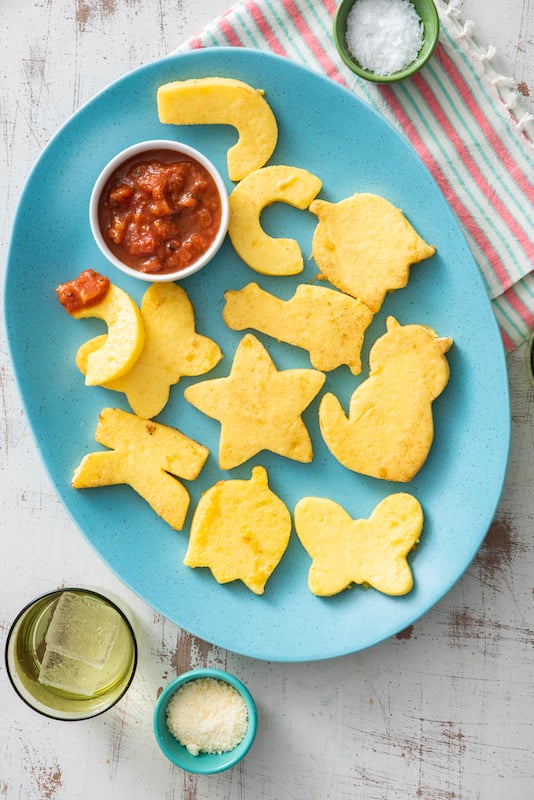 How do you make foods more fun for your little ones? Are you using cookie cutters on the reg? Let me know in the comments!
Polenta Cutouts
Ingredients
7

cups

water

1

box (13 oz)

instant polenta

2

teaspoons

kosher salt

3/4

cup

parmesan cheese

3

tablespoon

butter, plus more for sautéing
Instructions
Line a sheet tray with foil and coat with cooking spray.

Bring 7 cups of water and salt to a boil.

Add polenta in a slow stream while whisking continuously to avoid lumps.

Turn heat to low and continue to stir with a wooden spoon until polenta thickens, 5-8 minutes (you may add more boiling water as needed to keep the polenta a smooth consistency).

Turn the heat off and add parmesan and butter. Stir to combine.

Pour onto a sheet tray and spread with the back of a spoon to cover the tray evenly. Cool.

Refrigerate the polenta for 30 minutes or covered up to 2 days.

Remove the sheet tray from the refrigerator and use cookie cutters to stamp out shapes.

Heat 1 tbsp of butter in a saute pan over medium heat and cook the polenta shapes for 3-5 minutes on each side or until golden (you can also serve these cold).

Eat polenta shapes on their own or serve with a red sauce.
Nutrition
Calories:
250
kcal
|
Carbohydrates:
37
g
|
Protein:
7
g
|
Fat:
8
g
|
Cholesterol:
20
mg
|
Sodium:
740
mg
|
Fiber:
2
g
|
Sugar:
1
g