Pin
How often does the clock strike 5 and you realize "oh *%#@, I haven't even thought about what to make for dinner!" The night that I came up with these rice & cheese balls was one of those times, and since then, it's become a total household favorite. The recipe is incredibly easy and you probably have all of the ingredients in your kitchen already. All you do is cut cheese sticks into cubes, use your hands to wrap the rice around them into balls and then steam them quickly. For extra flavor and added nutrition, I like to give them a sprinkle of sesame seeds.
I find that whenever food appears fun or has a hidden surprise, kids are most excited about eating it. This dish satisfies both criteria_ it's shaped like a ball (fun!) and has a cheesy center (surprise!). As soon as Kenya took a bite and realized there was gooey, melted cheese inside his rice ball, it was as if he found a new best friend! He just looked up at me with utter surprise and joy and said, "Mommy, there's cheese!" Literally love at first bite.
(This is a great idea for the lunch box, too!)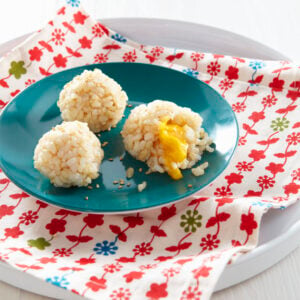 Rice & Cheese Ball Treasures
Ingredients
2

Cheese

Sticks (I use mozzarella or cheddar)

1

Cup

Cooked Rice, brown or white (it helps if the rice is sticky, so if you're cooking the rice just for these balls, it helps to use a little extra water when making the rice - short grain rice works grea

2

Tbsp

Sesame Seeds or Gomasio
Instructions
Cut cheese sticks into 1/2 inch cubes (it depends on the brand, but each cheese stick should make around 7 cubes).

Take about 2 tbsp of the rice with moist or damp hands (to avoid sticking) and place the cheese in the center, rolling the rice into a ball around it.

Place the rice balls into a steamer pot over boiling water for 2 minutes. If you don't have a steamer, place in the microwave for 10 seconds or just until the cheese melts.

Sprinkle with sesame seeds or gomasio.
Nutrition
Calories:
35
kcal
|
Carbohydrates:
4
g
|
Protein:
1
g
|
Fat:
1
g
|
Cholesterol:
5
mg
|
Sodium:
20
mg