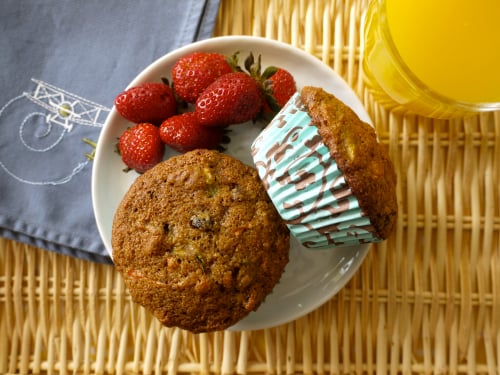 My midlife crisis arrived about twenty years too early. The year was 2001 and I had been working in the modeling industry for almost 15 years — basically since I was a teenager. Modeling afforded me many wonderful opportunities for which I will always be grateful, but it didn't really fulfill me.
I had always dreamed of going to culinary school, yet the thought of simply abandoning what I had done for so long to start something completely new gave me great anxiety, no matter how determined as I was to find my true calling. I researched several culinary programs but never could commit to do anything more than take a tour. And so there I remained, lost, two years shy of my 30th birthday and entirely too young to be so confused about what I was doing with my life.
I was living in New York back then and had made an appointment one day to see yet another school, the Institute of Culinary Education. The tour date was September 11th and as you can probably figure out for yourself, I did not get to visit the school that day. As it did for many people I know, 9/11 forced me to reexamine my life. I decided within days of that unspeakable tragedy that if I was ever going to follow my dream, that was the moment.
I spent the next year as happy as I've ever been, working during the day and going to school at night. As hard as it was, I still romanticize that period of my life for the sumptuous meals (my schoolwork) that I would bring home from my classes for my future hubby and I to enjoy late at night after our long days of work and school.
This all finally brings me to the whole reason for the recipe below. While at I.C.E., I was blessed to meet one of the kindest, sweetest, most talented women I know. At a very young age, Sarah Copeland knew exactly what she wanted to be and she made it happen. A veteran of the Food Network, writer, food-expert, urban gardner and co-founder of Share Our Strength's Good Food Garden's Campaign, Sarah's most recent exploit is The Newlywed Cookbook. Not only is this amazing book rich in information and stories, it features tantalizing food photography and delectable recipes which are perfect for both the newbie and experienced cook. Below is one of my many favorites from the book. I made it for Kenya's snack one day and all the kids (and their moms) went nuts for it.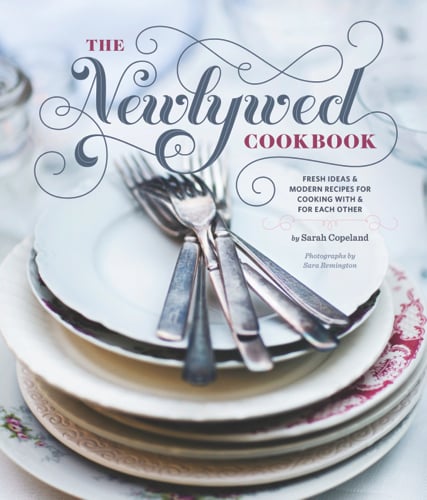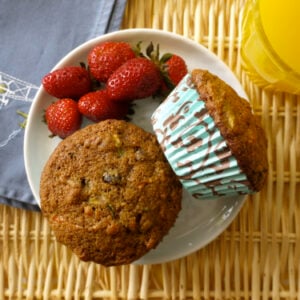 Rise and Shine Muffins
Instructions
Preheat oven to 375° F.

Place the raisins in a small bowl, cover with hot water, and set aside to plump.

In a large bowl, whisk together the flour, sugar, baking soda, cinnamon, ginger, and salt.

Stir in the carrots, zucchini, pecans, and pine nuts.

In another large bowl whisk together the eggs, oil, buttermilk, and vanilla.

Add the egg mixture to the flour mixture and mix until just combined.

Drain the raisins and stir them into the batter.

Fill greased or paper-lined muffin tin 3/4 full with batter.

Bake 25 minutes (15 minutes for mini muffins) or until a wooden pick inserted into muffins comes out clean.

Serve.

*From The Newlywed Cookbook by Sarah Copeland-reprinted with permission from Chronicle Books
Nutrition
Calories:
170
kcal
|
Carbohydrates:
21
g
|
Protein:
3
g
|
Fat:
9
g
|
Sodium:
180
mg
|
Fiber:
2
g
|
Sugar:
12
g