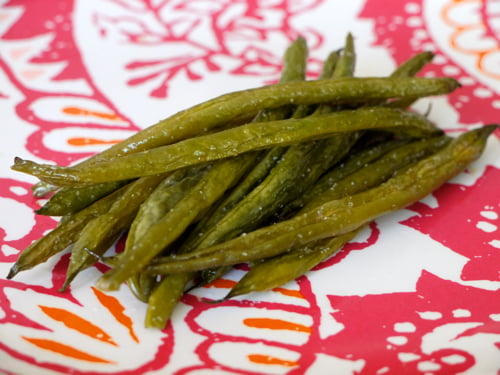 The Blue Lake beans on our trellis from My Own Edible Garden have been growing like weeds over the past few weeks. I can't begin to describe the amount of pride my kids have in the fact that they helped to plant, water and weed these beautiful beans that seems to multiply weekly by the pound. Kenya and Chloe love grabbing a few to munch on while we play in the yard (it's like having my own outdoor snack bar!) or bringing a handful back into the kitchen to either sauté with an assortment of the other veggies and herbs growing in our garden or roast with a pinch of seasoning.
I constantly am amazed by how much easier it is to get kids to eat the foods they frequently resist, like green vegetables, simply by allowing them to have a hand in the process of growing what they eat. It lets them see food in a whole new light and gives them a pride of ownership that can't be replicated any other way. Green beans are a great green for little hands to hold on to whether they're raw, steamed or simply roasted like these.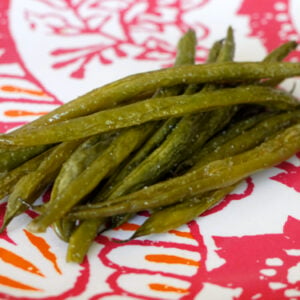 Roast Green Beans
Instructions
Preheat oven to 400 F.

Place all of the ingredients on a baking sheet and toss to combine.

Bake for 30 minutes.

Serve.
Nutrition
Calories:
70
kcal
|
Carbohydrates:
8
g
|
Protein:
2
g
|
Fat:
3
g
|
Sodium:
300
mg
|
Fiber:
3
g
|
Sugar:
4
g