How happy would you be to dive into a massive salad platter? For me it's a dream come true!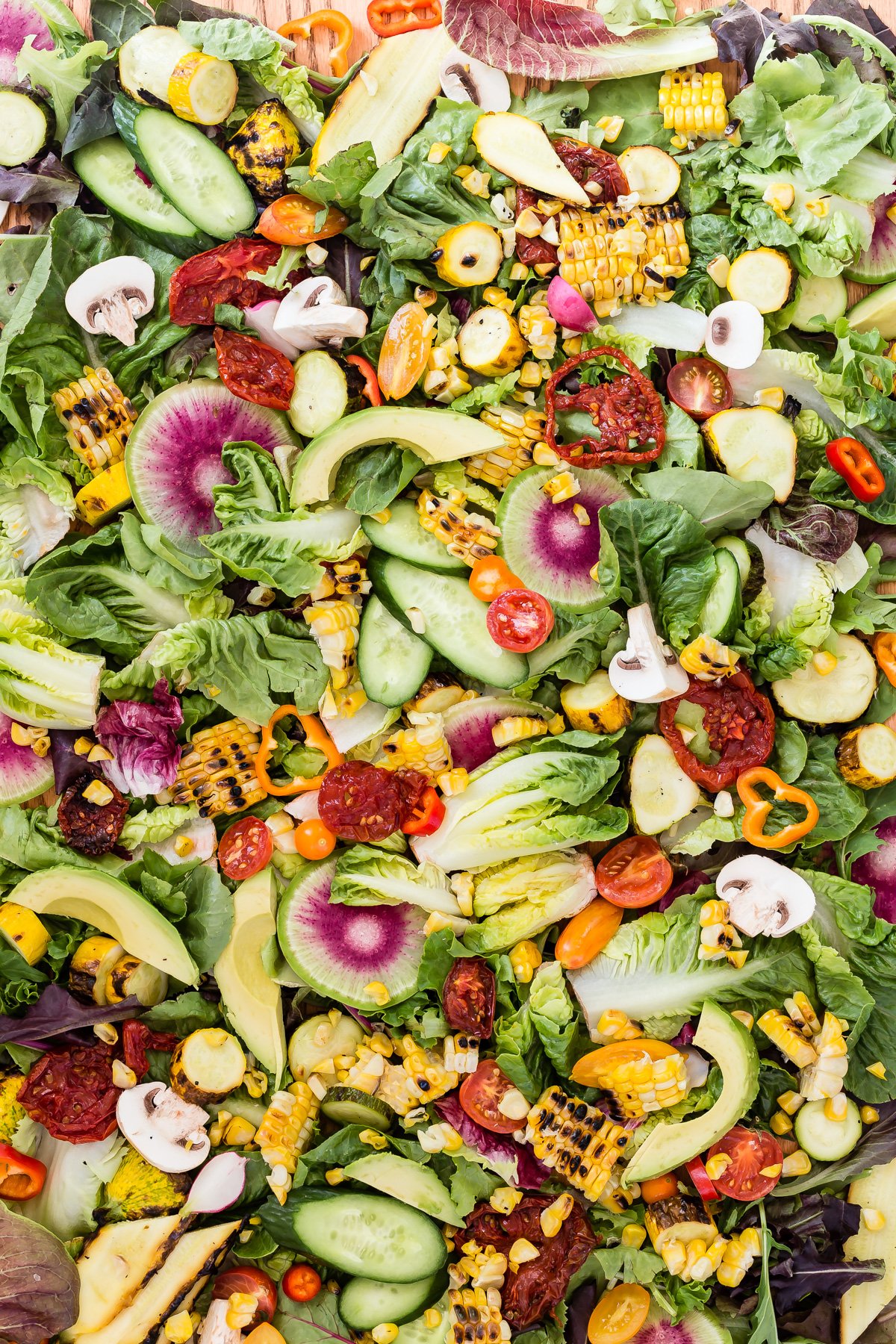 If you've been around here at all lately, then you've probably noticed that I'm a fan of setting out a big platter of snacks to have around the house, at the pool, and at parties. The popularity of these platters has inspired me to try out other platters as well. I've found that if I place a ton of foods out on a board and let my kids at it they're much more excited to try new foods and fill their bodies with better choices. Here we have my new favorite way to serve lots of veggies: the salad platter! It's like a gigantic salad with tons of veggies, and your favorite dressing, all set out on a pretty platter so it's accessible to everyone and easy to get just want you want.
This salad platter is fully customizable to suit your tastes. Choose your favorite salad dressing – or even set out a few options (I've included my go to lemon vinaigrette below). Fill up the platter with tons of fresh veggies. Throw on some nuts and chopped fruits if you please. Don't forget the tongs so it's easy to grab big bunches to put onto your plates! What is your favorite addition to a salad?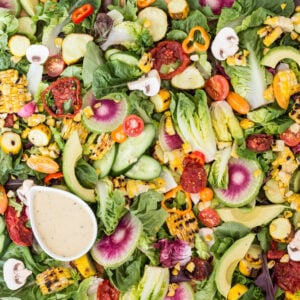 Salad Platter
Ingredients
2

bags

mixed salad greens

1

bunch

radishes

2

avocado, sliced

2

persian cucumbers

2

tomatoes

1/2

cup

chopped sun dried tomatoes

2

corn cobs, raw, steamed or grilled and kernels removed

8

ounces

mushrooms

2

bell peppers

1/4

cup

olive oil

3

tbsp

lemon juice

1

garlic clove, minced

1

tsp

honey

1/2

tsp

kosher salt

2

tsp

dijon mustard

herbs, optional
Instructions
Place the first nine ingredients and any other vegetables you love on a large platter.

Slice all the veggies into bite-sized pieces and arrange on top of the salad greens.

Place the remaining 7 ingredients in a jar to shake or bowl to whisk.

Pour dressing over the salad and toss to coat.