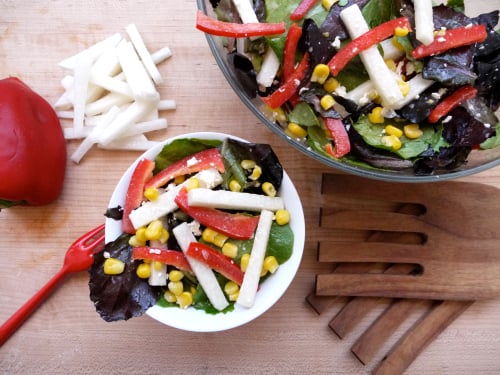 Pin
As Kenya and Chloe have gotten older, they've started gravitating more towards salad. Getting them to eat raw veggies has never really been an issue, but leafy salad greens took a bit of time for them to get used to. I eventually realized that letting them help me wash, toss, or dress the salad went a long way towards them wanting to eat it. I also found that a good dressing, like this mouthwatering citrus cilantro one, works wonders.
Recently, I threw a baby shower for a dear friend and served this Southwestern Salad to go along with the Mexican inspired menu. While I was tossing it, my pregnant friend watched in shock as Chloe kept trying to snag handfuls out of the bowl and stuff them in her mouth. I've come to realize that if you just start to serve your kids salad day after day, eventually they will come to love it. Especially when it features all kinds of crispy, sweet vegetables like this one.
Ah, the salad days of youth.
Ingredients
1

10-ounce bag

mixed salad greens

1

small jicama, peeled

1

red bell pepper

1

cup

corn kernels

1/2

cup

crumbled cotija cheese

2

tablespoons

sour cream

1

tablespoon

canola oil

1

tablespoon

freshly squeezed lime juice

1

tablespoon

finely chopped cilantro

1/8

teaspoon

kosher salt
Nutrition
Sodium:
330
mg
|
Sugar:
5
g
|
Fiber:
8
g
|
Cholesterol:
20
mg
|
Calories:
200
kcal
|
Fat:
11
g
|
Protein:
8
g
|
Carbohydrates:
22
g