How many times have you gone to a bake sale with your kids and gasped at the huge amount of sugar and white flour on the table? I will generally grit my teeth and let the kids pick out one treat hoping they will pick one of the more sensible bake sale choices, but it's not easy. With all of the brownies, cookies, cakes and pies set right at kids' eye level, it can be challenging to send a positive message about balance with so many gluttonous choices in front of you.
Then I heard about Bolthouse Farms UnBake Sale initiative, a new twist on traditional bake sales that celebrates fruits and veggies. It's in response to the Smart Snacks in School regulation which sets the daily nutritional standards for the drinks and foods sold during a child's school day, including bake sales. Ready to host your UnBake Sale to get your school involved and start building a healthier generation? Check out www.theunbakesale.com to learn more.
Parents and teachers are also invited to join the 100 School Pledge so your school can be part of making a healthy difference. To get started, Bolthouse Farms will give the first 100 schools that sign up a starter kit which includes a $100 gift card to buy ingredients to make UnBake Sale snacks and print UnBake Sale materials, a recipe booklet including UnBake Sale snack items and a checklist to make it a reality in your school.
I've partnered with Bolthouse Farms to come up with six fun and easy fruit and veggie-inspired treats perfect for UnBake Sales that I will be sharing this month. They're a ton of fun and easy to make with your kids.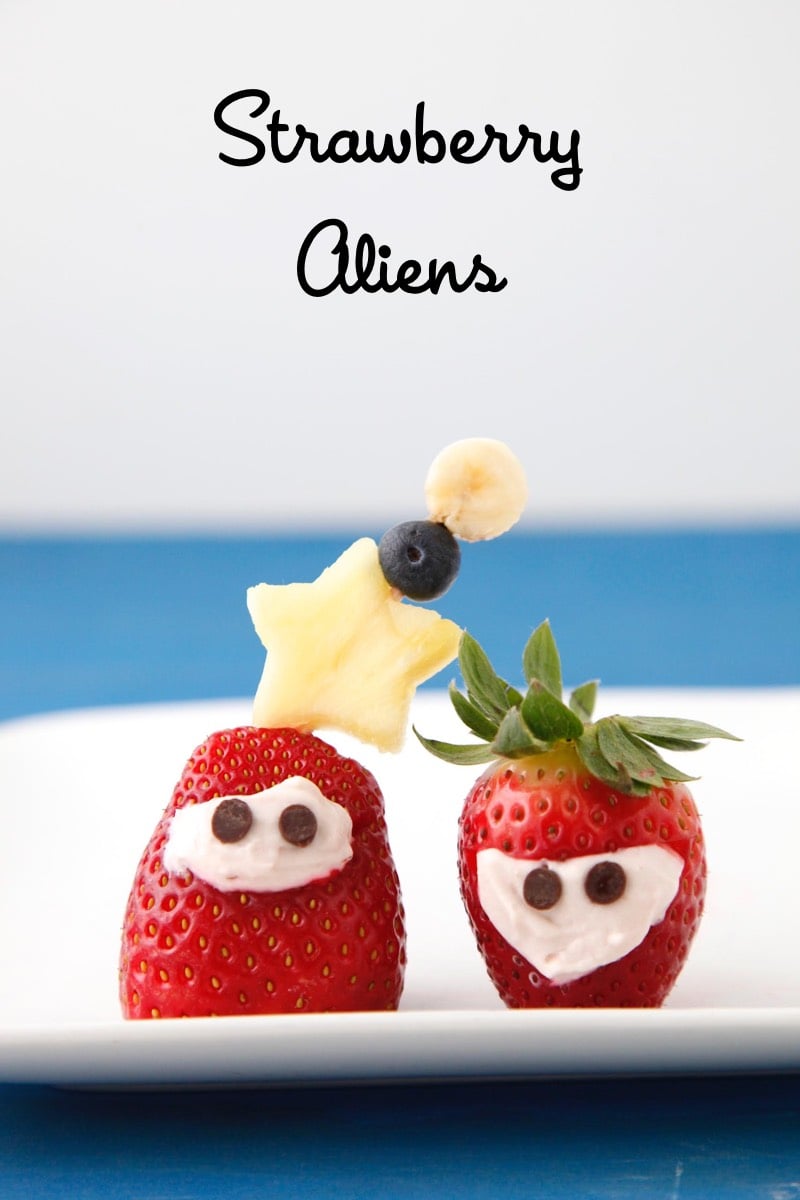 The first yummy bites are these little Strawberry Aliens. Beware: when my kids came home from school and found the ones I made they actually fought about who would get which one as they both wanted all of them. After gobbling them up in minutes we decided to make them the next day when we had a play date with my friend Jenine's 3 year old. It was precious watching the kids (all different ages mind you) design their own aliens making each one unique, using a similar method, but different process. The best part is that you only need a few simple ingredients to prepare them and you know you're giving your kids a healthy treat they'll love!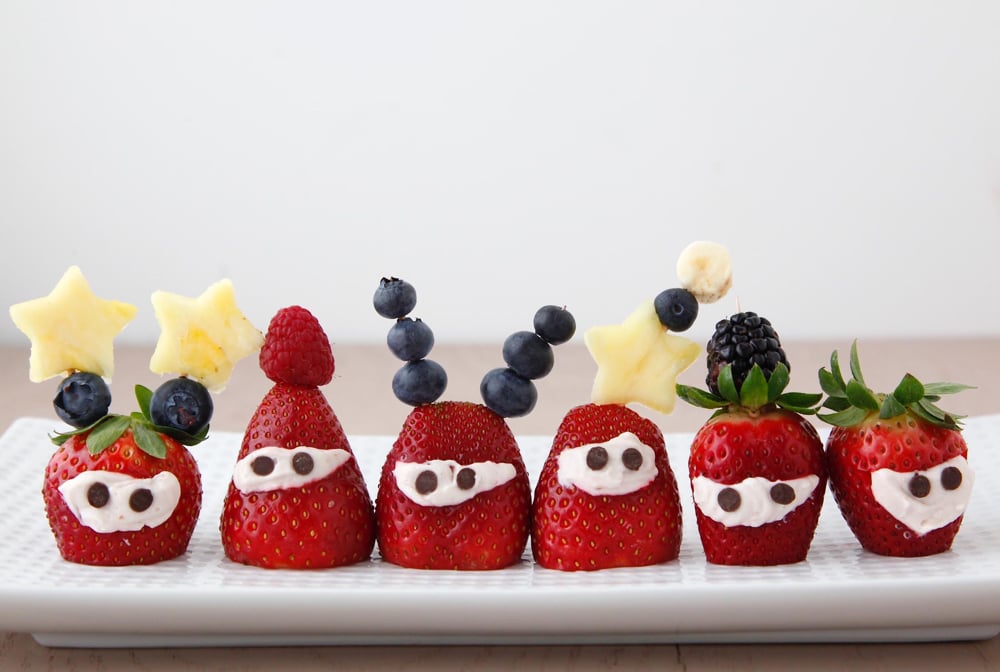 To learn more about the UnBake Sale initiative and join the 100 School Pledge, click here. And don't forget to share images from your school's UnBake Sale using #unbakesale or #bolthousefarmskids. And if you need more inspiration on how to build Strawberry Aliens with your creative kids you can watch the video above for a bunch of quick tips!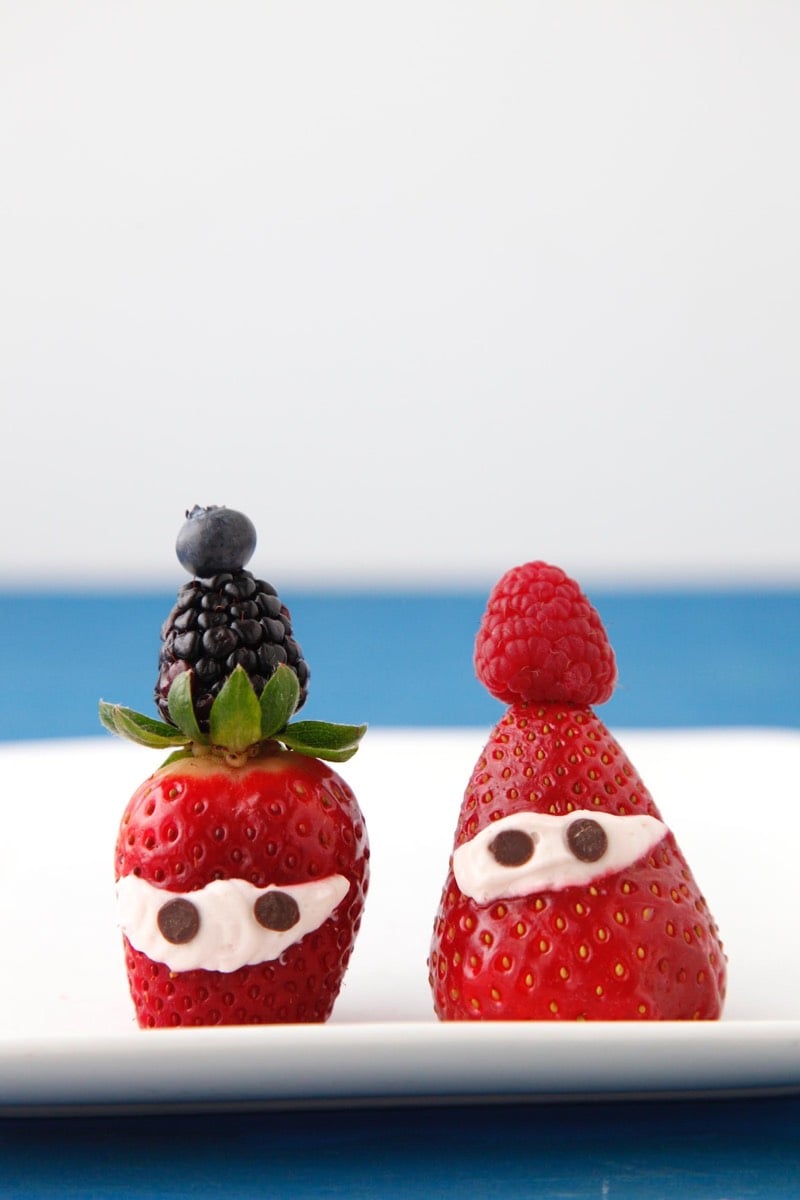 This post is sponsored by Bolthouse Farms. All views and opinions expressed are my own.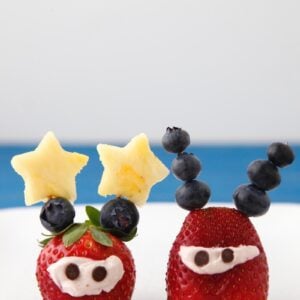 Strawberry Aliens
This alien invasion is a welcomed adorable snack that kids love to eat!
Ingredients
1/2

cup

whipped light cream cheese

2

teaspoons

strawberry preserves

1

quart

large strawberries (about 24)

48

mini

chocolate chips

blueberries

raspberries

blackberries

pineapples, cut into small shapes

toothpicks
Instructions
In a small bowl, stir together the cream cheese and preserves. Spoon the mixture into a plastic sandwich bag and snip off one corner to create a mini piping bag.

Slice off the top or bottom of each strawberry to create a flat surface so that the strawberry will stand on it's own.

Slice a small notch out of the strawberry near the top and fill the notch with the cream cheese mixture.

Press 2 mini chocolate chips into the cream cheese to create eyes.

Press 1 or 2 toothpicks into the top of the strawberries and skewer with the remaining berries and pineapples to create antenna.
Video