If you haven't tried adding spirulina to your morning smoothies yet, you should board the train immediately! This superfood is incredibly high in protein, iron, and calcium. Its a great add in to Kenya's smoothies since he is a vegetarian and I am always trying to get enough of these important nutrients into his body.
Spirulina is an algae, and even the powdered stuff carries a hint of that flavor with it. So I like to add a few extra dates and a splash of vanilla to make this powerhouse smoothie easier to drink.
Vanilla Kale Spirulina Smoothie is definitely staying in our regular Smoothie Project rotation because it gives such a nice boost to begin our day.
Have you tried spirulina yet? What do you think about it?!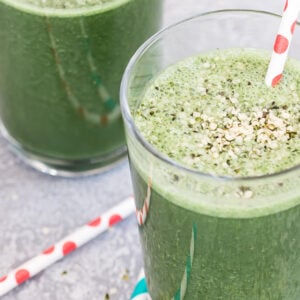 Vanilla Kale Spirulina Smoothie
Ingredients
1

cup

chopped kale

1

frozen sliced banana

1

teaspoon

spirulina

1

tablespoon

hemp seeds

2

teaspoons

bee pollen

4

dates

1

teaspoon

vanilla extract

1

handful

ice

1

cup

milk (any kind of milk will work)
Instructions
Place ingredients in blender and puree until smooth.