You want a dish that's a great use of all those extra veggies you've got in your fridge, a bunch of half used sauces and a box of noodles you've had in your cupboard for lord knows how long? Vegetarian Lo Mein is soon going to be your weeknight jam!
When it comes to take-out Chinese food you probably have Mu Shu Chicken, some sort of dumplings and fried rice and of course spring rolls on your list, but if you're trying to also fill a vegetarian's dish come true you want to order Vegetarian Lo Mein. It's not only filling, but also nutritious with a myriad of vegetables. If you make it at home as we do you can add even more brightly colored vegetables and jazz up your sauce as I've done here with extra Sriracha for me, carrots for Chloe, spinach for hubby and bean sprouts for Kenya.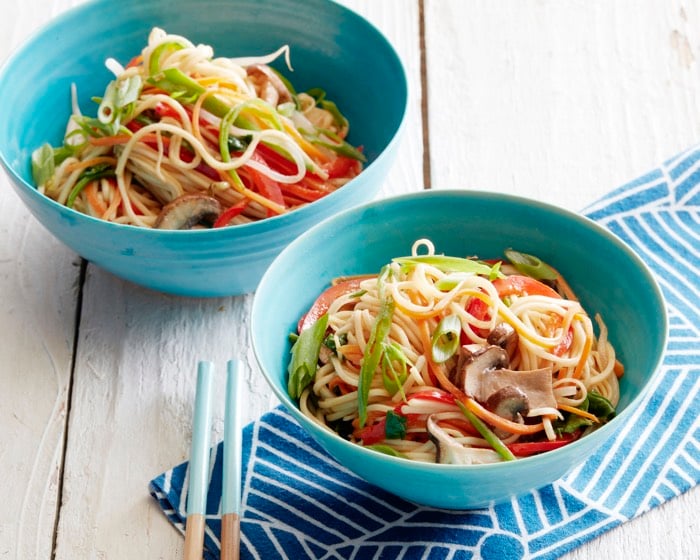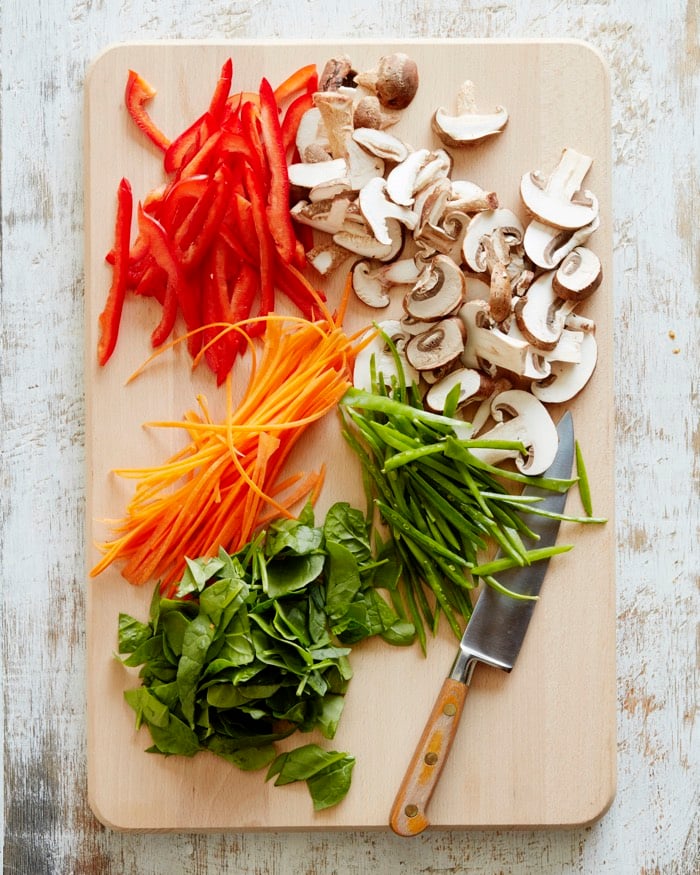 If you're on a budget it's another great recipe to put the brakes on your wallet and use what you most likely already have on hand. It's so good in fact I would say the kids enjoy it just as much or even more than the Vegetarian Lo Mein we've ordered from restaurants in the past. We even added it to the One Potato menu a few weeks back. We sent a vegetarian and chicken version which you could do here by adding some chopped up rotisserie chicken or any leftover you have on hand.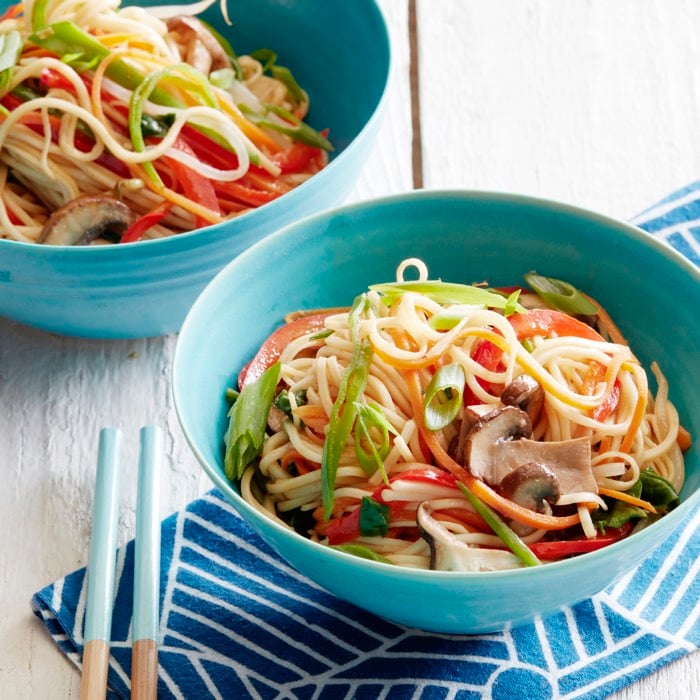 Vegetarian Lo Mein is also a great dish to make with your kids. Just grab a cutting board and child safe knife and let them chop away. If you get them involved in making this Vegetarian Lo Mein, I'm betting they will be even more excited about eating it!
Photos by Matt Armendariz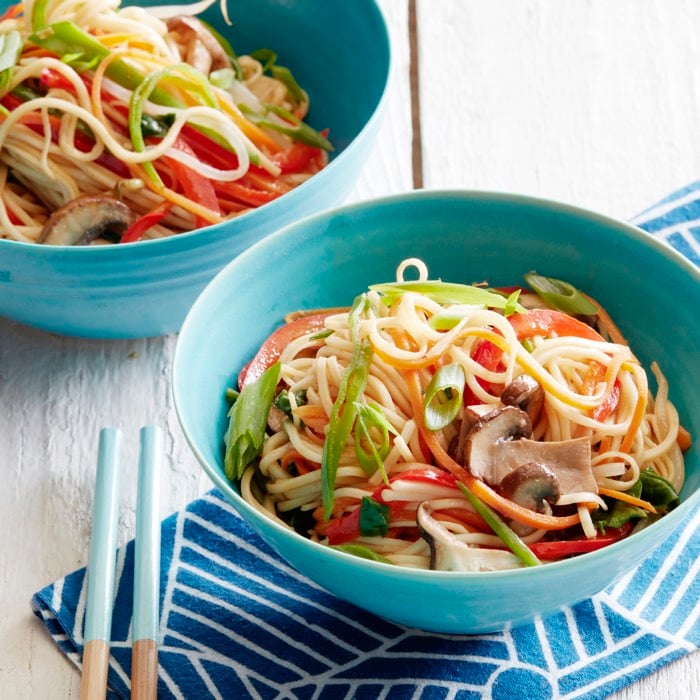 Vegetarian Lo Mein
Vegetarian Lo Mein is not only filling, but also nutritious with a myriad of vegetables. You won't miss the takeout you might typically turn to once you make this recipe!
Ingredients
8

ounce package

lo mein or ramen noodles

1/4

cup

low sodium soy sauce

2

teaspoons

brown rice syrup, or sugar

1

tablespoon

toasted sesame oil

1

tablespoon

rice vinegar

3

teaspoons

minced ginger, divided

1/2

teaspoon

sriracha sauce, optional

2

tablespoons

canola oil

2

garlic cloves, minced

1 1/2

cups

sliced shiitake mushrooms

1

red bell pepper, thinly sliced

2

carrots, thinly sliced

1/2

cup

snow peas, sliced

3

cups

baby spinach, roughly chopped

1

cup

bean sprouts

2

scallions, chopped
Instructions
Cook the noodles according to the package directions. Drain, rinse, and set aside.

In a small bowl, whisk to combine the soy sauce, brown rice syrup, sesame oil, rice vinegar, 1 teaspoon ginger, and sriracha. Set aside.

Heat the oil in a large skillet or wok over medium-high heat. Add the garlic, remaining ginger, bell peppers, carrots, and mushrooms. Cook until tender, stirring frequently until tender, about 3 minutes.

Add the snow peas, spinach, and bean sprouts and cook until the spinach is wilted, about 2-3 minutes.

Stir in the noodles, soy sauce mixture and scallions. Gently toss to combine.