Vegetarian Spring Rolls are stuffed with a variety of vegetables and then pan fried to get that unbelievably delicious crispiness on the outside. They're actually easier to make at home than you might think!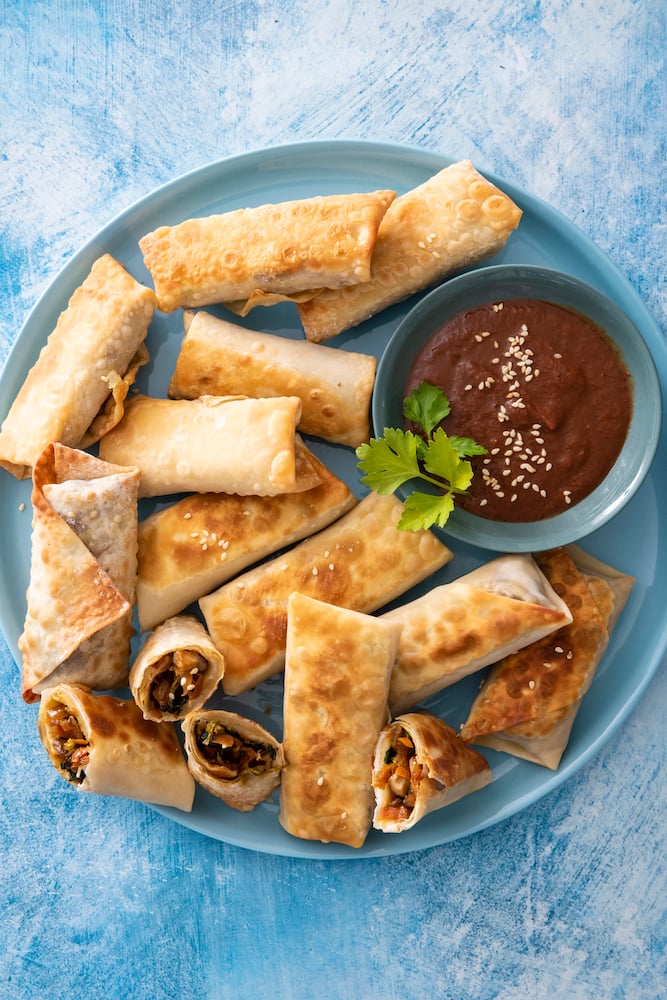 We have a friend who opened a delivery-only Chinese restaurant called — of course — Secret Chinese Delivery. The menu is based on the beloved New York City Chinese food he grew up on as a kid. We visited our friend at another one of his restaurants a few years ago, and he let us sample a few of the dishes he was working on for the menu. One of them was Vegetarian Spring Rolls stuffed, among other things, with a secret ingredient generally not seen on most Chinese restaurant menus — kale.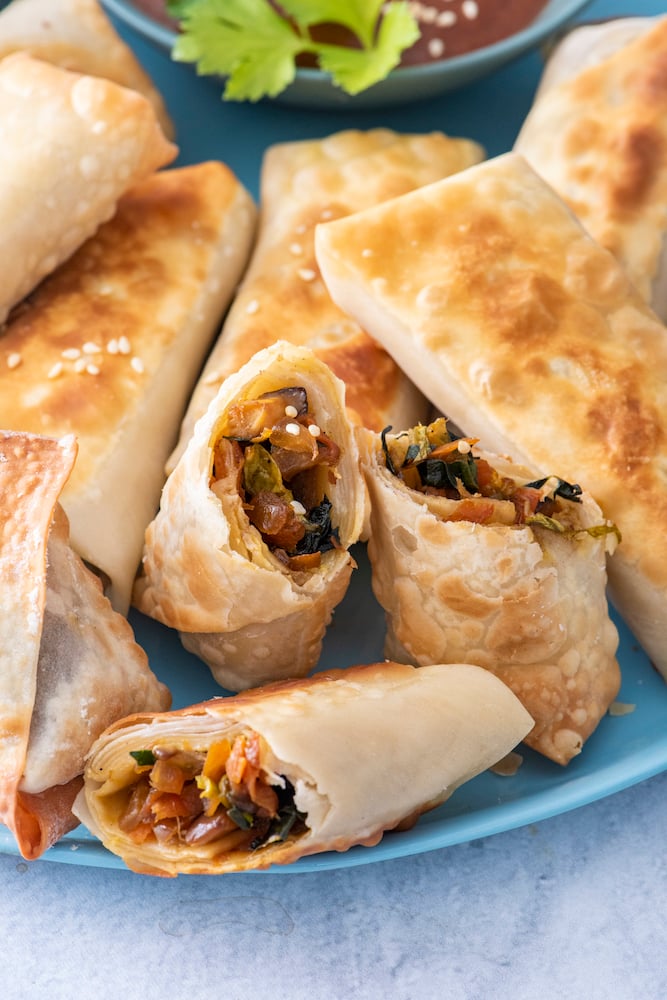 Not only were the spring rolls delicious and packed with tons of diced vegetables, but they were super crispy too. After watching the kids gobble up one after another, I decided that I wanted to make my own homemade version. Instead of frying them to get that crispy texture, I sautéed the spring rolls in a few tablespoons of coconut oil which not only made them crunchy, but imparted a really unique, tasty flavor.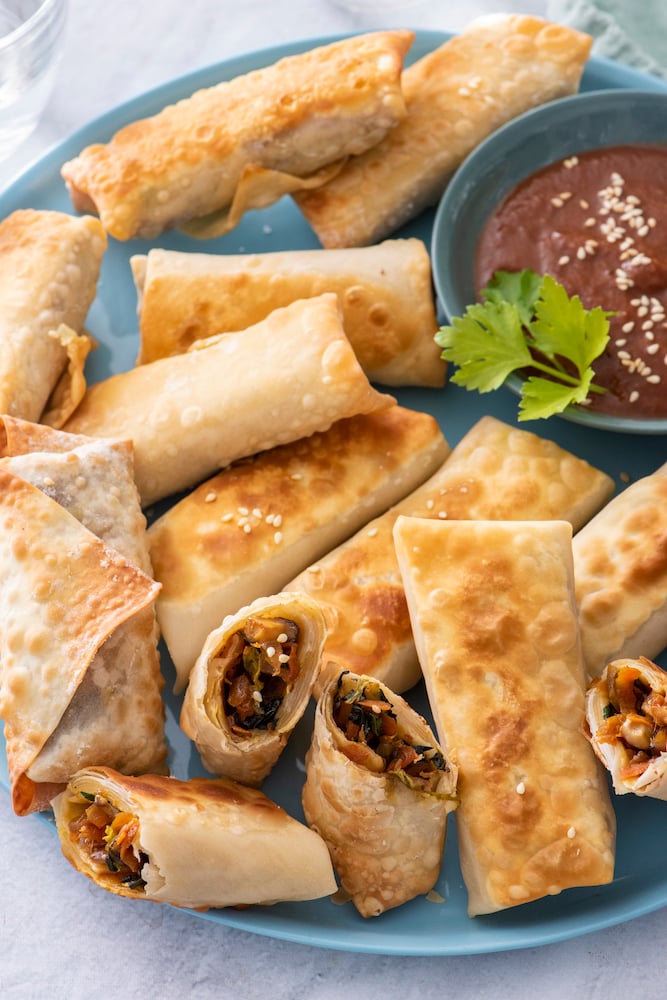 I know it seems a bit overwhelming to make homemade Vegetarian Spring Rolls, but it's actually easier than you might think! With a little practice, you'll be rolling these like a pro. I broke it down step by step with photos so you have a visual guide!
Step 1: Start with a wonton wrapper on a work surface in front of you with the diamond shape facing you.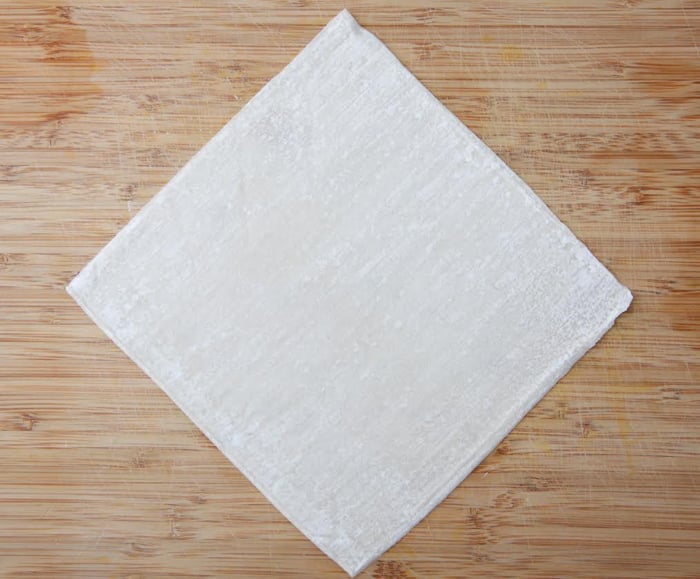 Step 2: Spread the filling across the wonton wrapper.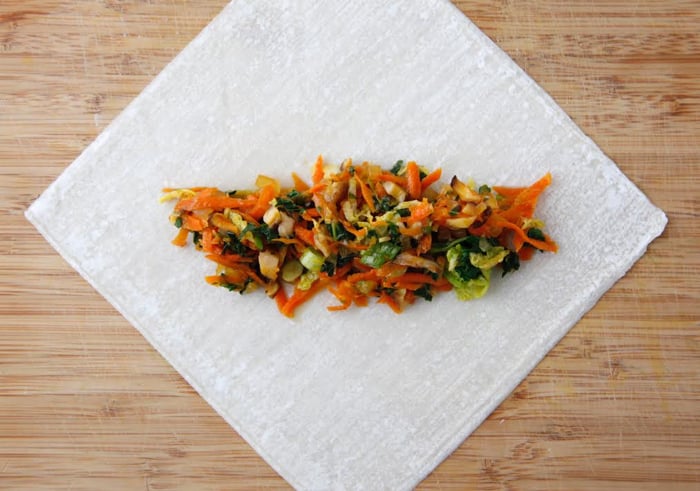 Step 3: Fold the sides in using a drop of water to adhere the two edges together.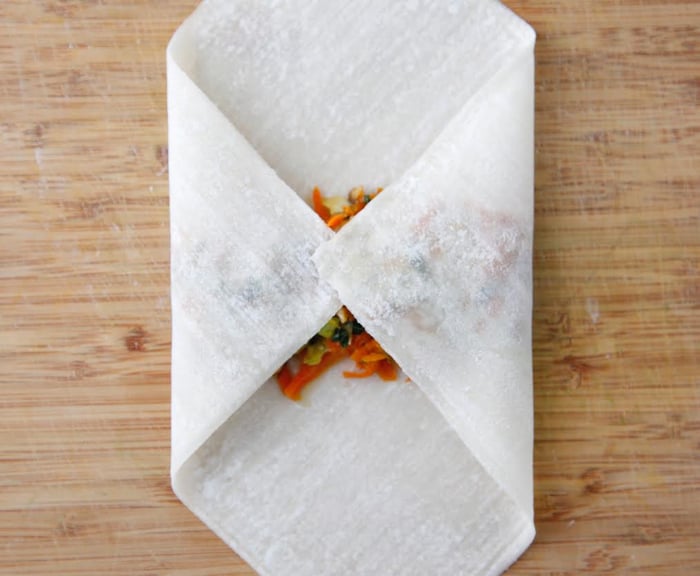 Step 4: Fold the bottom up covering the filling.
Step 5: Roll up from bottom to the top using a drop of water to adhere the wonton wrapper and make sure it's all sealed up.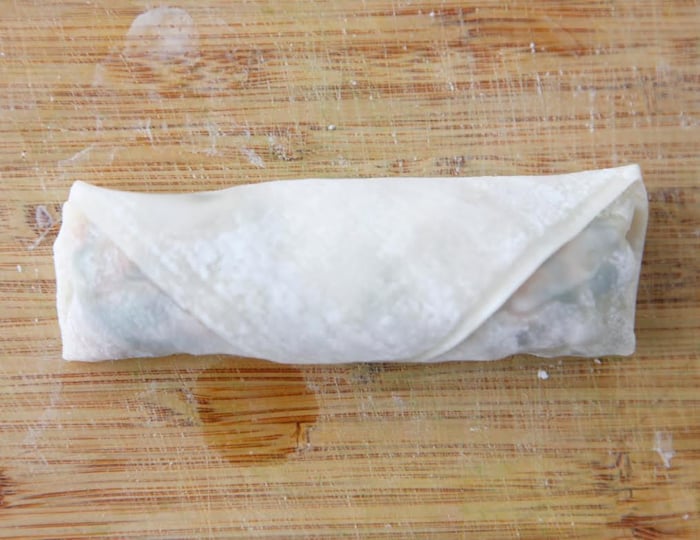 Step 6: Pan-fry the Vegetarian Spring Rolls and dip into a yummy sauce! That's the real fun part!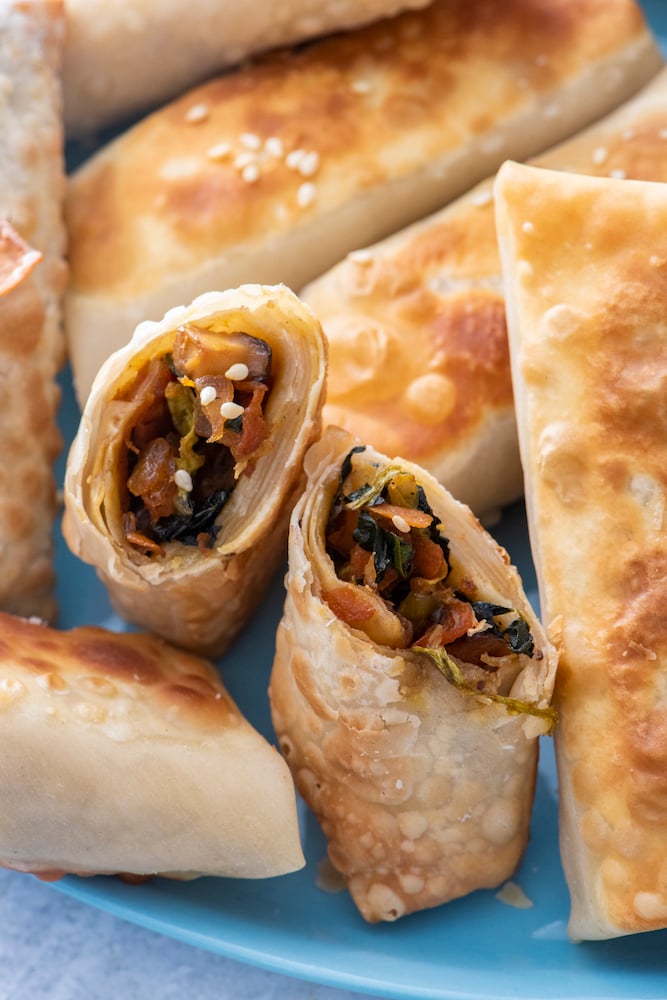 I hope you have time to make a batch of these dreamy veggie-filled rolls for your Meatless Monday! Let me know what you think by tagging me on social media!
Vegetarian Spring Rolls
Ingredients
4

tablespoons

coconut oil, divided

1

small

yellow onion, finely diced

1

garlic clove, minced

1

teaspoon

freshly grated ginger

2

large

large carrots, grated (about 1 1/2 cups)

6

shiitake mushrooms, stemmed and diced

1

cup thinly sliced

kale

1

cup thinly sliced

napa cabbage

1

scallion, diced

1/2

teaspoon

kosher salt

1/4

cup

low sodium soy sauce

1

tablespoon

rice vinegar

1

teaspoon

sesame oil

12

spring roll wrappers
Instructions
Heat 1 tablespoon of the oil in a large skillet or wok over medium heat.

Add the onions, saute for 2 minutes. Add in garlic, ginger, carrots and mushrooms and saute for 3 minutes.

Add the cabbage, kale, scallions and salt and saute an additional 3 minutes.

In a small bowl, whisk together the soy sauce, rice vinegar and sesame oil, and add it to the skillet. Stir to coat the veggies well. Remove from the heat and allow to cool slightly.

Place one spring roll wrapper on a flat surface in front of you, with a corner facing you, so it makes a diamond shape.

Place 2 tablespoons of the filling in a line in middle of the wrapper.

Fold the corners toward the center on top of the filling and the bottom corner over the top of the filing. Brush a little water on the top corner and roll it up like a burrito.

Heat the remaining 3 tablespoons oil in the skillet or wok over medium heat. *

Place a few spring rolls in the pan, making sure you have room to roll them. Cook them on each side for 2-5 minutes, until they are golden brown on each side. Each spring roll will take about 7-10 minutes to fully cook.


* To bake the spring rolls, preheat oven to 425 degrees, place egg rolls on a rack over a foiled lined baking sheet and spray with cooking spray. Bake for 25 minutes or until golden and crispy.

* To air fry the spring rolls, place them in air fryer basket, spray both sides with cooking spray and cook at 400 degrees for 8-10 minutes or until golden and crispy.