Over the years I've realized one important factor when it comes to inspiring kids to eat their fruits and veggies. If you add a whimsical touch to food, they won't even hesitate before eating them up. On Mondays I pick up a car full of girls to head to horseback lessons and when I did last week I handed the hungry car-full of kids these Veggie Garden Cups to snack on. At first they all looked at them and wondered why I was handing them a cup of vegetables, but when they took a closer look and I told them they were Veggie Garden Cups with creamy guacamole at the bottom to dip in their ears immediately perked up with excitement Much of the conversation was about what you find in a garden, how vegetables grow in the soil, the grass and general agriculture questions. It was so cool to see how a vibrant cup stuffed with an array of vegetables and a scrumptious dip with such an endearing name could become a lively conversation piece.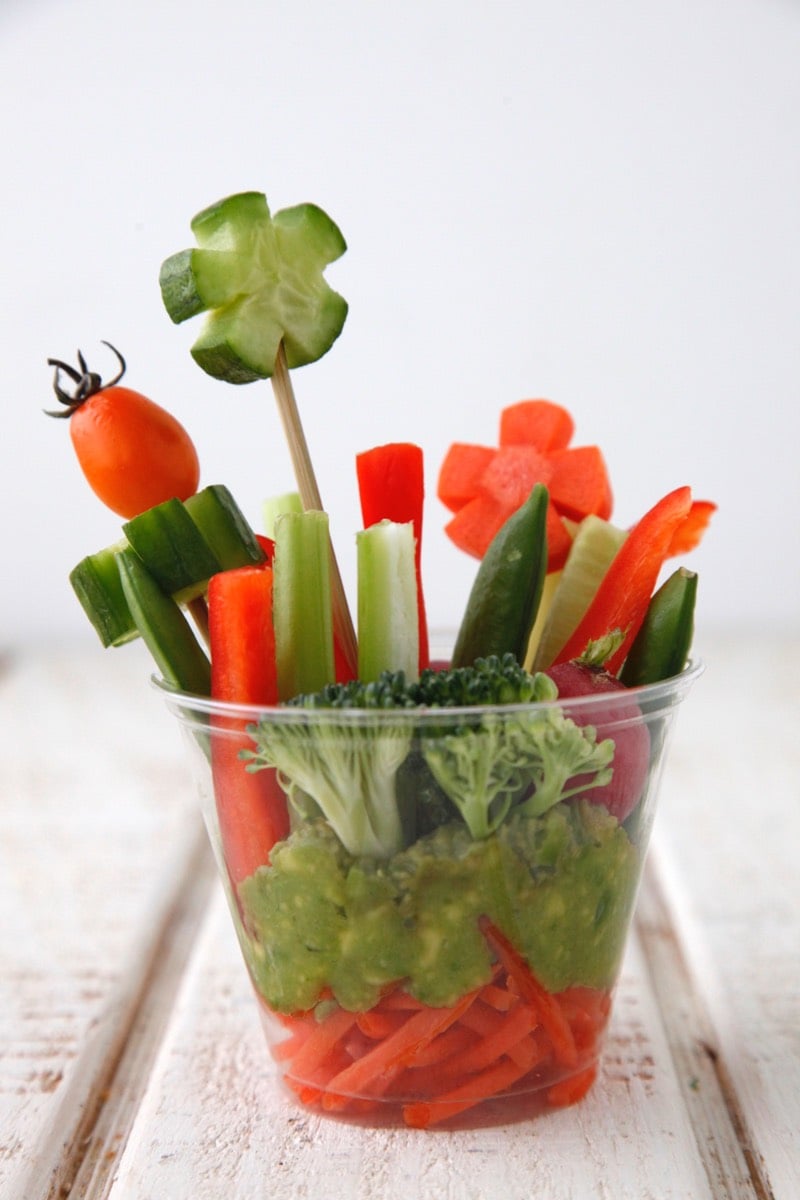 Pin
The girls polished off the celery, carrots, cucumbers, and radishes I added to each one, but the garden's your oyster when building these cups. Pack in as many vegetables as you can possibly fit as the dip is irresistible with each and every bite.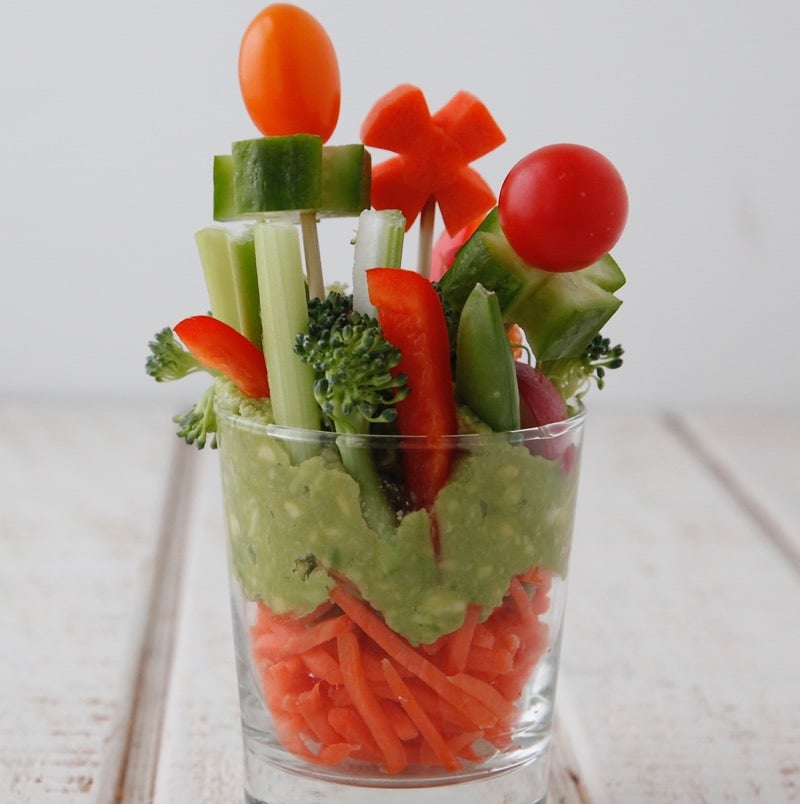 Pin
I love that Bolthouse Farms is focusing on using fruits and vegetables for their UnBake Sale initiative. It gives kids a chance to play with and make all kinds of enchanting edible creations that will motivate even the most critical eater to start dippin' and wolf down a Veggie Garden Cup or who knows, maybe even two! Set up these Kids Fruit Tubes to round out your UnBake Sale table. They're great for those times when you just need something super easy and have no time to make treats. They also fit perfectly into the school lunch box!
Pin
Join the 100 School Pledge here to find out how to be a part of this worthwhile movement. And if you want to see a few quick tips on cutting up and building your own Veggies Garden Cups you can watch the video above so you can make them for your own UnBake Sale too.
Veggie Garden Cups
Ingredients
2

ripe

avocados, pitted

1/2 a lime

kosher salt

1

bag

Bolthouse Farms matchstick carrots

1

Bolthouse Farms large carrot, peeled

1

persian cucumber

4

cherry tomatoes

8

breakfast or red radishes, sliced in half

8

sugar snap peas

1

red bell pepper

1

celery stalk

1/2

cup

broccoli florets

4

wooden skewers, cut in half

4

small plastic cups
Instructions
Spoon the avocado flesh into a bowl along with the lime juice and salt. Use a fork to mash the avocado until smooth.

Fill each small plastic cup about 1/2 way up with Bolthouse Farms matchstick carrots.

Spoon 1/4 of the avocado mixture on top of the matchstick carrots in each cup.

Cut the carrots and cucumbers into 2 inch lengths. Use a pairing knife to make 4-5 small notches around the carrot and cucumber pieces. Then slice each one into 1/2 inch slices to form flowers.

Place the carrot flowers and cucumber flowers onto wooden skewers. Top the cucumber flowers with cherry tomatoes.

Cut the red bell pepper and the celery into sticks about the same length as the sugar snap peas.

Place the carrot and cucumber flowers, sliced radishes, sugar snap peas, red bell peppers, and celery into the avocado mixture to create a garden.

Then place the broccoli florets in the open spaces to create grass.