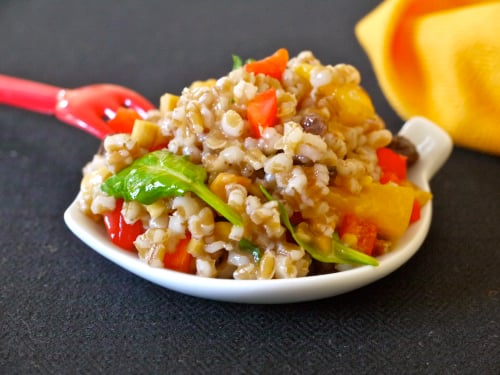 Pin
A few months ago I went to a parent-teacher potluck meeting at my kids' school. The drill is each parent brings a dish big enough to serve about 20 people, which is no small feat for a busy mom. But what's awesome about these events is that there always an array of delicious homemade dishes to sample from lasagna to crunchy bruschetta to rotisserie chicken and occasionally, a hot pizza picked up on the way.
At our last meeting, one of my friends (who's also a great cook) brought a wheat berry salad which everyone went crazy for. Full of nutty, nutritious wheat berries, it was mixed with peanuts, currants, veggies, peaches and tossed with an Asian vinaigrette. As everyone was busy telling my friend how amazing and delicious it was and asking her for the recipe, she leaned over to me and whispered, "I got it from the prepared food counter at Gelson's" (our local supermarket).
Cut to me a few days later, having cornered the lady working the prepared food counter at Gelson's and begging her to give me the exact recipe. While she wouldn't tell me the measurements or proportions, she did reveal the combination of ingredients which makes this dish so special. I'm not sure if I got it exactly right, but in a side by side taste test after I made my version, we decided it was pretty darn close. Now, with great pleasure, I to share with you my friend's "homemade" parent-teacher potluck Wild Wheat Berry Salad!
Ingredients
1

Cup

Wheat Berries

2

Tbsp

honey

1

small garlic clove

1

Tbsp

lime juice

1

Tbsp

Rice Vinegar

2

Tbsp

Peanut Oil

1/2

Tsp

kosher salt

1/4

Cup

raisins or currants

1/4

Cup

Peanuts, chopped

1

Cup

Peaches, chopped

1

Small Red Bell Pepper, chopped

1

Cup

fresh spinach, roughly chopped
Nutrition
Sodium:
210
mg
|
Sugar:
20
g
|
Fiber:
7
g
|
Calories:
270
kcal
|
Fat:
8
g
|
Protein:
6
g
|
Carbohydrates:
46
g