Stuffing on the Thanksgiving table is a must and these Apple Sausage Stuffing Bites are a fun take on a traditional Thanksgiving recipe!
Thanksgiving stuffing can be a holiday lightening rod. I've seen family members almost come to blows over their personal stuffing preferences. Take our family, for example. When I met my future husband and we began merging our Thanksgiving traditions, stuffing became a major debate. As our first holiday feast approached, and I helped plan the menu it quickly became apparent that my stuffing might make or break my future in-laws opinion of me. That was my admittedly insane thought as I sat in my kitchen drawing up the shopping list with Vivien, my MIL-to be, but I don't feel like I'm the only woman out there who has strapped on her crazy pants while coming up with their families holiday menu.
While I spent our first few holidays making my mother's preferred cornbread stuffing, I ultimately switched over to Vivien's favorite version, made with brioche, when it was clear I was never going to win her over with mine. I have to admit that Vivien did open my eyes to how good something new can be. Brioche stuffing is pretty incredible and it vanishes pretty quickly off of our table.
My kids are less discerning when it comes to stuffing. Cornbread or brioche, they will eat pretty much anything made with bread. However this year I'm starting my own tradition by making these Apple Sausage Stuffing Bites. Besides being so darn cute as well as personal sized so everybody can have one for themselves, they combine traditional stuffing flavors like celery and onions with two of my kids' favorites, pieces of sweet apple and chicken apple sausage. Because of these bites' small size, they get golden crispy around the edges in the oven and are perfect for little hands to dip into warm gravy.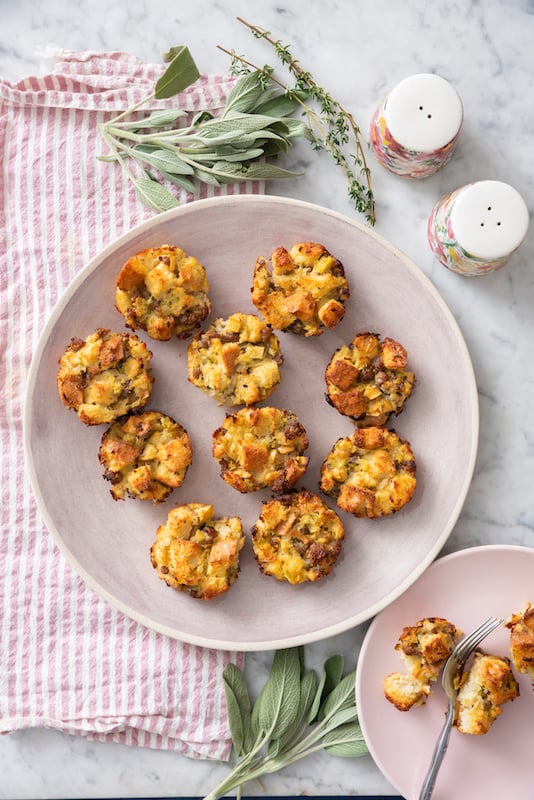 I know changing your stuffing can require a big leap of faith and might have the whole family up in arms, but once they taste these how scrumptious these special holiday bites are, I bet they will be fighting over who gets the last one!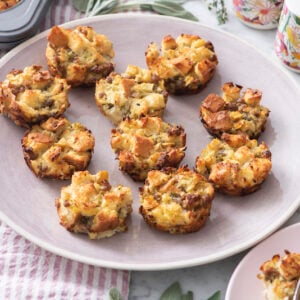 Apple Sausage Stuffing Bites
Ingredients
1/2

baguette

cut into 1/2 inch cubes, about 4 cups

1-2

tablespoons

oil

2

sweet apple sausage links, chopped, about 1 cup

1

medium

apple, chopped (gala, fuji, or golden delicious)

1

small

yellow onion, diced, about 1 cup

2

celery stalks, diced, about 3/4 cup

1

teaspoon

minced fresh thyme

1/2

teaspoon

kosher salt

1

cup

low sodium chicken stock

2

large

eggs, beaten
Instructions
Toast the bread cubes for 8-10 minutes to dry them out. Alternatively, you can use day old bread that is already dried out.

Increase oven temperature to 350F.

Heat oil in a sauté pan. Add the sausage, apples, onions and celery, and sauté for 5-7 minutes, until everything is heated through and the veggies are tender*. Allow to cool a few minutes before continuing.

Place all the ingredients in a large bowl and toss to thoroughly combine.

Spoon the stuffing mixture into greased muffin tins, filling all the way to the top. Pat the mixture down to pack it well.

*Note: If you're using sausage that is not fully cooked, sauté it for 4 minutes before adding the oil and the remaining ingredients.
Video
Nutrition
Calories:
90
kcal
|
Carbohydrates:
10
g
|
Protein:
5
g
|
Fat:
3
g
|
Cholesterol:
50
mg
|
Sodium:
340
mg
|
Fiber:
1
g
|
Sugar:
2
g