Hosting Thanksgiving has become my thing, and over the years I've developed a step-by-step guide to streamline the process and ensure a seamless, stress-free celebration. So, buckle up, and let me walk you through the weeks and days leading up to my favorite holiday providing you with insider tips and a foolproof playbook for hosting the perfect Thanksgiving gathering.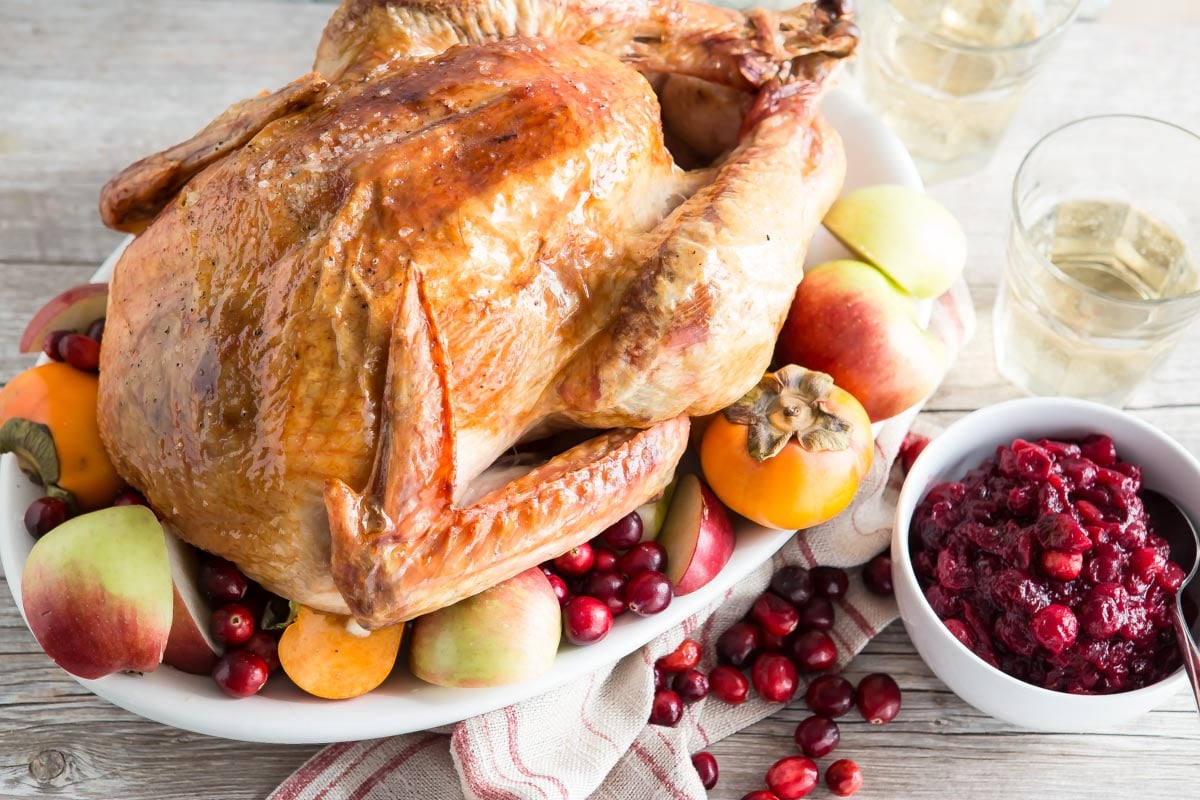 For years now, I've been whipping up a full Thanksgiving spread for my family and our friends. From the juiciest turkey to the creamiest mashed potatoes and the most irresistible pumpkin pie, it's a labor of love that I look forward to. Nothing gets me more excited than my favorite holiday! Admittedly I can get pretty darned enthusiastic about a lot of things. When it comes to the stuff I like, I compare myself to a Labrador puppy — a lot of jumping around, tail wagging, and yapping — but when it comes to preparing a great big Thanksgiving meal, my usual joy transcends to a monumental level of culinary singing and dancing. It's as if my inner, turbocharged Martha Stewart emerges and takes over for a week.
With that said, keep reading for everything you need to know to host an epic (and delicious) Thanksgiving dinner!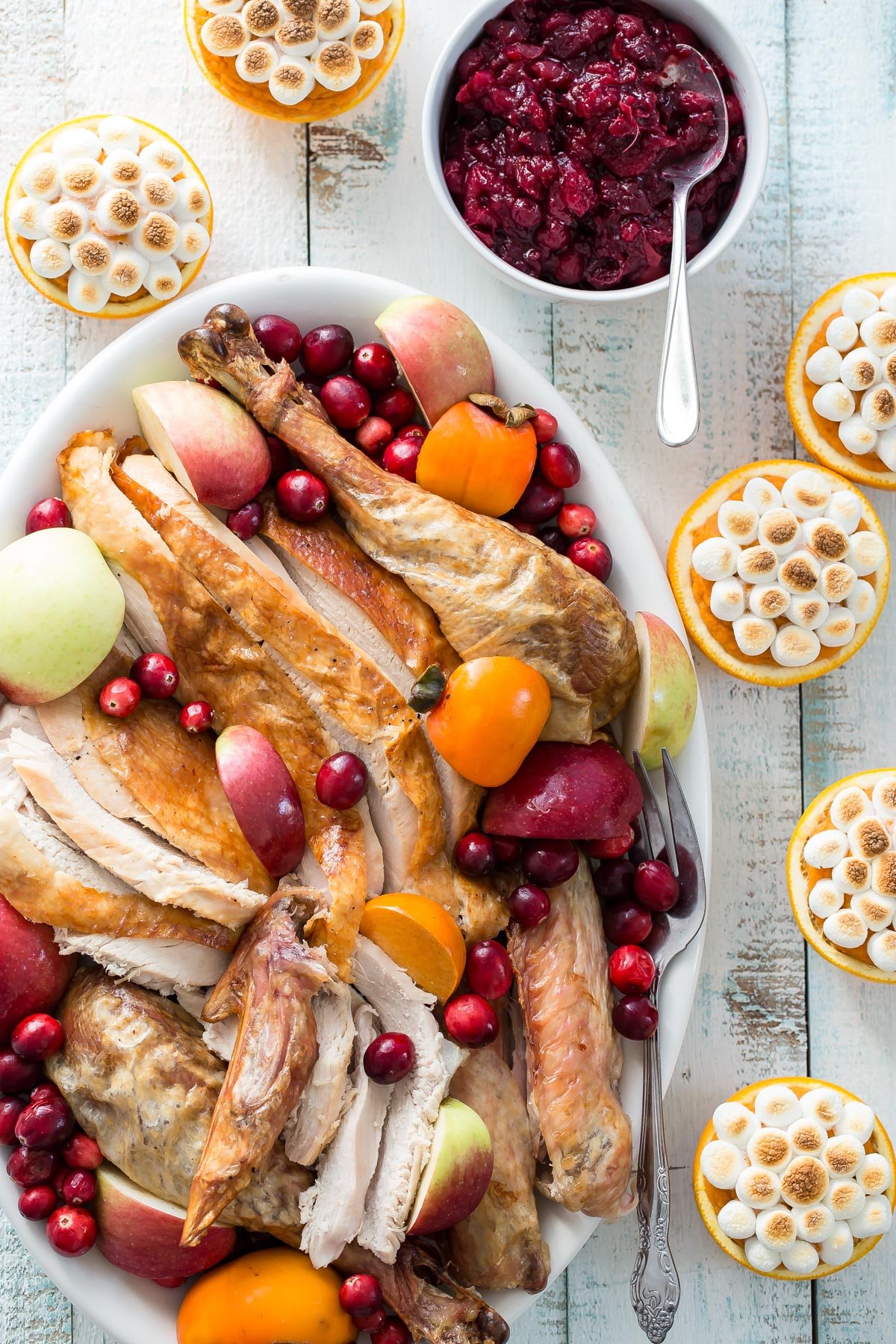 THE Thanksgiving Menu
ONE-TWO WEEKS IN ADVANCE
Plan your menu. Here are the bones of a Thanksgiving dinner, essentially. A turkey (or other main dish like roast chicken), a stuffing, a salad, a potato (or two), a vegetable, another hearty side (depending on the size of your get together) and a few desserts. I change out which ones I do every year, but the categories stay about the same.
Order the turkey: If you're planning on ordering a turkey in advance from a local butcher, go ahead and do that. If you're getting one from the grocery store you could go ahead and get one and store it in your freezer if you have the room but you can wait until the week of. You'll want about 1.25 pounds of turkey per person.
Source serving dishes and decor: Take stock of what dishes and decor you have and what you'll need for serving. Buy or borrow what you may be missing. Here's a list of everything I use every Thanksgiving.
Divide and conquer: If you're planning on going potluck style and having guests bring certain dishes, go ahead and assign dishes to everyone so they know what they're bringing.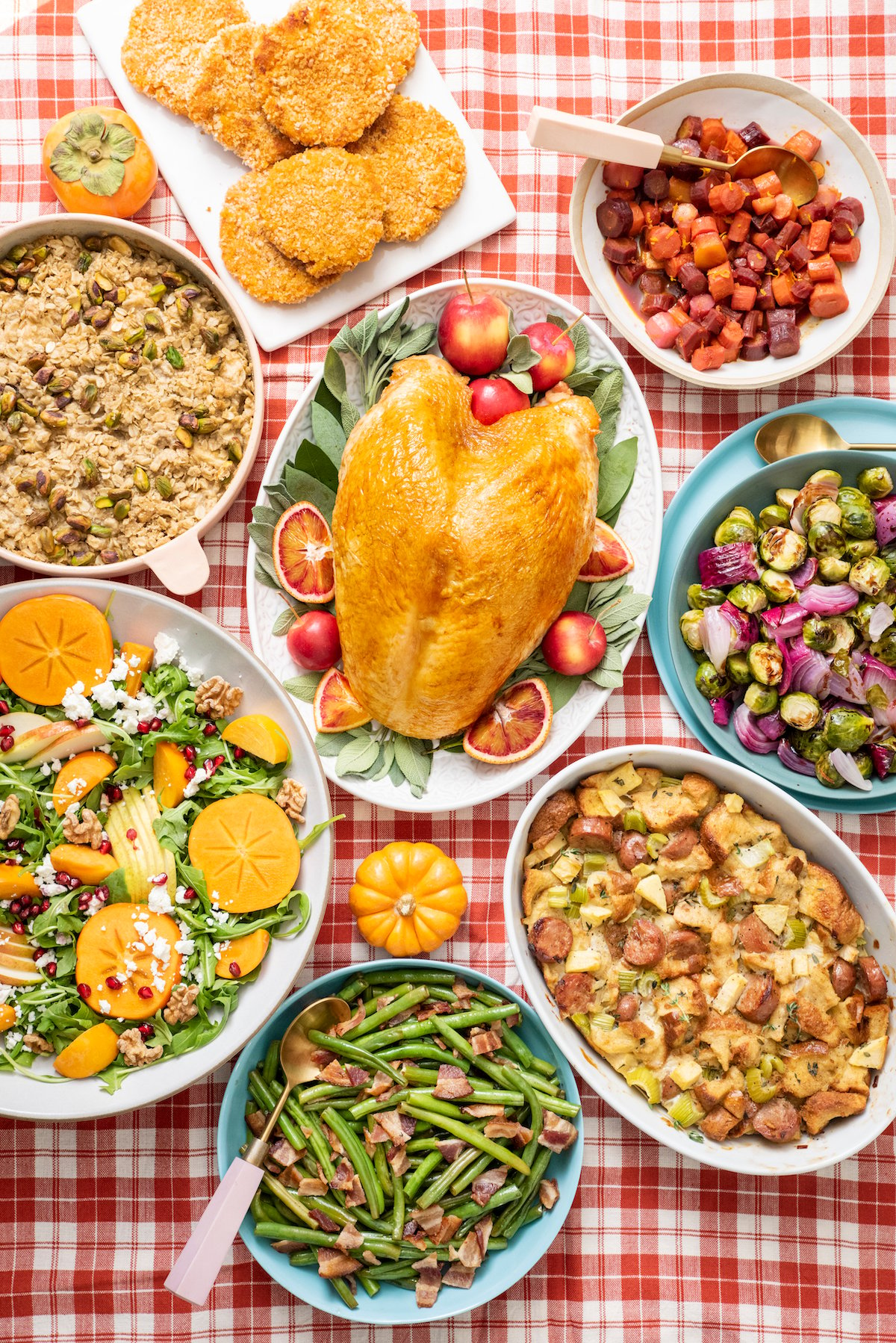 THE WEEK BEFORE
Clean and Organize. Clean out your refrigerator/pantry. Toss expired foods and make room for new food coming in. Starting with a fresh, clean kitchen will help make everything else run smoothly.
Grocery shop: Do the bulk of your grocery shopping, especially items that are shelf stable or won't go bad quickly. There's nothing worse than going grocery shopping the week of Thanksgiving and not being able to get all the ingredients you need!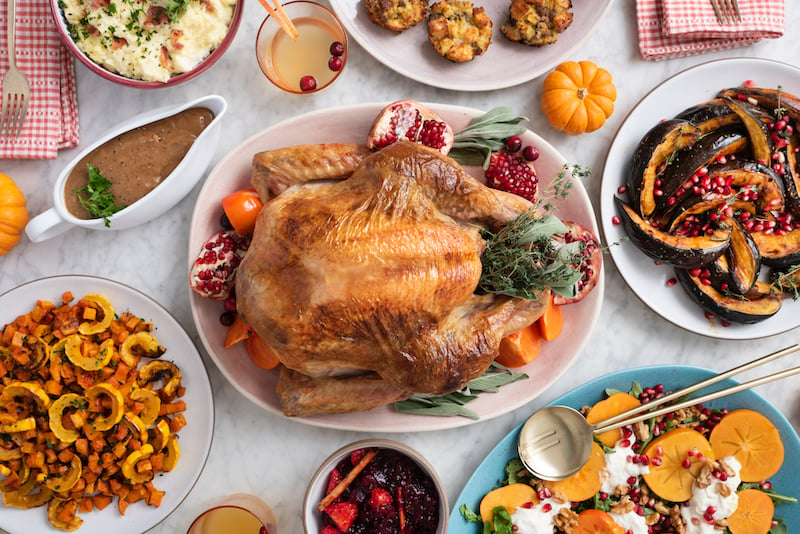 THANKSGIVING WEEK
This is a step by step guide on what I'll be doing the week of thanksgiving based on our menu this year. Follow along or take ideas if you want!
Monday:
Pick up your turkey from your local butcher or grocery store and finish grocery shopping for other ingredients you need. If you purchased a frozen turkey, store it in the refrigerator to start thawing.
Tuesday:
Start your day by brining the bird using my Brined Turkey recipe ("the most moist and juicy turkey you've ever tasted," says my turkey-obsessed father-in-law). If your turkey is thawing, you can still go ahead and start brining it. It'll thaw as it brines.
Wednesday:
I try to do the bulk of my cooking/prepping on Wednesday so I can take my time a bit on Thursday. Thanksgiving Day is normally quiet with so few distractions (besides the anticipation of the big meal ahead of us) and I hate having to spend all of it in the kitchen. I also find that once the major work is out of the way, it's a great time to get the kids involved in the final tasks and really let them feel like they're a part of the meal. With extra time on Thursday too it's a good opportunity to make Thanksgiving Turkey Pretzels together.
Set the table with flowers, candles, feathers and festive napkin rings.
Prepare Cranberry Orange Sauce and store in the refrigerator.
Chop parsnips, a mix of bell peppers, onions, carrots and delicata squash for Maple Roast Veggies. Coat them in olive oil and spices and store in a ziplock bag in the refrigerator until Thursday.
Make the filling for Sweet Potatoes in Orange Cups (through Step 4). Finish them up on Thanksgiving Day. You can also prep them entirely and then just bake them tomorrow if you have the room to store them in your refrigerator on a baking sheet.
Bake the cornbread and prep the stuffing (through step 3 of this recipe), refrigerating the vegetables overnight.
After the kids go to bed, bake Maple Pumpkin Pie and Apple Pie (my favorite time to bake is at night). If I don't have time to make the pies entirely, I go ahead and make the pie dough and store it in the refrigerator to be ready to roll out Thursday morning and finish the pies.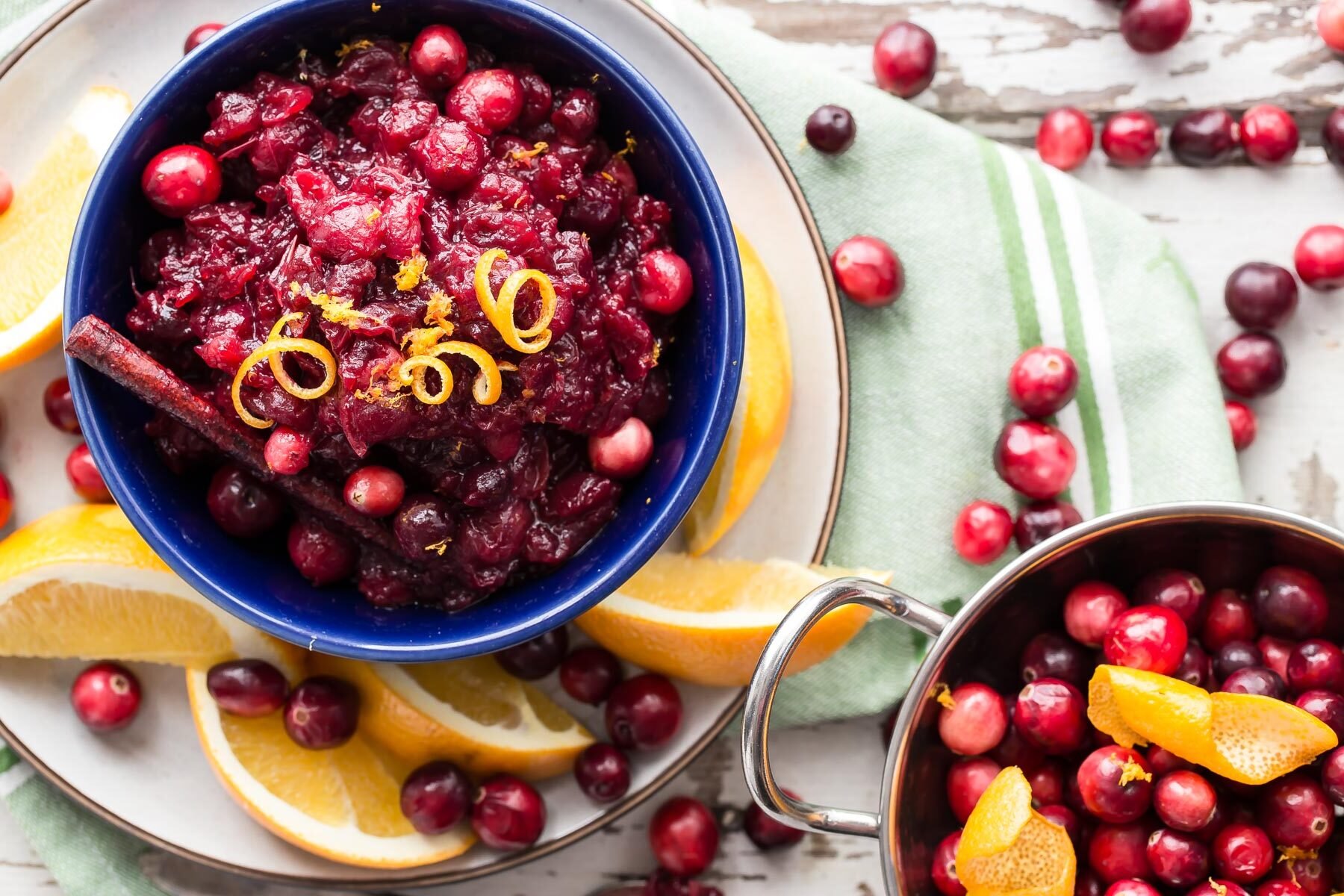 Thursday, Thanksgiving Day:
We eat dinner at 5pm every year, so here's a step-by-step guide to our day. It might look slightly different for you, but generally this is the order of operations for us!
Finally, there's a family tradition we have which everyone who comes over really enjoys participating in. Before dinner we have everyone anonymously write on a piece of paper what they're thankful for and put it into a hat or bowl. After dinner, we go around the table and have each person pick out one note and read it aloud. Then everyone tries to guess who wrote what. It's not only a fun game, but also a beautiful way to relish the most important part of the holiday, being together!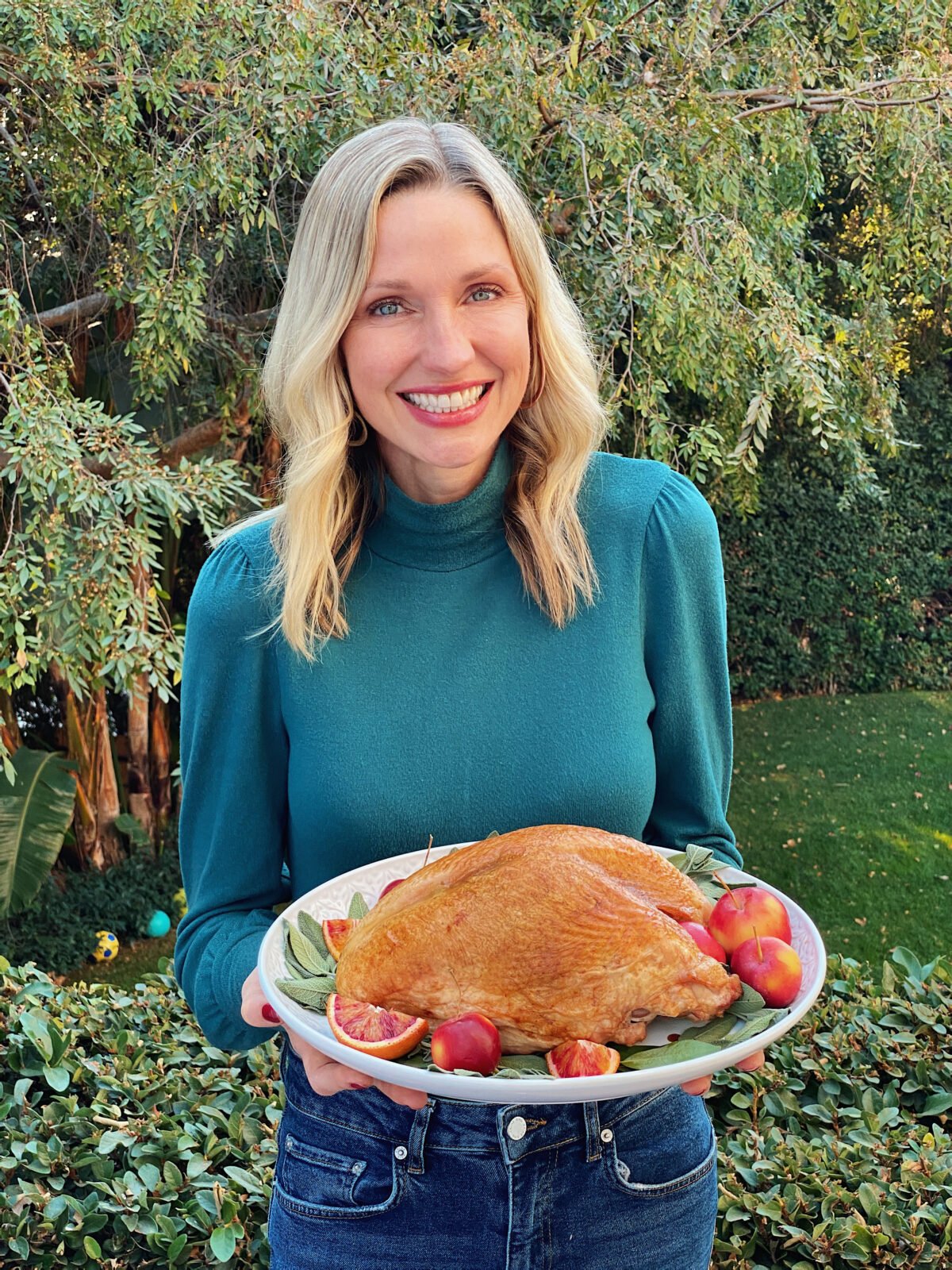 Friday:
Relax and enjoy time with your family. If you have leftovers here are some of my favorite unique ways to use those up!
If you have any questions about your menu or Thanksgiving prep schedule, leave them in the comments! And if you're still working on what you want to make here are my Easy Thanksgiving Sides and Thanksgiving Turkey: 6 Ways! Happy Thanksgiving!